Peer into a shark's open jaws. Become an ostrich jockey. Stride side by side with lions. That's right. You can do all of these things in South Africa. For a truly intimate encounter with the wildlife, try your hand at one of these three epic animal adventures…if you've got the guts.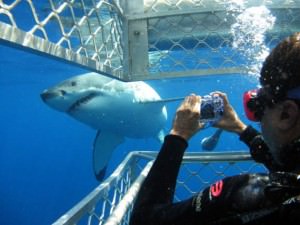 Shark Cage Diving
It's the ultimate predator, the master of the deep blue sea. See the formidable Great White Shark, with its razor sharp teeth inches away. The experienced guides will attract the sharks with chum, which is bait produced from fish parts. As the shark chases the smell of the chum, its dorsal fin silently slices through the water as it nears. It can locate the bait with incredible accuracy. The cage you're safely enclosed in allows you to get extremely close, even touch these supreme creatures without fear. Okay, maybe a little fear. Those wanting to witness the sharks without diving can do so on the boat's observation deck.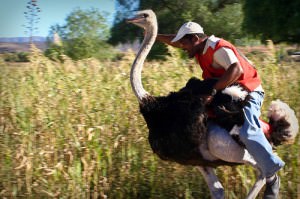 Ostrich Racing
South Africa has more ostriches than any other country on earth. Ostriches are the world's tallest living birds, with long gangly necks and powerful legs. Oudtshoorn is officially the destination to see these curious creatures, as ostriches outnumber locals 7-to-1. Here you can observe flocks of ostriches in various stages of development, feed the adult birds and cuddle the baby ones. Daring souls can choose to ride an ostrich in a race. With speeds up to 70km (43 miles) an hour, participating in an Ostrich Derby is electrifying. As a spectator, place bets on which bird will come out on top.
Lion Walking
While gently holding onto their tail, you can stroll behind white lions as they roam freely through the South African brush. If touching a lion is too much, you can carry a large stick instead. These lions have white fur and pigmented blue eyes due to a rare gene. With fewer than 100 of these majestic beasts left in the world, this is a special opportunity. Handlers have raised these lions since birth, making them comfortable with humans. With that said, several precautions are put in place ensure safety. If you're willing, take a walk on the wild side.
These are just a couple of (intense) animal activities to try in South Africa. From sundowner game drives and estuarine boat trips, there are many opportunities to see a dazzling array of animals from hippos to penguins. Find out about South Africa holidays here.