Las Vegas may have its detractors, and a lot of what they say may well be true, but it is what it is and if you're feeling the need to cut loose and party hard, there are few better places to do it than Vegas baby.
After pretending to be a boyband in Vegas, and my mate ending up getting hitched, it's always gonna hold a place close to my heart, with so many cheap flights to Vegas, there's no excuse not to join the party. But that doesn't mean I want to burn my cash there, and neither should you guys, so if you venture to Sin City, check out these 4 ass-kickingly free shows to scrounge from:
Masquerade Show in the Sky – Rio:
Big claims for this to be the best free show in Las Vegas, every night offers a unique performance, with three different shows featuring stunning dancers in eye-popping costume fashions from the likes of DKNY and Victoria's Secret (no need to thank me guys).  These guys strut their stuff from 6pm-11pm, Thursday to Saturday.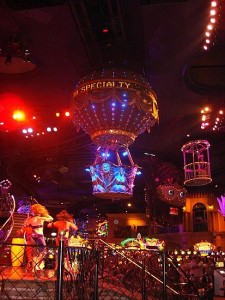 Sirens of TI – Treasure Island:
No need for public transport or entry tickets for this bad boy, located right on the strip, Sirens of TI is in full force every night. Now after Victoria's Secret making an appearance in my last free suggestion, this might tip my journalistic leanings to the perverted edge BUT here we go… The show focuses around a group of sensual and tempting sirens trying to lure in some pirates, this is definitely more of an adult show than a family performance. Arrive early to get a good spot.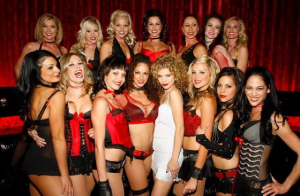 Circus Circus:
World class circus acts in the world's largest permanent circus. From 11am, every 30 minutes Aerialists, jugglers, acrobats and trapeze artists from all around the world take the stage and there's only one thing better than hot chicks and cool guys flipping inside out, and that's free hot chicks and cool guys. Roll up, roll up – this place is rocking.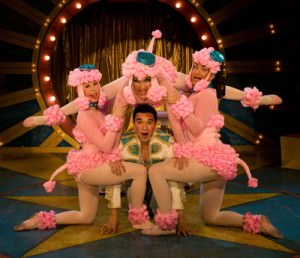 I Lost my M in Vegas – M&M World:
Right next to the MGM Casino is a big kids dream – M&M world (yep, the candy!). M&M world offers up a free 3D movie every day. It can only be described as a mouth wateringly intricate monument to chocolate, with four stories and 28, 000 feet of space! Enough free chocolate is kicking around so skip dinner!