As winter approaches, skiing is on the mind. One can hardly think of skiing without noting the world-renowned pristine region that is the Alps. With its charming villages and après-ski activities, here are five unmissable alpine playgrounds.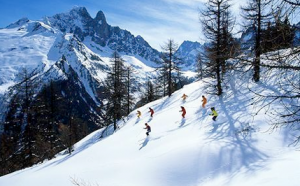 Charmonix
After holding the first Winter Olympics in 1924, Charmonix is an almost-essential skiing destination in France. Commanded by the tallest mountain in the Alps, Mont Blanc, the 10-mile long valley features five skiing areas with an almost overwhelming amount of different terrain. After a day well spent with the breathtaking cliffs, enormous slopes, and glacial valleys, a lively town awaits at night with open arms. There are runs for everyone, from the more technical Couloir des Cosmiques to the more easy-going schuss, Vallée Blanche.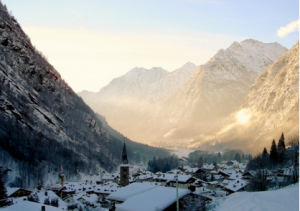 Alagna
Alagna is a big mountain freeriding paradise, where you're only governed by the rules of the mountain. There's nothing quite like the feeling of skiing alone without restraint. That is what skiers will receive in Alagna. Take one of the off-piste routes, which are among some of the longest in the Alps and enjoy untouched powder. Set in a quaint village in Italy, there are not many distractions to keep you off of the slopes.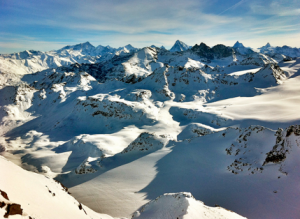 Verbier
Verbier is apart of the Swiss "Four Valleys" ski area that includes Nendaz, Veysonnaz, La Tzoumaz, and Thyon. The lifts at Verbier give you easy entry to over 250-miles of slopes and exhilarating off-piste areas. Connected to Verbier is the hairy Bec des Rosses, which annually hosts the world's most prestigious extreme skiing and snowboarding contest. A European cosmopolitan area, the nightlife is booming and the resorts, luxurious.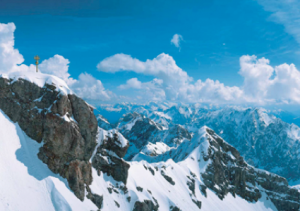 Garmisch-Partenkirche
Garmisch-Partenkirche is called the grand-old dame of ski areas in Germany. It was host of the 1936 Winter Olympic Games and the venue for the 2011 Alpine Skiing World Championship. Formed by the Wettersteingebrige and Ammergauer mountain ranges, the Garmisch-Partenkirche takes the shape of a giant horseshoe. The mountains are jagged and spectacular, the slopes well maintained, and the snow perfect during the winter months. Known for its downhill skiing, the Kandahar course is downright terrifying.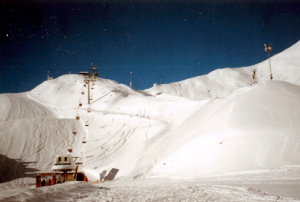 Innsbruck
Having hosted the Winter Olympics twice (1964, 1976), the Winter Paralympics twice (1984, 1988), and the first ever Winter Youth Olympic Games in 2012, Austria's Innsbruck knows about winter sports.  Featuring eight ski zones and magnificent varied terrain covering 310-miles, there is something for everyone. 26 of its more than 200 trails are made for beginners, making this a wonderful place for first-timers. While taking a break from skiing, Innsbruck, the Tyrolean capital, is a cultural smorgasbord with a range of beautiful historic architecture and sights.
That should be enough to whet your appetite, check out www.supertravel.co.uk for even more inspiration!  Happy travels!