Today, my new friends from Travel Ticker – a website designed to help you book hotels easier and quicker – is going to share a list of five most incredible and truly great railway routes around the globe. Although in many cases the train is not the fastest vehicle, sometimes it is worth to choose it. Not only for nostalgic track drumming, but also for incredible images you can see from the window seat.
The seven time zones in one sitting
Amazing 9289 kilometers long TransSiberian train route is famous not only for the fact that it is the longest railway line in the world but also because it helps to see Russia in the entirely different spotlight.
Connecting hundreds of local towns and villages, this route crosses seven time zones, so traveling this way might take a while, but it really worth it. With it, you will be able to see a lot of real Russian nature and local people's lives.
Although with this train route you can travel from Moscow to Vladivostok nearby the Japanese Sea, this course cannot end here. You can continue going along this line and soon you will quickly reach Beijing, Shanghai or Tokyo.
In winter, the number of passengers decreases significantly, but the cold season can actually be an excellent opportunity to enjoy the snow-covered scenery.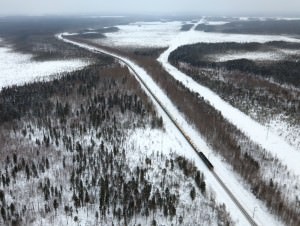 Two days of typical Canadian beauty
It is said that the easiest and the best way to see the real beauty of Canada is while looking out of the train windows. And probably especially thought a perfect Rocky Mountaineer route's window too! 
This railway is connecting two extremely important cities – Vancouver and Banff and the journey from once city to another will take your breath away for sure.
During the trip, you will see all the typical elements of the local landscape: gigantic pine forests, snow-covered mountains, clear lakes glass and black lava cliffs. To take this journey of almost a thousand kilometers would take about two days since during the night passengers get a stay in a hotel of the Kamloops city.
Railway on cloud
Although Jalpaiguri-Darjeeling railway line might seem like not such a big deal – it is. The route of this train goes up to around 2 kilometers height, so that is pretty extraordinary for sure.
Preserved steam engine of this train was actually added to the UNESCO World Heritage list, so that also speaks a lot for itself too. But probably the most surprising thing you can experience if you decide to take this train, is the fact that here you can enjoy beautiful views too. 
Through the train seat, you can see clouds lower than your eye line, tea plantations and mountain villages, which all look fantastic and really magical.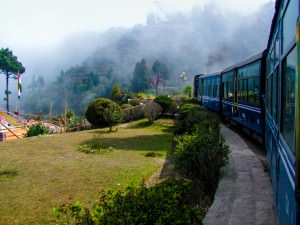 Riding through market stalls
Taking Thai Maeklongo rail will really make you hold your breath, but no thanks to the picturesque panoramas. This train crosses one of the biggest seafood markets in Thailand. And not just simply passes around. It literary crosses it.
Here local workers have become accustomed to the arrival of the locomotive and probably know the schedule of the train sometimes better than the railroad workers. Hearing the train coming, locals simply move away all stalls and various goods arranged on the ground. And soon after the train leaves – market comes back alive, and all stalls get into their places once again, until the next train comes.
A transportation and entertainment at the same time
The train named "the Ghan" rolls for nearly 3 thousand kilometers and really shows off what Australia is all about. Train route begins in the south coast port located in Adelaide and ends in Darwin in the north of Australia.
Chic contrasts will inevitably accompany the journey by this train – reddish deserts are changed with a clear blue sky. But that is not everything that this route can offer you. 
With this train, you can not only travel from point A to B but also stop by and participate in trips within the country's most spectacular locations. So – it is a real full package for all adventurous travelers.