For those looking for an exciting holiday, Peru is a feast of archaeological sights, fascinating cultural history and incredible natural environment- to name just a few! There is no shortage of things to see and do in Peru, but here are 5 of the best things to check off your list: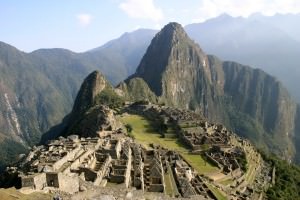 Inca Trail to Machu Pichu It's the most famous trek in South America, and for good reason- the 26-mile long trail covers breathtaking mountain scenery, cloud forest and Amazon jungle, and awe-inspiring Inca stones and ruins along the way. The classic trek along the Inca Trail takes about 4 days and ends at the magnificent destination of Machu Pichu, the mysterious "Lost City of the Incas."
Amazon Rainforest More than half of Peru is covered by the unique and diverse ecosystem of the Amazon Rainforest, much of which is untouched land. It's one of the last true frontiers on earth- so a great place for adventure tours and the adventurous traveler. You'll experience everything's from monkeys to tarantulas, exotic plants and animals found nowhere else on earth. Go with a tour company that will station you in lodging near an entrance to the jungle, then lead you on treks where you'll get plenty of information about the biodiversity around you.
Floating Islands of Lake Titicaca On the border of Peru and Bolivia, Lake Titicaca is the largest lake in South America, and famous for its floating reed islands. On these islands live the Uros tribe- a tribe that dates back to before the Incan civilization. Exploring these islands is a great way to experience Peru's aboriginal culture. The best way to book a trip to these floating islands is to take a bus to the city of Puno, where you can book a day trip on the spot.
Nazca Lines by Air The Nazca lines are a peculiar set of ancient geoglyphs on a high plateau in the Nazca desert, in the south of Peru. They include hundreds of different shapes and drawings, from geometric patterns to wildlife figures and human pictures. Have an adventure by hiring a small plane to fly over these intriguing drawings on the earth! You can book a plane tour from Lima, Ica and Nazca.
Sacred Valley of the Incas It's not as famous as Machu Pichu, but contains just as much intrigue for those loving history and culture. You can organize a guided tour from Cusco, and see the valley by bike, horseback, river raft or hiking. Plenty of ruins and historical sights will leave you awe-struck at the ancient mystery and natural beauty of the region.