Many people choose camping initially because it is a cheaper way of having a continental holiday.  Most repeat the experience again and again because it is such a special kind of holiday for the whole family.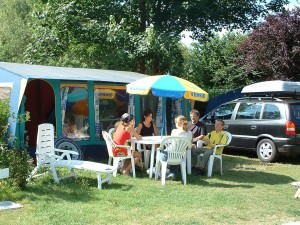 Here are the main reasons I think you should consider it.
1) Cost:  There is no doubt that price is a huge factor when booking a holiday.  Do not be misled into thinking that in the case of camping holidays in France cheap equals tacky or horrible, that is not the case.  Pick your camp site as carefully as you would your hotel or resort, and 'voila', a wonderful holiday.
2) Transport:  Enjoy the freedom of having your own transport available at all times.  You can choose with most companies whether to use a ferry and drive your own car, or to fly and pick up a hire car at the airport.  There are pros and cons to both, and your decision will probably be governed by factors such as cost, time, distance and age of the family members.
3) Choice:  In France camping is a way of life, and the choice is enormous – large or      small,   international or more local, beside the sea, beside a lake, in the country, near a     large town, adjacent to Paris, near a port?  The scope is enormous.
4) Language:  The opportunity to expose your children, or yourself, to at least one other language, is one not to be missed.  Watch in awe as tiny tots from different countries effortlessly communicate with each other;  feel huge pride when your teenagers nonchalantly tell you about their chat with Pierre or Dieter, Maria, or Mignonette.  Watch how easily the young people mix together and follow suit.
5) Relaxation, enjoyment, whatever you like to call it.  You decide what you want to do, when you want to do it.  Relax?  No problem, there are kids clubs for all ages, where your children will be safe, cared for and have fun.  Explore?  No problem, just hop into the car and off you go.  Sightsee?  No problem, either take off again in the car, or see what tours the camp site can offer or arrange.
6) Freedom:  Camping in France does not restrict you to one site, one area or even one region.  You are as free as a bird to go off and do your own thing.  Spend a few winter nights as a family discussing what everyone wants, and take it from there.  Then, fins some places to stay in Paris, en route to the Riviera via the French Alps?  Quite possible with planning, and consensus.
Unless you are in the market for lavish opulence, and even then there are five star mobile homes available, camping in France is difficult to beat.  Try it!