Sometimes you just want to go on a road trip adventure for inspiration. As far as North America is concerned, Canada is sometimes overlooked for the incredible sights showcased. There are plenty of places with majestic heights and jaw dropping views in Canada to check out.
1. Niagara Falls, Ontario
On your next trip to Ontario or New York, check out Niagara Falls. Walk through the tea rose gardens and take in the sights of falls from Queen Victoria Park or go through underground walkways connecting to observation rooms. Skylon Tower has the highest vistas of the falls and distant views of Toronto.
Crowne Plaza Niagara Falls Fallsview is just a block away with panoramic Fallsview dining and easy access to the casino and indoor water park.
2. MacMillan Provincial Park, British Columbia
Located on Vancouver Island 88 miles west of the city via ferry are vast trails surrounded by a setting reminiscent of Ewok Village. A forest trail of Douglas fir trees towering over 249 feet in size and dating back up to 200 years line the park's Cathedral Grove.
Shady Shores Beach Resort north of MacMillan Provincial Park has additional activities including boating, swimming, and clam picking.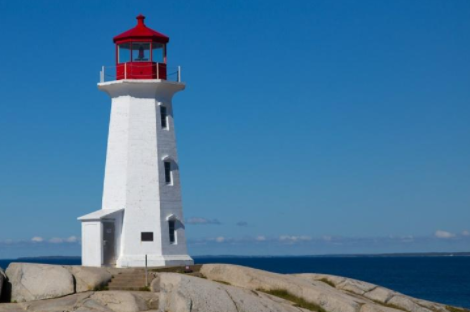 3. Bruce Peninsula, Ontario
Nestled between Georgian Bay and Lake Huron is Bruce Peninsula. Two national parks, multiple nature reserves, and part of the Niagara Escarpment stretch across the peninsula maintaining a habitat for all sorts of animals like flying squirrels, black bears, barred owls, and migrating birds.
Fathom Five National Marine Park along Georgian Bay has fantastic dive sites with 22 preserved shipwrecks to explore under water. Mac's Shacks offers waterfront cottages. Kayak, canoe, and fish from Mac's private dock.
4. Peggy's Cove, Nova Scotia
Along the eastern shores of St. Margarets Bay in Nova Scotia is the small community of Peggy's Cove. Established in 1811, visitors enjoy walking the golden sand line shores around Peggy's Point Lighthouse. Despite tourism being the largest industry, it's still an active fishing community as it overlooks a stretch of the Atlantic.
Peggy's Cove Bed and Breakfast has deck views for boat watching. Local restaurants also host public webcams for checking out the lighthouse year round.
5. Squamish, British Columbia
In British Columbia, ride the Sea to Sky Gondola up the Sage and White Mountain peaks. Or climb the granite walls as you witness beautiful sights of Howe Sound and Sky Pilot's snow caps. Squamish is also North America's largest site in the winter for bald eagles.
Sea to Sky Hotel and Conference Centre is a half hour drive from the gondolas with Garibaldi Provincial Park and other attractions close by.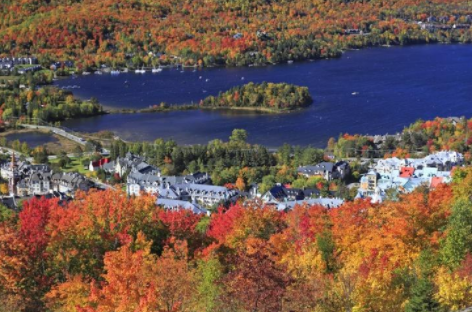 6. Mont-Tremblant, Quebec
Laurentian Mountains serve as the backdrop to this small Quebec village. In the summer the soft pastel colored roofs beautifully compliment the surrounding greenspaces. Mont-Tremblant hosts a variety of activities including rafting, paintball, skiing, and even sleigh rides.
Hilton's Homewood Suites is within walking distance from the ski gondola and Pedestrian Village.
7. Tablelands, Newfoundland
On a trip to Gros Morne National Park in Newfoundland, there are many beautiful places to check out like the fresh water fjord of Western Brook Pond. On the southwestern end of the park, the Tablelands trails provide a rare opportunity to hike on rocks from the earth's mantle.
Geologists believe the peridotite rocks came up to the surface as North America and Africa collided thousands of years ago. The low valleys of this setting combined with the rivers and layers of land uncovered from the earth's crust create an almost other worldly scene.
Tableland Cottages are just outside of the park and Tablelands with more trails close by on Trout River.
8. Gaspé, Quebec
In East Quebec, this small town's red rock cliffs topped with lush greens border the St. Lawrence River. Locals and visitors alike enjoy kayaking on the St. Lawrence in whale season and riding around the natural arch on Percé Rock. In addition to whale watching cruises, there's also high-seas fishing.
Within the peninsula town are four national parks including Quebec's largest seabird colony. Between spring and fall over 250, 000 birds migrate to this area known for the northern gannets.
La Normandie of Percé has ocean views and faces both Bonaventure Island and Percé Rock.