One look at a map and you'll see that Australia is massive  Flying from Sydney at one side to Perth at the other side takes a full 5 hours.  When I lived in Sydney last year I visited Cairns, Darwin, Alice Springs etc and all of these are serious distances away.  There are 7 states in Oz and I'm going to give you a quick run down of the highlights in each one, make sure you don't miss any of it when you get there!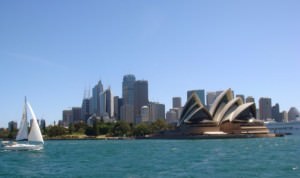 New South Wales: This was my first stop and is often the first place that people land in when visiting Australia. NSW plays host to some of the most recognised landmarks in the world such as the Sydney Harbour Bridge and the iconic Sydney Opera House.  There is lots here to explore, from the Botanical gardens, to the rocks where the very first European settlers landed and set up camp.  Outside of the city, the surrounding areas are full of awesome beaches (such as Bondi Beach), and there's a fabulous coastal walk from Bondi to Coogee. Carry on the backpacker route North and you'll reach Byron Bay which is full of hippy surfers, and there are also the Blue mountains to explore as well.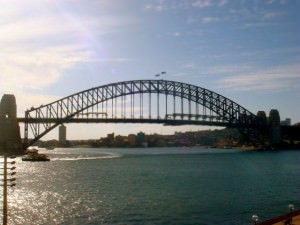 Queensland: QLD hot, humid floods a lot, but it's a great place to go for an action packed holiday.  Surfers Paradise in the Gold Coast has loads of casinos and high-rise buildings.  In Brisbane you can hire a 4×4 and drive from Hervey Bay to Fraser island (brilliant thing to do!) where you drive on the beaches as well as enjoy bathing in lagoons, camping and drinking too much wine with other backpackers.  Airlie Beach and the Whitsunday islands are great if you fancy a bit of yachting, and then of course there's the coral reefs off the Queensland coast. Cairns to the Great Barrier Reef you can explore the wonderful sea life that lives here with a spot of snorkeling or scuba. Here is a quick guide for the beaches in brisbane that you can cover in a day.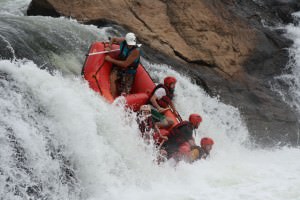 Victoria: Melbourne in Victoria is the Australian culture capital.  Artists, fashion design, music, this cultured and edgy city has produced some amazing talent in all these areas.  There is a strong café culture here which along with Victorian style terraces, historic trams, shopping, music, galleries and restaurants give the place an almost European feel.  You can walk along the banks of the Yarra, visit with friends in Federation Square or rent a car and drive the Great Ocean Road (another massive highlight in my opinion).  The Yarra valley is famous for it's wine, and if you head over to Phillip island you can watch some crazy penguins as they waddle along the beaches here. Or check out the Australian institution that is Aussie Rules at the 100, 000+ capacity Melbourne Cricket Ground.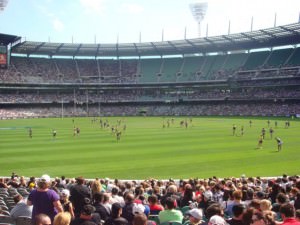 South Australia: Adelaide in South Australia is famous for its Fringe Festival season, with cabaret, comedy shows and a great time to be had so try to time it right! Outside the city, you can ride a tram to Glenelg beach town and relax on the pier here, or take a ferry from Cape Jervis to Kangeroo Island to watch the kangaroos and the seals . If booze is more your thing, the Barossa wine valley offers the chance to experience some of the regions best wines, while the adventurous can seek out Port Lincoln where they can experience cage diving in the shark infested waters off the Neptune Islands (you can only do this in two countries in the world, the other being South Africa)
Western Australia: Perth experiences a crazking 3, 000 hours of sunshine every year, and much of the entertainment here is outside.  Picnic in Kings park – one of the worlds largest inner city parks, or enjoy a glass or two of wine in the Swan Valley region (spotting a theme here?!).  Take a ferry across to Rottnest Island where you can see the Quokka – a stranger looking creature you may never get to see as it looks something like a cross between a giant rat and a kangaroo.  Ningaloo Reef close to Exmouth is a great place to experience swimming with whale sharks.  Near Kimberly the wilderness of the outback offers a chance to go walkabout without straying too far. Camel rides along cable beach, walking among the limestone pillars (The Pinnacles) that rise from the sands of Nambung National Park, and paddling along the Upper Ord River can all be added to your itenary.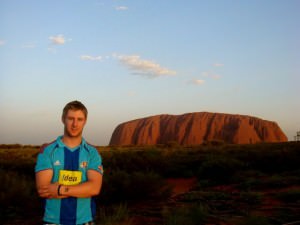 Northern Territory: The most famous rock in the world – Uluru (formerly known as Ayers Rock) lies here in an area of incredible natural beauty.  The rock appears to change colour during sunrise and sunset, and there is much to learn here about aboriginal culture and the sacred meaning of the rock. You've a moral decision to make as to whether or not climbing the rock is the right thing to do – technically you 'can' climb it but the indigenous Australians urge you not to, personally I chose not to and I'd encourge other to do the same. At Kata Tjuta you can do the Valley of the Winds walk and see a collection of these giant red domes as well as hiking through Kings Canyon with its spectacular views of the outback.  Kakadu national park is home to saltwater crocodiles, and at Katherine Gorge you can take a dip in the Matarakna Thermal Pools.  The Devils Marbles is another collection of huge red boulders that can be seen nearby.
Tasmania: Not part of the mainland, but an island off the south coast of Australia, Tasmania is the smallest Australian state and gets the least visitors unfortunately. Its nickname is the 'natural state' and it has a relatively unspoiled natural environment which nature lovers will enjoy exploring.  There are a large number of national parks here, all packed with wildlife, and you can see the Tasmanian Devil here too, it can only be found in Tasmania, and is carnivorous.  Wineglass bay here has been voted as one of the world's top ten most beautiful beaches, and it really is stunning. As well as all the natural beauty here, Tasmania is all about adventurous outdoor pursuits, so if you want to try your hand at white water rafting, kayaking, absailing, trekking, or a host of other sporting activities then Tazzie is a great place to visit.
Australia is an awesome place to backpack and with working holiday visas so easy to get you can fund your travels there for up to 2 years. I really had a great time in Oz, saved loads fo cash, met so many awesome people so get yourselves over there asap! Happy Travels!