While people travel for a wide array of reasons, I actually travel for a mixture of pleasure and work. I love discovering new places that are exciting and interesting, but I also am always on the lookout for locations that have great beads. Being a jewelry designer by trade, making a find in a rural area of local bead makers can turn an ordinary holiday into a surprise gift of new design material. My recent trip to Africa is just one good example of how this often works for me.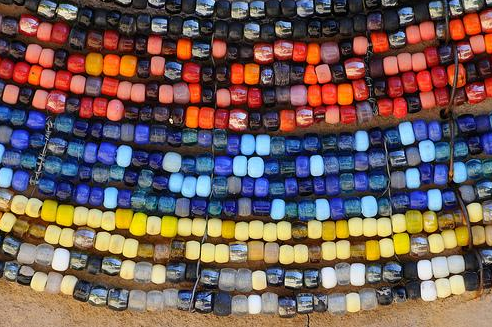 Kenya's Bead Factories
Believe it or not Kenya is one area of Africa I had not explored before, despite having heard stories of amazing wholesale beads that could be found at local "bead factories" in Kenya. Don't let the name fool you, the fact is these beads are often produced locally by the women of the area and then distributed through these factories. If you are picturing long tables filled with Kenyan men and women toiling away in horrible factory conditions, nothing could be further from the truth. Exploring the many villages in the Kibera area allowed me to meet many of the women who gathered the raw material for their beads.
Hand-Painted Clay Beads of Southern Kenya
Another bead factory that I did visit is one that was founded by Lady Susan Wood. This Congo-born daughter of missionaries formed the business to give local women a chance to leave poverty behind. Here they take local clay and form small beads that are then hand-painted by the local women. The beads are beautiful and can be purchased at many of the local markets that dot the towns in the area.
African Adventures
Of course, I love to do far more than simply look for beads when I am traveling and finding my way in parts of Africa is no exception. Besides the wonderful people, my travels gave me the amazing chance to see so many animals and birds that I had only seen before in a zoo. To see these animals as they exist in their own natural surroundings was such a thrill for me. I really do recommend to everyone that they have at least one trip to see Africa. It is truly a unique and beautiful part of the world.