Easybook.com offers broad range of travel & tours options for tourists traveling to Singapore, Malaysia, Thailand & Indonesia. It is a one stop destination for tourists visiting these countries from different parts of the world. The astounding success of Easybook.com should be levied upon its wide range of facilities which has contributed to its triumph over others. Over all these years, it been offering more then 12, 000 bus routes covering countries such as Peninsular Malaysia, East Malaysia, Singapore, Thailand and Indonesia. Partnering with more then 110 bus operators and more to come, Easybook.com has delivered itself as one-stop online booking portal of bus and coach tickets. Besides that, Easybook has provided dedicated services for its customers at implausible low prices such as Island Hopping, Exploring Snake Temple & Malay Village, Kuala Kota Kinabalu City tours etc which involves adventurous boat rides, discovering fishing communities, walking tour of China Town & devouring mouth watering cuisines, exploring historical structures along with mosques like Crystal Mosque, Maziah Palace etc. Moreover, added benefits are provided to tourists as per their convenience such as suitable pick up locations, timings etc.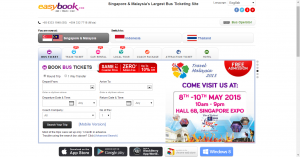 Tourists with prior experience at Easybook.com have never regretted to book their attraction tickets again with such a profound website as it provides amazing tour options with multiple cities such as Penang, Sarawak, Sabah, Kedah, Kuala Lumpur etc. Its additional advantages with each tour packages have revolutionized the whole concept of touring throughout Malaysia, Singapore, Thailand & Indonesia.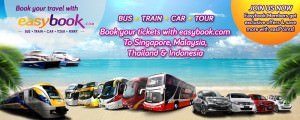 Along with tours and coach tickets, Easybook.com offers astonishing attractions for families looking for attractive vacation spots in Singapore & Malaysia. Families visiting Singapore experience some of the amazing theme parks, river tours, water parks, museums along with exploring Marina Bay & Sentosa. Easybook.com provides entry tickets to these attractions with the convenience to plan your vacation's date & timings. Moreover, attractions in Malaysia such as Legoland, Sunway Lagoon & Hello Kity have attracted thousands of visitors from all over the world. Customers who book their passes at Easybook.com have the convenience to get them delivered at their respective addresses or collect it from the designated location.

Tourists visiting these attractions in Malaysia prefer coach packages from Easybook.com as it fulfills the travel requirement of visitors traveling from Singapore or other far off destination. It also provides pick up facilities from Singapore Lavender MRT Station or Singapore Flyer at a designated time on the date of journey. Moreover, Easybook.com has partnered with several coach companies which provide Best-In-Class facilities for visitors starting with Personal TV, Massage Chairs and Packaged Food etc. It also offers opulence accommodation to tourists in some of the best hotels along with exceptional KTM train services & car rentals to various popular destinations like Singapore, Kuala Lumpur, Malacca, Penang, Johor etc. With wide range of facilities & amazing travel option, Easybook.com has established itself as one of the foremost ticketing website in Malaysia, Singapore, Thailand & Indonesia.