New York City is one of the best places in the world to visit. This bustling city has so much to offer, it has something for every taste. But how do you cram so much in when you may not have so much time? You have to choose your route wisely and do your research! Find the attractions that interest you most, make a list in order of preference, take a look at the map to see what's possible and then get ready for a great holiday! Of course if you don't want to walk around the Big Apple, you can always see the city from the air, there are a number of  Helicopter tours around New York for you to choose from. If you're still undecided about what to see then here's a list of some of the top attractions, you choose your favourite: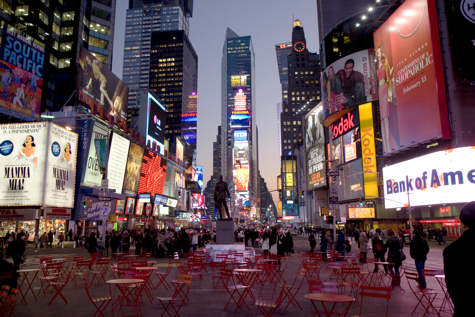 Times Square
This iconic tourist attraction is a must see! You've seen it a hundred times on movies, documentaries and travel shows. You have to see it in person. You will be able to see some of the worlds best street performers here, from the wonderful to the weird!
Coney Island Cyclone
It is plain wrong if you go all the way to coney island and don't take a ride on the Coney Island Cyclone. It has been a permanent fixture since 1927 and has been replicated many times around the globe. The roller coaster takes only two minutes to twist you and whiz you through many drops, you'll reach speeds of 60mph!
Empire state building
Yes, you will queue for along time and have to shell out for an expensive ticket. But trust me, it is worth waiting in line once you get to the top. The views are breathtaking and worth every penny. If you need a place to propose then this could be it.
Central Park
There are over 840 acres that make up this incredible park. You can either stroll around taking everything in, or you could get up bright and early to join the hundreds of joggers in the morning, if the weather's good just go there and sunbathe.
South Street Seaport
Here you can check out the largest privately owned fleet of historic ships in the whole country. It's a great place to go to get away from the crowds. Once you've finished up taking in the sights you can head to one of the great bars in the area, these watering holes are a great find and offer a good way to relax at the end your adventurous day.