I love Spain – Spanish food, Spanish weather, Spanish Women – everything. And Barcelona is my favourite city there. Not only do they have the best football team in the world (ever?), an awesome public transport system, plenty of stuff to do in the daytime, when the sun comes down and the lights go on, it might be even more awesome.
So when you're in Barcelona, don't think your sightseeing job is finish just cos the day is over. Bring your tripod and get ready to snap some even better pics, check out these 4 things in Barcelona at night:
Musical fountains:
First up, my vagabond friends, is the Musical fountain and it's FREE. Ok, but remember the magic fountain doesnt operate on Monday, Tuesday or Wednesday's throughout the year. Jump on the metro to Placa Espanya after sunset and you're all set, the show mixes light, sounds. Music and water acrobatics to really get you going. Really, really cool.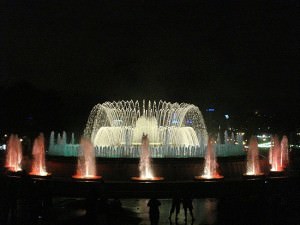 Casa Batilo:
It's known as the house of bones, and was restored by their very own Gaudi. There are pretty much no straight lines and while it's pretty spectactular during the day, it comes into its own when the sun goes down. This is something else!
Torre Agbar:
The thought of going to see an office tower didn't inspire me either, but this is no ordinary office tower! It's 38 floors with over 4000 lights, allowing for more than 16, 000, 000 colours – now that's worth a pic or two. It lights up between 7pm and 11pm nightly.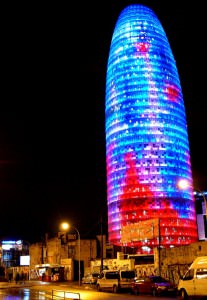 Montjuic Hill:
City views are always great, but from almost 200m up here you can watch the whole beauty of Barcelona at night, and once more, it's completely free!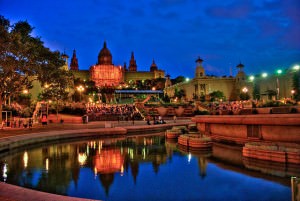 4 cracking nighttime activities and not even one euro spent, tell me that's not tiptop! Grab yourself a hired car in Barcelona, and get yourself here to explore. Happy travels!