The most wonderful time of the year is upon us and the decorations are an essential part of the Christmas season. Everywhere you look you will see festive lights and on the big public squares big Christmas tree are set up. Apart from the city council that is responsible for the decorations throughout the city stores always put great effort into their decorations to increase profits.  Often times the big departments stores are known for their Christmas themes and decorations.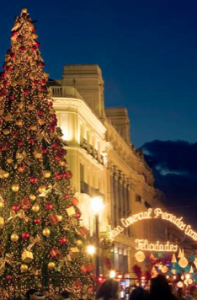 This is also the case in the Spanish capital, Madrid. Every year the big department chain Corte Inglés presents the Cortylandia for Christmas. One store precisely, the Corte Inglés de Preciados, sets up the city's most visited Christmas spectacle and if you are staying in Madrid apartments during the Christmas season you cannot miss it.
Cortylandia is a big Christmas scenario with big singing puppets, full of colors and kitsch. It might be a little bit of overkill to some, but it is such a big part of the Christmas traditions in Madrid for over 30 years that you cannot visit during Christmas time without having seen it.  For many locals it is a trip down memory lane that brings them back to their childhood sitting on their parents' shoulders singing along to the songs that are being played every 15 or 30 minutes. And today still parents take their children there.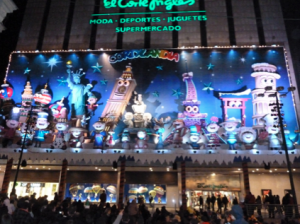 Each year there is a different theme for Cortylandia. This year's edition is dedicated to Pitiflú, a character that is representative of the children's segment of the chain. Though the focal point of Cortylandia is the front of El Corte Inglés de Preciados, but in reality parts of the spectacle are spread out in the entire city and for this reason there will be a special map that points out Christmas activities in the city. This year in coincides with the 32nd birthday of Corte Inglés and elements of each of the previous year are part of the decoration.
It opened on November 25 and you have time until January 8th to rent apartments in Madrid to experience this great Christmas tradition.