The Christian faith views Christmas as one of the most important holidays of the year. In a Catholic city like Rome the Christmas celebrations are still kept very traditional.  Many Roman families actually abandon the city over the holidays and gather the family on the countryside, but this shouldn't keep anyone from looking into one of the Rome apartments to experience the Christmas festivities in the Eternal City.
The Christmas season officially starts on December 8th with the Festival of the Immaculate Conception when the Pope visits the Spanish steps. In front to St Peter's Basilica a life-size nativity scene is set up. On Christmas Eve the Midnight Mass is held inside. But if you haven't taken care of getting tickets for this mass in advance (as early as in May!) it is very likely that you will have to settle for watching it from outside on a big screen.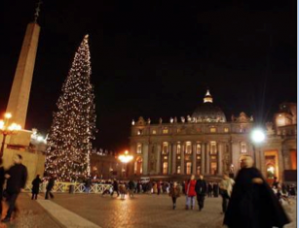 At Piazza Navona there will be a big Christmas market. Unlike in many other countries in the north of Europe where the Christmas markets end around Dec 24th, the Christmas market at Piazza Navona is opened until Jan 6th, the Epiphany. The stalls at the Christmas market sell food, crafts, toys, and candy. During the holiday season the Piazza gets more crowded for la passeggiata  – traditionally just a walk around the neighborhood.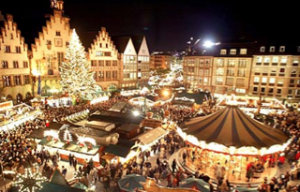 During the Christmas season it remains almost needless to say that a visit to the The Nativity Museum (Museo Tipologico Internazionale del Presepio) is obligatory. The presepio, the nativity scene, is a very essential component of Christmas in Italy and this museum located in the Church of Ss. Quirico e Giulitta is dedicated to all elements around the presepio.
With over 600 churches in Rome you can also choose to avoid the masses around the Vatikan and actually get a seat in one of the other churches for the Midnight Mass. For example Santa Maria in Ara Coeli located on the Capitoline Hill is a great alternative. For Christmas Eve you will find candles on each of the 124 steps that lead the way to the entrance of the church. Incredibly beautiful.
It is nice to know that even in a modern contemporary city like Rome Christmas is still held very sacred. The winter is a great time to rent apartments in Rome, as you avoid the high season for tourists, but also because the temperatures remain rather mild.