I arrived at Rome quite excitedly. Not only was I going to rich culture and history of this beautiful city, but I was also going to meet my long distance partner for the first time in over a year. His name is Michael and he was originally from Los Angeles, California, doing his work in a nearby city. This was our romantic getaway and I was very excited for the possibilities that lay ahead of us. He picked me up at the airport and off we went on our very own romantic adventure.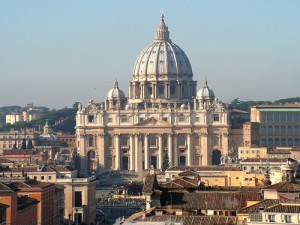 One thing I noticed right away as soon as I landed in Rome is that people living here are very indulgent in everything they do, whether it is home-cooked food, wine, cars, or even the relationships to some extent. I soon realised that I won't get a better chance to indulge myself than in this capital city of the Mediterranean country.
The landscape of Rome is one of the best around the world, and it is also its most recognisable feature. Landmarks such as Colosseum, Saint Peter's Basilica and Trevi Fountain were instantly recognisable, though there are many other beautiful sites too which would be too hard to ignore. Climbing up to the terrace of Castel Sant'Angelo will give you an unhindered view of the entire city, and to sum it up in one word: magnificent. By the time were finished with visiting Castel Sant'Angelo, the night was almost upon us.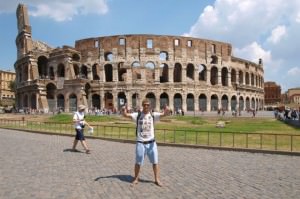 Michael had booked us a room at one of the top luxury hotels in Rome. Being very tired with the sight-seeing we had done, we crashed in our room for the night and had the food delivered through hotel service. I hadn't settled completely yet, so I chose to eat normal American food instead of local Italian. However, I was determined that I will try the local cuisine in the coming days.
The next day, we visited another great landmark: Gianicolo, a hill on the western side of Rome overlooking the entire city. The sweeping panorama here was even more beautiful than the one we've seen from the top of Michelangelo's dome at Saint Peter's Basilica. I was a skeptic before, but now I understood why many refer to Rome as the most beautiful city on the planet. It looked stunning indeed.
We stopped at a local eatery to have our lunch, and as I had planned, I decided to try the local cuisine for the first time. Rome hosts almost all famous Italian recipes, but my partner suggested that I stick to local culinary traditions to have the best gastronomic experience. The Roman pizza we ordered had a very thin and crispy crust, quite different from the Neapolitan variety served back in the States. By the time we were done with the pizza, I was full; I can only eat that much. However, I gulped my food down with a hot cup of coffee.
Our next stop was Villa Borghese, a gigantic city park that is a far cry from the urban life going around it. This enormous green space includes gardens, temples, fountains and the Casino Borghese villa, which houses the much appreciated Galleria Borghese art museum. The lush greenery and the beautiful scents transported us to an altogether different space, and it was an excellent experience.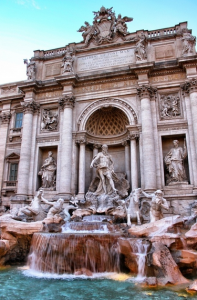 For dinner, I dived into a generous plate of cacio e pepe, pasta made with black pepper and pepperoni cheese. Its creamy texture mixed along with the spicy taste was totally out of this world, something I haven't felt while eating food for a long time. We ended our evening with a bottle of white wine, though we didn't indulge ourselves as we had a long day ahead of us tomorrow.
If you ever visit Rome, pause at a café or piazza and hear the local language around you. Absorb the rhythms and melodies of local Italian; I found it to be very soothing. We stopped at a café and ordered ourselves a porchetta, a sandwich served with seasoned boneless pork. There are many kiosks all around Rome that sell grattachecca, a cool tasty concoction of shaved ice and flavored fruit syrup.
Our romantic adventure ended with a visit to Viterbo, a tiny medieval city less than two hours away from the main city. Viterbo is famous for its hot springs; it was very relaxing to take a dip in the hot sulfurous waters emanating from the Bullicame spring. Before we even knew it, our trip had come to an end. I bid adieu to my partner and left for my home, promising myself that I will surely visit this enchanting city again.