Sydney is one of those cities you can return to again and again and never really get enough. I always think of it as one of the most exciting places I've visited on my travels, and withall the Crazy Australian food, I think you like it as much as I did. In Sydney, the laid-back, friendly Australian atmosphere mixes with the bustling vibes of a cosmopolitan city, dropped right beside one of the most beautiful coastlines in the world.I really recommend the Surry Hills hotel as a great place to jumpstart your Sydney holiday, as it's in a prime location for exploring the city. There are endless things to see and do, but here are 5 of my favourite places to get you started:
Hyde Park
It's the oldest park in Australia, and yes, it's named after the original Hyde Park in London. The 40 acre space right in the middle of the central business district is a great way to feel like you've left the city without ever really leaving. Bring a picnic and set up in a grassy area for some people watching and relaxation. Strolling along the quaint, tree-lined avenues and watching locals playing cricket and rugby is one of my favorite ways to spend an afternoon.
Darling Harbour
There's always something going on down at Darling Harbour; it's one of my favorite places to go during the evening for restaurants and entertainment. There are tons of places to eat, with everything from street food to classy restaurants and bars. They've got the Maritime Museum and Sydney Aquarium, and tons of other attractions. If you're ever in the mood to get out during the evening and just see what's happening around town, this is the place to go.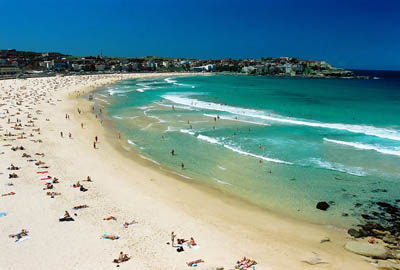 Bondi Beach
Probably the best thing about Sydney in my opinion is its proximity to the beach! And not just any beach, but one of the best beaches in Australia. Bondi Beach is world-famous for its fantastic surfing conditions, so if you're a surfer you should look no further. But even if you're just a regular beach-goer, it's a great spot to enjoy white sand, gorgeous water and endless people-watching.
Eveleigh Farmer's Market
One of my favorite ways to spend a weekend morning is browsing an outdoor farmer's market, sampling fresh produce and specialty foods. This Farmer's Market, held every Saturday from 8 am to 1 pm, has a real community feel to it. They even have special events like wine and cheese tastings. And on Sundays from 10 am to 3 pm there is an Artisan's Market where independent artists and designers come to show their wares.
Balmain Neighborhood
Personally I'm a food lover, and I've found the Balmain neighborhood to be an absolute foodie haven. It's a cute little pocket of the city with shops and boutiques, but the best places to stop are the cafes and restaurants serving up all kind of tasty food. From the rich, freshly ground coffee at Little Marionette to the to-die-for macaroons at Zumbo, you'll love the edibles in this area as much as you'll enjoy the gorgeous view of the Harbour from the ferry terminal here.