I'm going to write today about something I don't usually do, but as far as I am concerned, there are reasons why to slightly concern about.
The point is that there's an abysm between people who cannot leave their Florence apartments or wherever they are on holiday without having spent an hour in front of the mirror with the hairdryer on one hand and the hair gel on the other and people who think that travelling is equal to lose any sense of aesthetics which should just be substituted by clothing comfort.
So, if you guys feel very near to any of these two extremes, try to crawl a little bit towards the centre as none of them are good for you. The reasons are clear: if you are obsessed with your appearance, you'll not enjoy fully your trip. Moreover, you will spend too much of the valorous holiday time abroad just getting ready. Even worse, you can finish the patience of the person(s) travelling with you and this may lead to undesired tensions.
On the other hand, there are those people who, far from being slovenly, once they are on holiday, they forget about all kind of aesthetics, from hair brushing to clothes combining, to shoes combining with clothes wearing, just because, "hey, we are going to walk a lot". Oh, yeah, great, but, come on, brush your hair anyway, and take out this dusty hat from 1965.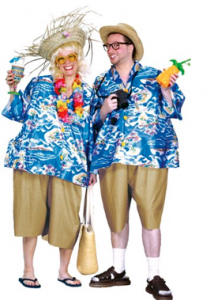 So, let's have a look at some tips which are crucial to keep a nice look while travelling without losing comfort:
Packing is an essential part of the trip if you want to be efficient and quick during your stay. Try to get clothes that combine between them so that you can combine practically any trousers with any T-shirts or sweaters. Get only one jacket, but a functional one, one you like. Same with shoes.
Comfort is also important when being abroad. Many times we choose price before comfort and end up at any shabby youth hostel with a creepy toilet we'd rather prefer not having to step on. So, renting apartments in Florence, Berlin, Barcelona or at any part of the world, if travelling in group can help a lot: you don't have to change habits as much as you change them when staying in a hostel or even in a hotel.
Especially if you change a lot your accommodation or don't come back until late at night, always take a toothbrush, a deodorant and (if you need it) a brush and some hair product such as hair gel or foam or in your bag.
I'm sure you have your own tips to keep your glamour despite being far from home. Feel free to share them with us!