When you fly business class you know that it is not going to be cheap, but that is no problem at all because flying in that class means that you are going to get great service, great food, great drinks and also great comfort! We have all had that feeling where you are about to embark on a long haul flight, you board, you walk past the business class seats and then wish that you were travelling up the front. It looks so comfortable doesn't it? Well it is! It is absolutely amazing flying business class,   I was once luck enough to fly business class from Sydney to Frankfurt. Before I flew business class I used to dread long haul flights, but now I quite look forward to them. I know that I will get a great sleep and feel refreshed when I arrive at my destination, you will also get to leave the plane first so there's very little waiting around. The other great thing is when you are waiting to depart, you get to enjoy the business lounge. So get ready for tasty cuisine, massages, huge reclining chairs and cocktails before you have even set off on holiday! With a few simple tips you will be able to reduce the amount you have to pay for business class, this makes it much more affordable for people like you you and me to splash out once in a while and treat ourselves. Here are some simple ways to get the price down and increase the luxury in the air.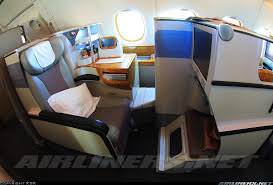 Be Flexible
You will find that if you are very flexible with your dates and book well in advance you will get the lowest rates available. It's easy to find which dates are cheaper by using one of the many search engines online, they allow you to see the prices for the whole month. Using a tool like this will allow you to find the cheapest possible fare out there.
Factor in how much it costs to get to the airport
This is important, if you live far away from the airport then you will have to pay for transport to get there and then parking if you bring your car. Add the amount up that you think it will cost for these two expenses and see how much you can save. I say save because some business class flights include free chauffeur driven cars from both your departure and arrival airport. That's three journeys, this could add up to a lot so it might be worth taking a business class flight to save you money – I bet you didn't think you would ever hear that!
Change where fly out of
You should always look at all of the options that are available to you. When you are booking your flight make sure that you don't just focus on one airport, in many cases flights will be cheaper from certain airports. If you find an airport that is cheaper but is further away because you may get pick up by the airline! Be flexible and you could save a lot of money off your luxury ticket.