I have been lucky enough to travel around the world a lot during my thirty years on this planet and I must say that I think I know my geography pretty well, but every now and then I will read something that completely amazes me and teaches me that when you think you know a lot you in fact know very little! It's good when we are left humbled and reminded that the world is a huge place, knowing everything about it is completely impossible. So for fun I started to do some research in to facts about the world that the majority of us wouldn't know. I'm writing this article not to shame everyone, myself included, for not knowing these facts but to educate us all and to maybe inspire us to learn more about this fantastic work we live in. If you really want to test your knowledge then you should try the Geoguesser Competition by Europa Casino, if you score one hundred percent on that then please do let me know because it is a very tough test indeed! So here are two weird and wonderful facts about geography that I did not know until today.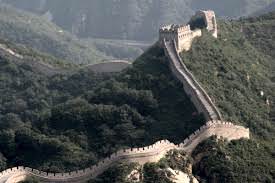 We are always led to believe that the Great Wall of China is the only man made structure that can be seen from space, this actually is not true. I couldn't believe it when I read this, I was sure the site was incorrect. I found out that from space astronauts can in fact see a number of man made things, they don't have to use anything apart from their eye either so there's no cheating going on! One of the most famous things that can be seen is the Millennium Dome in London. The famous dome, that sits on the banks of the river Thames, is recognisable from space because you are able to see the striking white roof. You are even able to see a number of major roads from space during nighttime because the big street lights are so bright.
Kevin Costner may have been on to something
If you haven't seen Waterworld then quickly google it now to see what I am talking about. The idea of the movie is that the world is completely flooded due to the ice caps melting. If the frozen glaciers across the world keep melting then in the future it is quite right to presume that we actually have to start creating floating farms! The frozen glaciers account for over a whopping 80 percent of the fresh water on this planet, if they melt then 'houston we have a problem', it's an interesting fact but a little worrying as well!
Please let me know your weird and wonderful facts about the world that the rest of us might not know. So come on guys, I want to hear some crazy facts. I'm sure together we can build up quite a list! Don't forget to check out the geography quiz I mentioned at the top, it's seriously tricky but great fun.