Gi2C China Travel Review – Intern and Travel in China  
Gi2C, a China internship provider, recently visited the closest thing to ancient China as you can find nowadays. Gi2C is always on the lookout for interesting China destinations for their China interns to visit. Working and interning in Shanghai or Beijing can be great, but nothing is better than taking a trip out to nature and seeing all that China has to offer.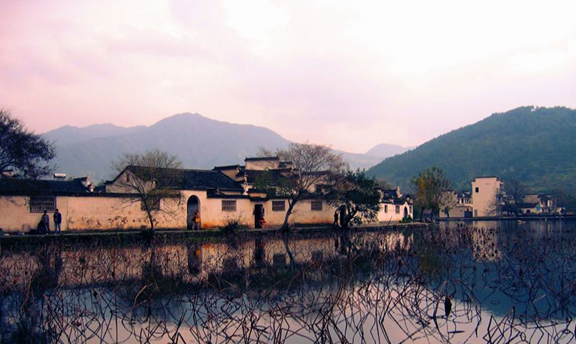 For professional and amateur photographers especially, there is nothing like visiting and photographing China's ancient villages. The unique architecture and slow pace of life where the whole village knows each other is reminiscent of years past. You'll find these traditional villages spread out all around China, but there's no better place to start than Hongcun, Anhui province.
Located in the shadow of Huangshan, one of China's greatest mountains, Hongcun is not yet on the radar of most international tourists. Yet, while the village name may not be familiar, avid fans of the movie Crouching Tiger, Hidden Dragon will definitely recognize some of the village scenery.
Hongcun boasts of more than 100 Qing dynasty buildings (plus about 40 more which were built after 1911), which have been passed down from generation to generation.  If you happen to have a translator with you, stop and chat with the local owners and they will share fascinating stories of what this village was like when their ancestors lived here.
One owner mentioned wistfully how they used to be able to swim and bathe in Moon Lake located in the middle of town, but they can no longer jump in due to pollution. As savvy travelers know, it always pays to chat with a local about what to do or where to sleep or eat.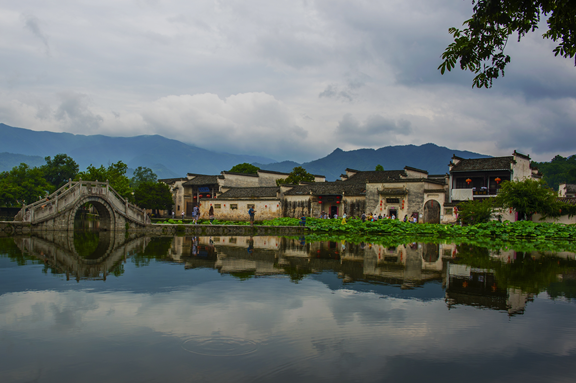 Photo credit: Joe Jiang
Expect to stay at least two or three days in Hongcun as the village has a relaxed, laid-back feel that frowns upon tight schedules. In the wee hours of the morning, you'll want to join other photographers who will be busy setting up their tripods in hopes of photographing the infamous early morning mist over South Lake before the Chinese tour groups arrive.  During the day, local students from nearby schools will sit for hours sketching the ancient Huizhou architecture.
After exploring and photographing the maze of tiny alleys and little shops selling a variety of homemade articles, settle in with a book or computer at one of two cafés that offer a wide variety of coffee choices. If you prefer tea, you will have plenty of teahouses to choose from. At night, red lanterns illuminate Hongcun and restaurants eagerly serving local Anhui cuisine are easy to find. As with all restaurants in China, choose a location that is busy. Any Chinese person will tell you, restaurants with no patrons are to be avoided.
Not all of the hostels and hotels in Hongcun have police permission to house foreigners so be sure the place you have booked knows you are not Chinese. When your host comes out to meet you at the front gate, they may be able get you a small discount off the regular admission fee of 104 Yuan. It never hurts to ask. Before you leave Hongcun, be sure to pick up some beautiful woodcarvings that you can place on a wall or shelf right next to those perfect photos you took that forever commemorate your visit to this picturesque village. Whether you are a Gi2C intern working in China or just visiting, Hongcun should be on your must-see list.
This China review is brought to you by Gi2C Group. Gi2C has been an internship provider in China since 2008 and has become a leader in the internship industry. Gi2C provides tailor-made opportunities for interns to work for a variety companies in multiple industries based in China.