Reading about travel and adventure is one thing; doing it another. With that said, if something is exciting to read about it is likely a trillion and a half time more fun to do. While, for most adventurers, going to different countries and regions is the never ending goal, it is easier read than done. Like any big adventure (weddings, a garden, etc.), preparation is the hinge on your door to new travel adventures. To get you started, here are 5 amazing destinations and a brief overview of what you need to know in terms of safety.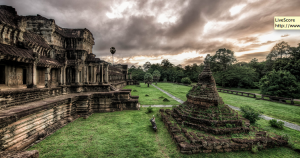 Cambodia
Cambodia is a wondrous and exotic country. Boasting the Angkor Archeological Park and Elephant Mountains, geographically speaking, Cambodia certainly does not disappoint. Their beaches give many destinations a run for their money also. Though Cambodia is aesthetically pleasing, it does come with its own set of issues. The crime rate for Cambodia, particularly armed robbery and theft against tourists is pretty high. Their government has very little success of cleaning up their problems with crime also, according to the  2013 OSAC Report. Not to dissuade you from traveling to this amazing country, in spite of potential dangers it still is very safe to visit, just be mindful of your surroundings and travel smart.
Australian Outback
The Outback is a massive, secluded, dry part of Australia. Visiting this region, you'll be sure to see green and purple vegetation, watering holes, Aboriginal carvings, and the most breathtaking sunsets. This marvelous display of desert landscapes is easily some of the best around. While the natural beauty is definitely a site the local residents can prove to be unpleasant to encounter. The Outback has a few creatures that you do not want to tango with. WhatCulture gives you a few examples of what experiences you will want to avoid while traveling the Outback. It is also a very sound idea to bring plenty of water and stay hydrated in this incredible desert as well.
Prague
There is so much culture in Prague it's almost unfathomable. Between the music, the architecture, and the country's beautiful landscape, there is plenty of things to do and see. Prague Castle, Charles Bridge, and Old Town Bridge Tower are some famous monuments you won't want to miss. Beyond the sightseeing adventures, driving in Prague can be pretty tricky. VirtualTourist lists some setbacks including, tickets, crashes, and taxis, among others as things to be aware of when navigating through Prague. Make sure you do your due diligence and keep your eyes peeled while driving the streets of Prague.
Morocco
Culture and beauty collide in Morocco. A country rich in nature, Morocco does not disappoint scenically. Between the abundant cafes, multilingual chatter, and amazing spices, this is a place of excitement and adventure. They are transportation- friendly as their trains are inexpensive and rather reliable. Be sure to check out their amazing mosques and architecture, and it will surely amaze you. It should be advised that women traveling to Morocco should be aware of issues with harassment. According to Lonely Planet, drug busts are common and fake tour guides are known to be popular so be vigilant while traveling.
Russia
Since its governmental change in the early 90s Russia has been a great place to travel. Rich in cultural history and a containing unique background story, Russia is an intriguing country to visit. Cities like St. Petersburg and Moscow are must see destinations in Russia as they hold so much history and marvelous architecture. Natural destinations like volcanoes, geysers, and an abundant amount of lakes are also must see parts of the enigmatic country. It should be said that Russia has had issues with discrimination, pedestrian safety, tap water, and STD outbreaks, according to Eastern Europe Travel. The recent conflict with Ukraine should also be taken into consideration while traveling to Russia. Though plagued with a few issues, traveling to Russia is still a great option as long as you are precautious.
Traveling to any region whether it's stateside or across the world is a great experience. It is also very important that you do your research before going to a new territory. Complications like crime, wildlife, driving, and potential health problems are real legitimate concerns. Even with the best-laid plans, problems can/will arise which is why looking into travel insurance is not a bad idea. Providers like Seven Corners Travel Insurance can help aid in many of the unforeseeable circumstances you can get into, while giving you the peace of mind that you're protected. Traveling abroad is an adventure that everyone should experience at least once. Be sure to put your safety first, so that you can enjoy your trip.