From Hong Kong to Macau: A Weekend Trip Guide
If you're well prepared, two days are enough to experience the real Macau.
From its Portuguese colonial roots, through to its modern Chinese hybrid culture, Macau is to Asia what Las Vegas is to America. Which is to say, Macau offers a taste of Europe, the surroundings of Asia, and entertainment comparable to anything in the world.
A Weekend Macau Travel Guide:
Day 1
Getting to Macau
Go to the Macau-Ferry Terminal in Sheung Wan to pick up ferry tickets (you can also set out from Tsim Sha Tsui, if you live on the Kowloon side). This will set you back between HKD$150-350, depending on whether you want to set out on the Friday night or early Saturday morning. Saturday morning on the Turbojet Super Class costs HKD$348.
The journey over to Macau takes around 45 mins ferry pier to ferry pier. Although do keep in mind that Macau has two different ferry piers; Taipa and Outer Harbour. Taipa is normally the best ferry pier to head to as it sits closer to the main Cotai area of Macau, but is also a lot busier, so the extra travel time from the Outer Harbour may make more sense if you are over during a big event.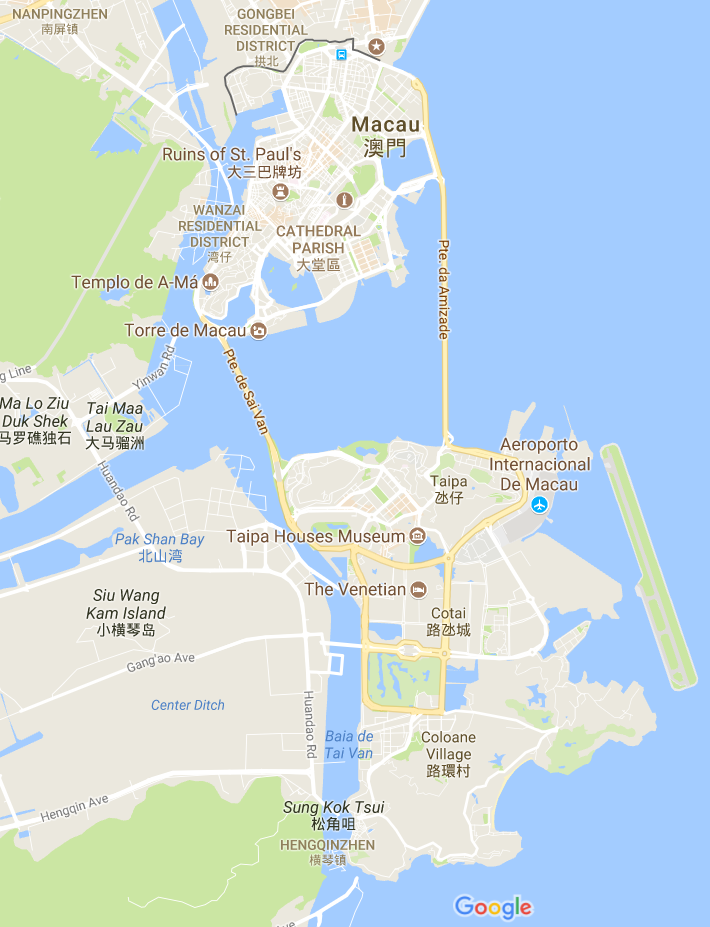 From Google Map
There are a couple of food options in the ferry pier, but you're most likely going to want to get over to your hotel of choice and then work your way from there.
Getting to the Hotel
You can opt for the local bus route, but the taxis are modern, clean, and not too dissimilar in price to Hong Kong taxis. The drivers will typically have a good idea of where you want to go, but we would recommend keeping a piece of paper with the hotel address in Chinese, or an already opened up Google Maps view, just in case.
You can stay in one of the luxury hotels which provides you with wonderful accommodation and hotel facilities, such as spa, swimming pool and meeting venues in Macau, so that you can enjoy your stay in Macau. After dropping off the luggage at the hotel, let's see what Macau can offer.
First attraction can be a historical tour of Macau's Portuguese colonial past – the Ruins of St. Paul's Cathedral! But before that, you can jump into the arms of Macanese desserts.
As you pass through the cobbled streets on the way to the Ruins, there are a number of small shops with a selection of local desserts, one of which we were similarly determined to enjoy; the Macanese Egg Tart.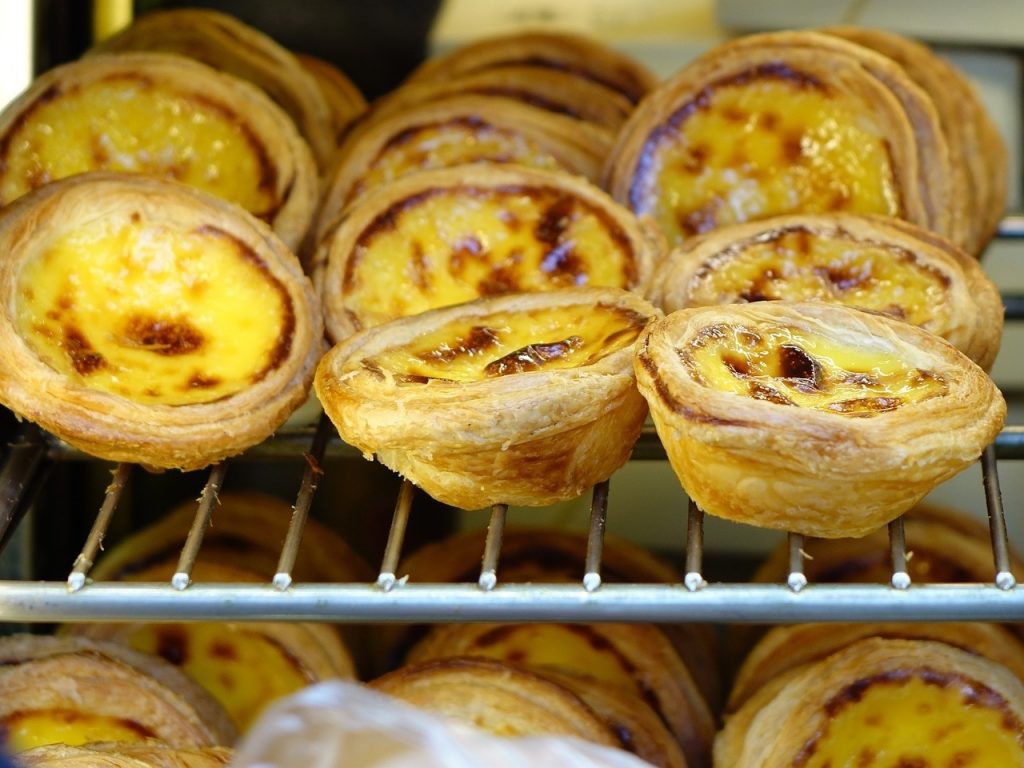 This egg tart is similar to the Hong Kong version, however it appears more caramelized on top. Top marks for the flavor though!
The Ruins of St. Paul's Cathedral are very different from anything else you will see in Asia. Where Hong Kong has a few older British colonial buildings dotted here and there, Macau offers a 16th century cathedral facade, gutted by a fire, excavated in the 1990's, and now with the addition of a small museum towards the back of the complex.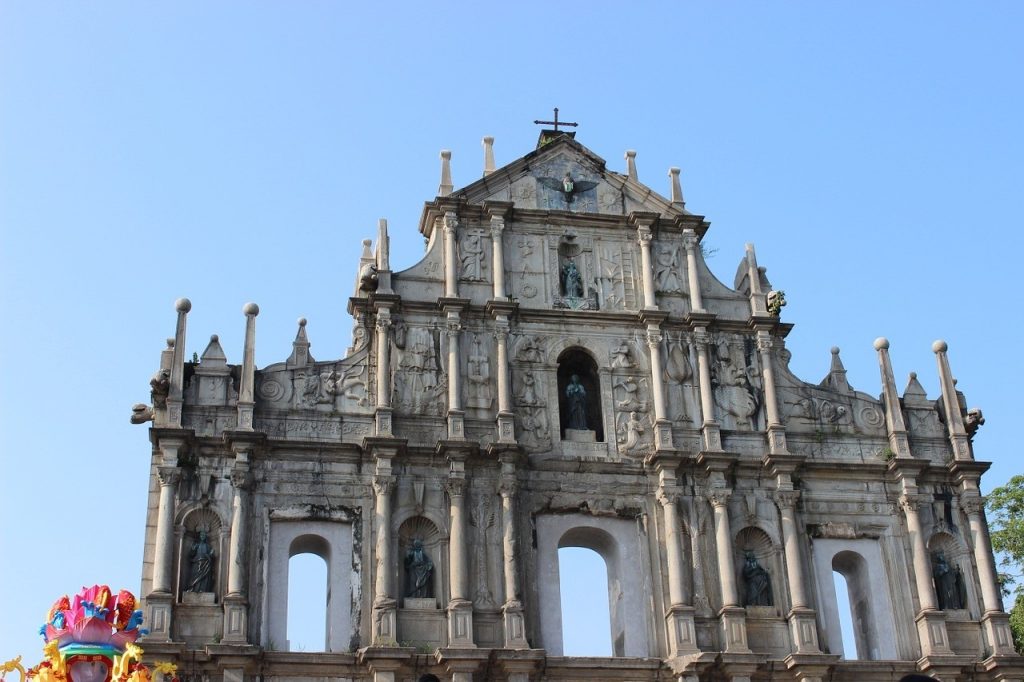 After looking around the ruins for a while, and getting the customary pictures from the stairway, it is the time for the last stop on historical tour of Macau…
Monte Fort
The Monte Fort, or 'Fortaleza do Monte' as the signs say, sits above the Ruins of St. Paul's and is a really cool place.
From the old cannons, to the gorgeous manicured lawns, and from the views of old Macau to the breathtaking views overlooking modern Macau. It's perhaps most comparable to the Peak in Hong Kong, albeit with fewer overpriced gift shops on the way up and down!
Time to Shop
After the sophistication of the history tour it was time to hit the shops, or should we say shoppes. You'll find many top end boutique stores dotted around, making for either a distraction, a danger to the wallet, or a source of boredom depending upon whichever way you are inclined.
Buy as many as you want!
Time to Eat!
After shopping, you can get back to hotel room for a short rest, then it is time to get ready for the evening. You can always have many dining choices in the hotel, for example Chinese hot pot.
Day 2
You may not have too much time to enjoy on day 2 as you may need to leave in the afternoon, you can check out the Sky Jump and grab some souvenirs.
Almond Cookies
Aside from the egg tarts, Macau is also known for its almond cookies. They make such great presents due to the ornate pattern created on the top of the cookie. They are also pretty easy to find around the city, and won't weigh you down on the way back.
Sky Jump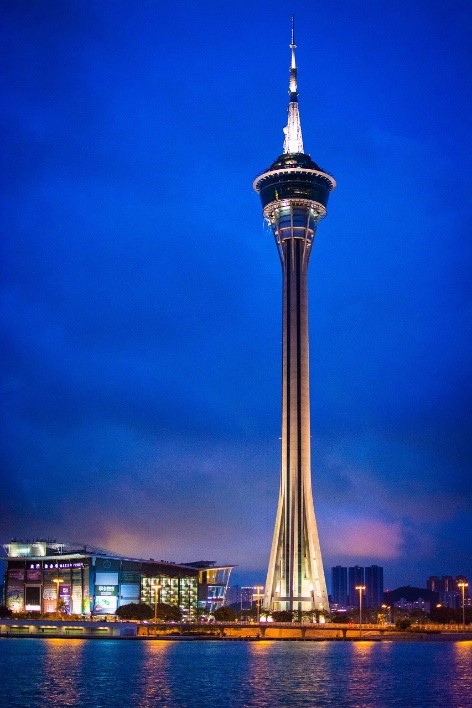 Are you brave enough to try bungee jump? SkyJump employs wire cables to fix your body into position, allowing you to stand vertically on the ground after free falling from 233m up above. Less acrobatic, but it still had the heart racing!
Hope you enjoy our travel guide! See you in Macau!