A trip to London this winter would not be complete without a visit to the city's magical Winter Wonderland in Hyde Park. There are adventures to be had for all ages, whether it be ice skating, circus watching, Santa Land, gentle fairground rides, thrilling roller-coasters or simply sitting with a mulled wine in hand and watching the lights and festivities around you.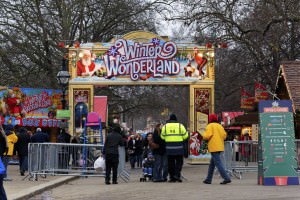 The Winter Wonderland can be spotted from a far with its thousands of twinkling lights and brightly lit giant observation wheel. As you cross Hyde Park from Marble Arch and walk towards it, the smell of sizzling Bratwurst sausages, hot pretzels, twirling candyfloss and bubbling spiced wine fills the air. You can hear the screams and shouts of those brave enough to try the exhilarating rides. Since its opening in 2007, London's annual Winter Wonderland has drawn over 15 million visitors from far and wide. Whether it's the sheer joy of the festive atmosphere that the place creates or the thrill of the rides or the taste of the beer, you can decide for yourself.
One of Winter Wonderland's many attractions is its 60-metre giant observation wheel, which towers above Hyde Park. It is a thrill to slowly rise above the festivities below and gaze at the multitude of coloured lights and festive busyness. For thrill-seekers, there are three exciting roller-coasters to try including the new adrenalin-pumping Wilde Maus XXL. There are also traditional children's fairground rides, carousels, a ghost train, pirate's adventure and a helter-skelter.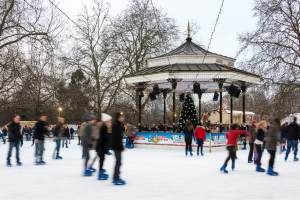 This year there are two circus shows performing at Winter Wonderland, the family-friendly Christmas Circus and the more daring Cirque Berserk for the evening crowd, both circuses from the popular Zippos Circus.
The magical Ice Kingdom returns, now even bigger, with its frozen forest of real snow and impressive ice sculptures, the perfect place for family adventures. Santa Land too returns where you can see the bearded man himself, who will be handing out gifts to the little ones.
Dotted around Winter Wonderland are quaint wooden chalet-style bars selling jugs of German beer, bratwurst sausages in buns and sauerkraut. There are over 200 market stalls selling hot schnitzels, mulled wine, festive goodies, home-made gifts and crafts.
The Winter Wonderland's ice rink is the biggest outdoor rink in the UK and is illuminated with more than 100, 000 lights. It is a dreamy place to ice skate; put on a pair of skates and glide across its shimmering ice or simply observe with hot chocolate in hand. At the ice rink's centre is a Victorian bandstand where musicians will provide a festive accompaniment to your graceful (or not so graceful) skating.
Winter Wonderland is free to enter and begins on Friday, 21st November this year, closing on January 4th, 2015.
There are a number of luxury hotels not far from Hyde Park's Winter Wonderland which provide a range of amenities for those travelling to London this Christmas. Add to this list beautiful luxury spas, Michelin-starred restaurants, elegant bars, gyms, Wi-Fi, festive afternoon tea, luxurious suites, swimming pools and facilities for families.