My country of birth, the Republic of Ireland is a great place to visit, with beautiful scenery, lively historic cities and hundreds of things to do and see (not to mention the booze!).
When choosing a luxury spa day in Ireland, there are many things to consider. Do you want to stay overnight? Most hotels will tailor a package to suit you; some are less child friendly and therefore ideal for the more peaceful getaway!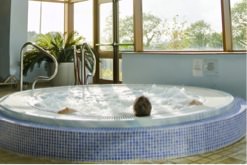 Luxury spa days in Ireland offer a great range of treatments, from manicures and pedicures through to hot stone treatments, massages, facials and specialities such as aromatherapy and body wraps. If there is a specific treatment you want check with the hotel in advance. The Knockranny House hotel and spa has a thermal spa suite and vitality pool and penthouse and presidential suites available for a really luxurious break. the Maritime Hotel overlooking Bantry Bay offers a variety of packages for spa weekends including food and entertainment, as well as family weekends with plenty of entertainment for the kids.
For an historic location, the Castle Leslie Estate offers Victorian grandeur in traditional surroundings from the bedrooms through to the steam and treatment rooms. The 100 acre private estate also offers 21 miles of bridleway to ride around and glittering lakes to stroll beside. Enjoy sumptuous dinners by candlelight and afternoon teas surrounded by heirlooms and antiques. Mount Falcon in Ballina also offers similar historic surroundings coupled with excellent spa days and weekends.
If you would prefer more urban surroundings the Merrion hotel in Dublin was created from 4 Georgian townhouses and is a 5 star retreat from the bustle of the city. The restaurant and bar are in the vaulted rooms of the old wine cellars and the tranquil gardens manage to offer peace and quiet in spite of the excellent central location.
For more modern surroundings the Cliff House Hotel in County Waterford is set on the edge of Ireland's Southern coast. Part of the hotel is fashioned from the cliff itself and the heated terrace overlooking Ardmore Bay is perfect for outdoor dining and relaxing.
Southern Ireland offers luxury spa resorts to suit every taste, both spa days and weekends, from historic grandeur to less formal surroundings without compromising on service and style.