Guest post*
It's almost a spoiled thing to say but, sometimes, choosing a destination to go on holiday can be a bit of a drama. Today, with all the low-cost airlines at your disposal, almost all destinations around the world are within reach and affordable. Right now I'm sitting in my Rome apartment thinking about how going to Rome for the first time came about. I was told to watch the film Roma (1972) by Federico Fellini and the whole culture, scenery and charm shown in the film made me want to go to the Eternal City at once. However this is not the first time that I've been inspired to travel to some place.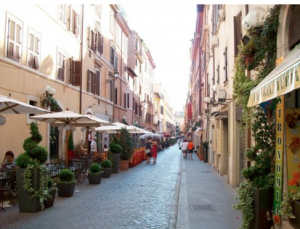 The novel The Talented Mr. Ripley by Patricia Highsmith gives a beautiful view of southern Italy, being set in a small town on the southern Italian coast, portraying the great life of beach, sailing, beautiful white narrow streets and excellent food. The novel is also set in places like Sanremo, Naples and Rome during the 1950s, an irresistible inspiration for wanting to go to Italy. The Amalfi Coast, Naples and the southern coast of Italy is an incredible destination so if you've never been there, read this novel and make sure your bags are packed by the time you've finished it because you'll be on the first flight there.
Films are a great source of inspiration for travellers. For instance, there is no bigger or better advert to travel to South America than by watching the film Motorcycle Diaries (2004), the film starring Gael García Bernal as a young Che Guevara, travelling around South America on a motorbike with his friend. The film goes from Argentina to Chile, from Bolivia to Peru and finishes in Ecuador. All the landscapes that you can see in the film, from the Argentinian planes, to the Chilean desert and the Bolivian and Peruvian jungle and towns, make it irresistible for travellers to watch the film and not want to get a plane straight there.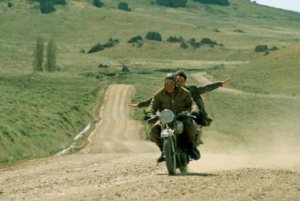 In terms of European and North American travel, the 'Good Thief's Guide' series by Chris Ewan are an excellent source of travelling inspiration. Ewan has published four books so far, The Good Thief's Guide to Amsterdam, Paris, Las Vegas and Venice, with the Berlin one due to be released in 2013. The books tell the story of the writer-come-thief Charlie Howard and his adventures in these cities. Leaving the plot aside, the books always give a great description of the cities where the story is taking place and also mention a lot of local landmarks, so if you visit the city in question, you'll immediately remember the names of places from the books.
Another film which may have inspired many people to travel to South East Asia and their beaches is Danny Boyle's The Beach (2000). Once again, leaving the plot aside, the film shows the urban landscape of Bangkok and what some beaches on the coast are like, many times likened to paradise on Earth. Nowadays, many tourists from Anglo-Saxon countries travel to Thailand to party on these beaches, parties such as the Full Moon Party but there are still many where you can still relax and get away from annoying drunken tourists. Also, the famous British BBC programme Top Gear did a special programme on travelling in Vietnam from Ho Chi Minh City to Halong Bay, south to north along the coast, and the views are simply stunning, possibly Vietnam's greatest ever tourist advert. If you're interested in knowing more about southeast Asia, watch Saibadee Luang Prabang (2008), Laos' first film released after it was taken over by its communist government.
Impulsive choices can be bad but can also give you a rush of adrenaline, and none bigger than booking a trip somewhere thanks to recently-received inspiration from a book, a film or a TV programme. However, you can start by watching some Federico Fellini films, which will definitely make you want to rent apartments in Rome and get on the first plane to the Eternal City.