The good people over at Mizuno have blessed us with another fantastic range of running shoes, if you're looking for the best place to buy them then head over to the milletsports website now to see what is on offer. The best thing about the site is that you will be able to snap up some great deals, it's perfect if you're looking for a christmas present or even if you're looking to treat for feet to an excellent running experience.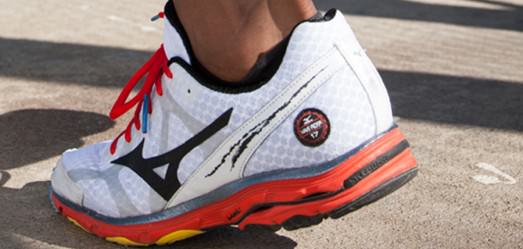 Mizuno firmly believe that running not only makes you happier but it also makes you a much happier and fitter person. They fully understand that everyone has different needs when choosing their running shoes, with that in mind they have put out a fantastic diverse range of running shoes.
To help you choose the right pair when you visit the Mizuno range at milletsports I have taken the opportunity to help you on your way.
Cushioned shoes
Cushioned shoes are also known as neutral shoes. This type of shoe usually has the most cushioning that you will find, the emphasis really is on the level of cushioning, they are the least stable but are the most responsive and flexible shoes you will find. They are best suited to the runners out there that are both lean and fast.
Lightweight trainers
As you can gather from the name these running shoes have been designed for racers that want to achieve maximum speed or race. They are highly flexible and have been geared towards maximum performance and feel. Some runners like to use these trainers on a daily basis but they are mostly used when doing speed work or racing. Lightweight trainers are best suited to people who run fast and don't need a huge amount of cushioning or stability.
Road racing trainers
Road racing flats have been described by Mizuno as 'the sports cars of road racing' which tells you how highly regarded they are. They are ultra light trainers and the most flexible on offer. These shoe are definitely aimed at serious runners or racers that don't want to be slowed down in anyway by their shoes. They are the ideal fit for those runners that are both efficient and lightweight.
I would strongly urge you to head over to milletsports right away to find the Mizuno pair of trainers that best suit your needs, I know I did and I absolutely love them!