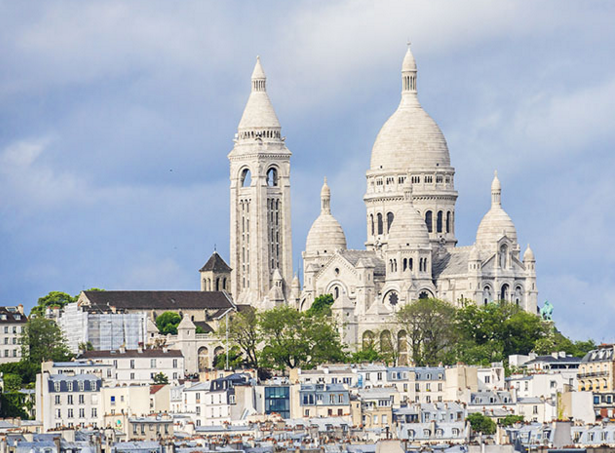 Montmartre, Paris
At Touriocity we love to share our insider knowledge of the cities we tour in, with Paris and its culinary delights being no exception. We are passionate about connecting people with truly bespoke city tours and expert local guides. You can visit us at touriocity.com , connect with our Tour Concierge, for free advice by filling out our simple request form. We then plan the perfect itinerary, matching you with one of our expert local guides.
Once a village of artists, such as Dali and van Gogh, Montmartre has long been a centre for bohemian art and counterculture in the Parisian capital. Indeed this much loved hill is one of the best places in Paris to sample some excellent, French cuisine within some of the most gorgeous surroundings you will find in the city. Montmartre is an absolute must for anyone interested in art, good food and wanting to escape the furor of the city below.
Les Petites Gouttes
Just opposite the Halle Pajol, Les Petites Gouttes has become very well known and highly respected for its excellent food and great late night entertainment. The menu is decidedly eclectic, with a street food feel- you will be able to choose between very affordable hamburgers, fajitas with marinated and grilled beef, Tahitian-style sea bream tartare or the tantalising pâté platter. Wash it all down with a artisanal beer brewed by the nearby brasserie Orgemont. Absolument délicieux.
12 esplanade Nathalie Sarraute, en face du 39, Paris Lespetitesgouttes . +33 1 42 05 20 83.
Le Petit Bleu
Le Petit Bleu is a well kept secret among locals, and although it doesn't look like much from the outside, venture within and you will be sure to be utterly impressed. They serve the most perfect couscous, tagines and grilled meat and fish you will find in all of Paris. The value for money here is incredible and definitely worth a visit when in Montmartre.
75018, 23 Rue Muller, 75018 Paris.  
La Balançoire
La Balançoire offers a truly unique perspective on traditional French cuisine. Here you will find a mix between a bistro and a brasserie- an informal dining experience offering excellent, authentic food. The interior is eclectic and indeed does feel suitably boho- with abstract art decorating the walls and interesting chotskies everywhere. There is even a swing in the doorway. The menu is ever-changing, proudly based on fresh, seasonal produce, and there is even live entertainment every first Wednesday of the month. C'est chic.
La Balançoire, 6 Rue Aristide Bruant, Montmartre, Paris. La Balançoire . +33 1 83 76 05 42.
Bistro Poulbot
Bistro Poulbot is a well known and incredibly popular joint specialising in traditional fine French cuisine. Founded by renowned Tuscan chef Lorenzo Torrini, his food has a unique Mediterranean vibe and is of course absolutely delicious. You must try the thick sliced salmon with diced bacon, onion, and lentils; and the huge shoulder venison stew with pear and autumn vegetables. Cosy up during the colder months in the warm and beautiful interior which boasts moleskin seats, wooden tables, and glass ball light fittings. Very French.
Bistro Poulbot, 39 Rue Lamarck, Montmartre, Paris. Bistro Poulbot . +33 1 46 06 86 00.
Le Coq Rico
Fried calamari with béatilles, candied potatoes and lime. Photo courtesy of Le Coq Rico.
This is a great place for lovers of poultry and good hearty food. Le Coq Rico serves excellent quality dishes based on chicken, duck, guinea fowl, goose and other locally sourced poultry. From the beautiful full roast chicken and poached eggs served in red wine to the foie gras pan-fried with hazelnuts and almonds, you will not be disappointed for French flavour here.
Le Coq Rico, 98 Rue Lepic, Montmartre, Paris. Le Coq Rico . +33 1 42 59 82 89
Le Babalou
Located conveniently at the foot of the Sacré Coeur, Le Babalou is very popular among the fabulous bourgeois bohemians that call Montmartre home. The menu offers gorgeous seasonal Italian pizzas, such as pizza with goat cheese, honey, basil and mozzarella. Our favourite is their Pizza Bianca with Parma ham, mozzarella, roquette salad and cherry tomatoes. Not to mention the tiramisu. Try that too!  
Le Babalou, 4 Rue Lamarck, Montmartre, Paris. Le Babalou +33 1 42 51 37 32
Les Tantes Jeanne
Gorgeous vegetarian platter. Photo courtesy of Les Tantes Jeanne
A little further out of the centre of Montmartre, Les Tantes Jeanne, serves a delightful range of delicious home-style French dishes. This place is great if you want to experience authentic French cuisine, at an affordable price, within lovely surroundings. Try the cassoulet of veal sweetbread with wild mushrooms, and duck breast with Szechuan pepper. For afters we love the prune soufflé, fruit sorbet with champagne, and the awesome caramelised apple napoleon.
Les Tantes Jeanne, 42 Rue Veron, Montmartre, Paris, France, Les Tantes Jeanne +33 1 42 51 14 21.
Le Moulin de Galette
Named after the windmill that towers above it Le Moulin de Galette is incredibly popular among both local residents and tourists. This is a traditional bistro serving refined, gastronomic French food. The 17th century building is stunning and together with the famous windmill, has been a subject for many artists including Renoir and Picasso. Check out their beautiful courtyard where you can sit outside and partake in some people watching.
Le Moulin de la Galette, 83 Rue Lepic, Montmartre, Paris. Le Moulin de Galette +33 1 46 06 84 77
Restaurant Miroir
Le Miroir, or 'the mirror', is a very fine bistro with an elegant mirrored interior, located within the labyrinthine streets of Montmartre. Here you will find all the classics, from fried sea bream fillet to braised beef and sweet pig trotters. The restaurant also boasts an impressive wine cellar where guests can enjoy a vintage wine with their meal, as recommended by the knowledgeable staff. .
Restaurant Miroir, 94 Rue des Martyrs, Montmartre, Paris. Le Miroir  +33 1 46 06 50 73
Soul Kitchen
An uber trendy and utterly fantastic little coffee house, Soul Kitchen serves an ever-changing menu of excellent handmade based on organic ingredients. The interior is suitably vibrant with red patterned floors, funky furniture, and boasts oodles of pastries, tarts, cakes, and other sweet treats, all home-baked and all utterly delicious. They also serve a wide range of sandwiches, soups, pizza, and salad, if you are looking for something for lunch.
Soul Kitchen, 33 Rue Lamarck, Montmartre, Paris. Soul Kitchen +33 1 71 37 99 95.
We hope we have whetted your appetite for Paris. If you are interested in taking a culinary tour with one of our expert city guides, why not fill out a request on Touriocity now and get competitive prices sent straight to your inbox.