My Experience of the Australian Gambling Culture

Those in the know associate Australia with gambling, but they should considering how hugely popular gambling really is Down Under, and I should know – I've personally experienced the best of Australian gambling culture, and the worst.
As an avid traveller and huge gambling fan, I've placed bets, thrown dice, picked numbers and spun reels and wheels in more casinos in more cities around the world than I can remember.
Las Vegas, Singapore, Monte Carlo – I've gambled in all
London, Las Vegas, Paris, Singapore, Macau, Atlantic City, South Africa, Monte Carlo, Reno, Hong Kong, the Bahamas and many others – been there done that got the t-shirt. (Heck, I've even lost my shirt on a few occasions).

But nothing prepared me for the size and scope of the gambling scene in Australia. It's estimated over 80% of adults in Australia partake in one form of gambling or another, which was apparent to me on a recent visit there.
No nation has embraced gambling like Australia
Australia has embraced gambling as a nation like I've never seen before. For instance, you can't walk a block in any of Australia's main cities without encountering a pub, club or some other venue containing a host of 'pokie' machines.
Pokies – the Australian name for slot machines – are very big in Australia, enormous in fact. According to some studies, around 4% of Australian adults play pokies at least once a week. Now I'm no mathematician, but that's a lot of slot fans!
Other popular types of gambling in Australia include lotteries, scratchies (scratch cards), Keno, sports betting, land casinos and online casinos.
Australian online casinos are hugely popular
When it comes to Australian real money online casinos, I can tell you that many Aussie online gambling fans are registered at more than one, that's for sure! They are drawn to the hundreds of pokies, blackjack, roulette, video poker, baccarat and other games.
But as much as I love the ease and 24/7 convenience of online casinos, land casinos are my real passion, and that's where Australia really delivered.
Take me to any noisy casino crammed with people and casino games and 'I'm as happy as Larry' (an expression coined in Australia about legendary boxer Larry Foley).
That said when it came to visiting just two of Australia's best land casinos, extensive research and hundreds of recommendations yielded the names of Crown Casino in Melbourne and Star Casino in Sydney.
Crown Casino – the biggest casino in Australia and the SH
Constructed on the picturesque Yarra River in the heart of Melbourne, the Melbourne Crown Casino and Entertainment complex is over half a million square meters in size and spectacular to look at, outside and in.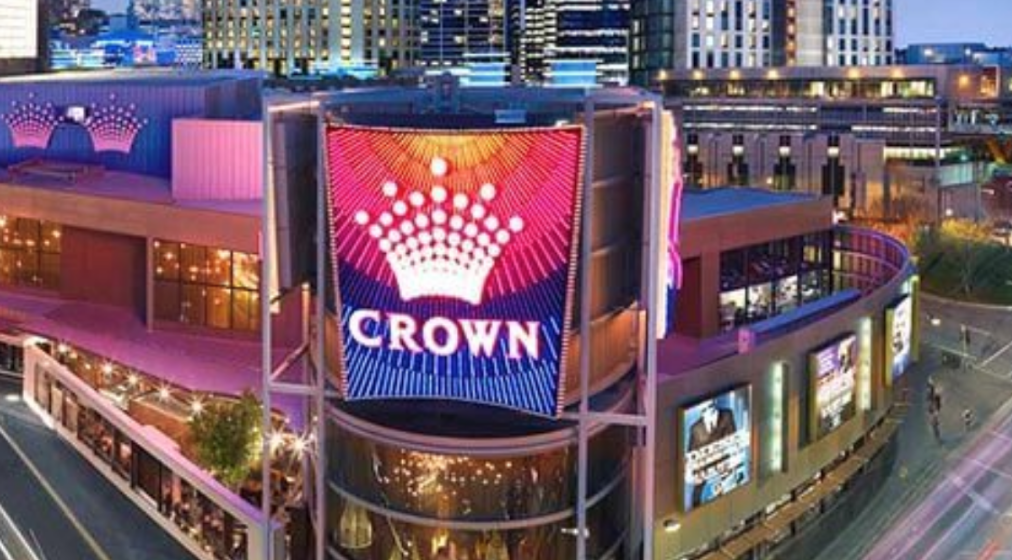 Casinos are dotted across the country, but they banned it online. Sounds very American
It's also the biggest land casino in Australia – and the Southern Hemisphere.
As I expected, the Crown Casino impressed in every way. From its 'swanky' décor to its 5-star service to its award-winning restaurants to its faultless facilities, this property was built to impress and impress it sure does.
I had a choice of more than 500 table, dice and card games
Most spectacular of all is its 3500 pokies, 2500 EGMs and casino games galore. Roulette, Blackjack and Craps were a few of my favourites. I also enjoyed more unusual games like Rapid Blackjack, Pokerbo and Pontoon Pandemonium.
With my pockets bulging, I was loathe to leave the Crown Casino (which I gave 5-stars), but another casino was waiting. Just 900km to the north east of Melbourne, Sydney is another of Australia's gorgeous coastal cities and home to Star Casino.
Why Star Casino shone bright in Sydney for me
Star Casino is another gem in Australia's gambling crown, a modern, appealing and high-end 24/7 hotel, casino and entertainment complex overlooking Darling Harbour in Sydney's Pyrmont suburb.
Inside to out Star Casino blew me away with its sheer opulence – the way any top land casino worth its salt should. I loved everything about this Aussie casino.
Star Casino has two distinct gaming levels
Star Casino has two casino levels– one for general admission split into different areas by game category – and another private one for VIPs, high-rollers and the like.
I managed to sneak a peek at the private casino and half expected to run into Richards Branson, Bill Gates or Jeff Bezos at any moment!
All of my favourite games were in attendance (and many more) like Blackjack, Craps, Sic Bo, Mahjong, Vegas Star Blackjack, Casino War, Pai Gow, Bingo, Big Bucks Bingo, Vegas Star Roulette, Baccarat, Pontoon and Blackjack Challenge.
Poker fans can enjoy poker variants like Ultimate Texas Hold'em, Mississippi Stud, Caribbean Stud Poker and Four Card Poker.
I also gave Star Casino Sydney 5-stars. Of all the casinos around the world I've visited so far, none have come close to these two Aussie marvels.