While hanging out in Bangkok for a few weeks in October, I had arranged a room on the 16th floor, the club level of the President Palace hotel. Dare I say the President Palace hotel has some of the best perks for a club level, ever? They brought it to a whole new level at the very least. But I'll get to that in a minute.
The location of President Palace hotel is on Sukhumvit Road, Soi 11, party central. The famous Q Bar and Bed Supperclub are almost literally outside the door, as well as a slew of other bars and dance clubs. Perfect for stumbling back to the room early in the morning, if I had wanted. It's a five-minute walk from Nana BTS station, making it a quick jaunt to the main shopping and business areas in Bangkok.
Instead of checking in on the main floor, they escorted me upstairs for a private check-in, complete with a drink and snacks. Then they led me to my room, where I was treated to a plate of seasonal fresh fruit. Being in a deluxe room, when we walked in I noticed everything was oversized (in a good way). After backpacking and months of twin bunks, there's nothing better than throwing myself diagonally across a palatial sized bed. Then was a huge couch that could easily be mistaken for a second bed, and a sizeable desk with ample room to work on my laptop using the free wifi. All complete with a flat screen tv with international channels, dock for your fancy Apple devices, and a free minibar, which is always appreciated! The bathroom had an accent of colorful mosaic tiles and had both a rain shower and bathtub. The room itself was as large as many of Bangkok's studio apartments.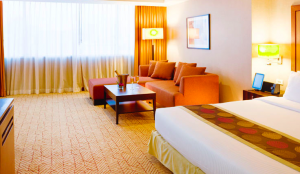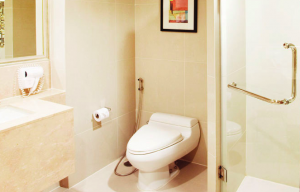 A highlight of the hotel was the executive lounge. It was open all day filled with drinks and snacks. There was a private buffet breakfast in the lounge where I feasted on waffles, bacon, potatoes, orange juice, everything! You could head downstairs for brekkie as well. The best bit was happy hour with unlimited canapes and cocktails. The complimentary drink service was carried over to the pool area as well.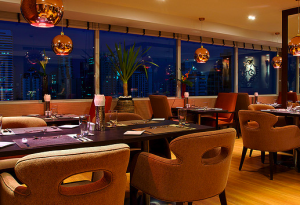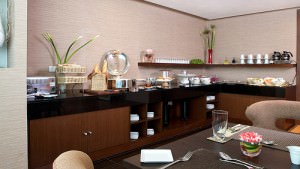 Next time you're in Bangkok and want to stay in a central location with rooms and service fit for a king, head over to  President Palace. Be sure to upgrade to club level, definitely worth it.