Singapore gets some bad press from backpackers, it's boring, sterile, too officious – I've heard it all. While it might not have the beaches of Thailand, or the temples of Cambodia it still is a great way to end your South East Asian adventure. You just have to make sure you've left a bit of wiggle room in your budget.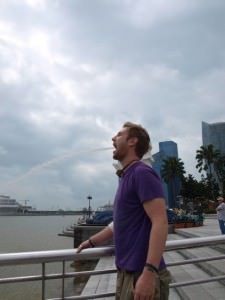 I've been to Singapore numerous times, so I thought I should finally stick up for it, because every time I've been there, I've loved it. So folks, if and when you wind up in Asia's smallest country, be sure to check out this top 5 things to see:
1) The Marina Bay Sands Hotel:
I finally got to check this out last year and it looks like something from a movie, with a giant boat structure sitting on top of two hotel buildings! Tourists can enter the casino for free (locals have to pay) but the real highlight is going up to the bar on the top floor, you have to pay a cover charge to enter (dress nice) but you'll feel like a celebrity once you're up there!
2) The Singapore Flyer:
I'm a sucker for superlatives, so if you feel the same, make sure to take a ride on the world's highest ferris wheel, all 540 feet of it! It's open all the way up to 10.30pm and gives unreal 360 degree views of the whole city. I'd recommend going in the evening to see it all lit up, pretty breathtaking. Not cheap at almost $24 though.
3) Zouk:
If you make it to Singapore,  you're probably either going to be starting your South East Asian trip or ending it so you need to celebrate/commiserate regardless. The best place to do that is Zouk, it closes quite early (3 am) but the sound system, hordes of people and strobe lighting should have given you your fill of partying for the night. This place is bangin.
4) (Cocktails at) Raffles:
Another free option is Raffles, an old British hotel in the city centre, home to the world's longest bar and.. the spot where the Singapore sling was invented. Make sure to grab one, it's a sweet pink mix of pineapple juice, gin and whatever else you choose. They run around $7 but it's worth it for the experience.
5) Swimming pools:
Singapore has more swimming pools than any other city (or country) in the world, and they're cheap as chips. It gets hot in the city, so for a couple of dollars head out to one of the outdoor 50m pools. The Jurong East Swimming Complex is probably the best value for money, complete with waterslides, jacuzzis and wave pools all for the price of $1.50. That is bang for your buck!
Singapore maybe a lot more expensive than most of the South East Asian countries, but if you're smart about your activities it gives lot of opportunities for cheap holidays. $30 is still maintainable, even here! Happy travels!