Watching sports and checking out theme parks in other countries is one of the coolest things to do overseas. From taking a dodgy rollercoaster in Sudan to being on a hand-powered Ferris Wheel in Mumbai, India amusment parks around the world can give you a really cool experience. But if you're keen to avoid the health and safety issues that I had, then check out the 5 best amusement parks in the world:
1)   Everland, South Korea:
One of my favrouite countries, and an English teachers dream, South Korea rarely drops the ball with anything and they've got this park spot on. South Korea's first theme park opened in 1976 as Yongin Farmland. Six years ago it was bought by a division of Samsung and transformed into the Everland theme park
Everland sprawls across 3, 700 acres and consists of three theme parks: Festival World, Caribbean Bay (water park) and the Speedway. Festival World has 40 theme attractions as well as a zoo.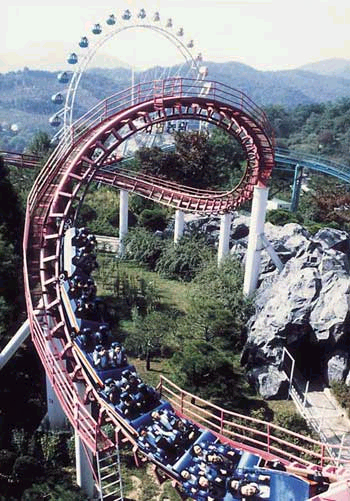 2)   Ferrari World, Abu Dhabi:
The most recent addition to the list, and home to the Formula Rossa, which is the fastest roller coaster in the world with a whopping speed of 240 km/ hour and the G-Force, the tower of speed Ferrari World is a fast paced frenzy. It's not cheap at nearly $80 a ticket but 240 km/h suggests it's worth it!
From getting a run-through of a Ferrari factory to almost living its history and legendary moments and a live, interactive, theatre experience to a simulated ride with the champions, this park goes all out to charm Ferrari fanatics. The largest indoor theme park in the world, its iconic roof is modeled after the side profile of a Ferrari GT. Sexy.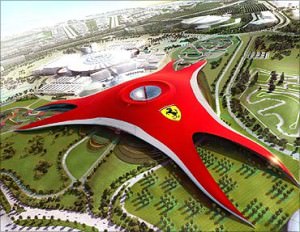 3)   Disney World, Orlando, Florida:
The theme park to end all theme parks? Possibly, everyone's mate Walt really new how to draw the crowds and everyone who comes to Florida hits up Disney world.
What can we possibly say about Disney that hasn't been said before? For a start, I always am wearing my Disney clothing when I'm there! There's a reason why when most people think of "theme park" they think of Disney. Nobody does it better. All four locations (Anaheim, Calif., Orlando, Fla., Tokyo and Paris) are staggeringly huge and have everything from rides, games, restaurants, animals and water parks to learning centers and spas, all with the backdrop of the ubiquitous mouse and kids clamoring for Disney-related merchandise. If this doesn't make you want a cheap flight to Florida, I don't know what will!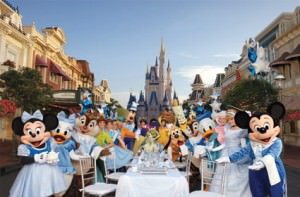 4)   Ocean Park, Hong Kong:
Visiting the largest marine theatre is surely the coolest way to tackle the manic Hong Kong heat. With its state-of-the-art marine displays that include Shark Aquariums, Dolphin shows and a terrific and sci-fi styled Jellyfish exhibit, Ocean Park is both entertaining and educational.  The park has two parts to it – the summit and the waterfront. You can take a shuttle bus, the cable car or Ocean Express to go from one part to another.  If you don't want to waste your time going to and fro, it's advisable to move from one part to the other only once.
If you're looking for an adrenaline rush, head to Thrill Mountain on the Summit, for a ride on The Flash which will spin you while turning you 360 degrees, the Mine Train in Adventure Land; and the Dragon Roller Coaster. The roller coaters offer great views of the Repulse Bay, Deep Water Bay, South China Sea and the Aberdeen Bay. There's loads of cool stuff to do in Hong Kong, Ocean park is certainly one of them.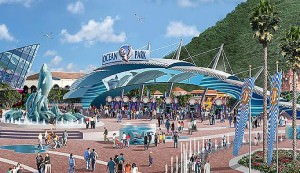 5)   Cedar Point, Cleveland, USA
If you're a roller coaster junkie and love that sinking, lurching feeling in the pit of your stomach, then Cedar Point is the place for you. The park has more roller coasters–15–and rides–68–than any other park in the world. It now has the Wicked Twister, which claims to be the world's tallest. Riders will launch out of the station at 50 mph and up a 90-degree twisting tower. As the train slows near the top of the U-shaped track, riders experience "air time, " the feeling of floating in air, before zooming up another tower and spiraling down…backward.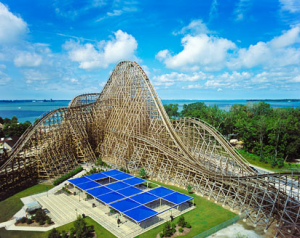 As if that's not enough, the train will go up and down the towers five times at a maximum speed of 72 mph, and twists 450 degrees. There is also an 18-acre water park area, called Soak City.