Argentina stretches from the subtropical north to the subantarctic regions of Patagonia in the south and entices visitors with a diverse geography that encompasses everything from humid jungles to harsh deserts, the soaring Andes to long ocean beaches. In addition, its rich and varied cultural life, endless nightlife and buzzling cities make Argentina one of the most interesting South American countries to visit.
It's probably impossible to explore the whole country in a single trip. Depending on your interests you may want to explore the arid NW, the mesmerizing Iguazu Falls on the NE, the exciting and multicultural Buenos Aires, the wine region in Mendoza, the Andes on the west or the beautiful Patagonia on the south. Whichever way you choose, you'll return to your home country with a plethora of cherishable memories, amazing experiences and the desire to visit Argentina once again.
Ministro Pistarini's international airport in Buenos Aires is the main entrance to the country. Depending on your itinerary, you may need to ride a bus, take another plane from the local airport or you may also consider renting a car. With an extensive network of highways and roads, driving gives you an excellent opportunity to explore the different regions of the country at your own pace and even reach some small but picturesque areas that cannot be reached by public transport. Foreign tourists don't need an international driver's license; they only need a valid license from their home country, a valid tourist visa and a credit card. Since not all roads are in top condition or well signalled, drivers are advised to invest in a good car rental insurance policy. There are many options available in the market but you may want to consider this one.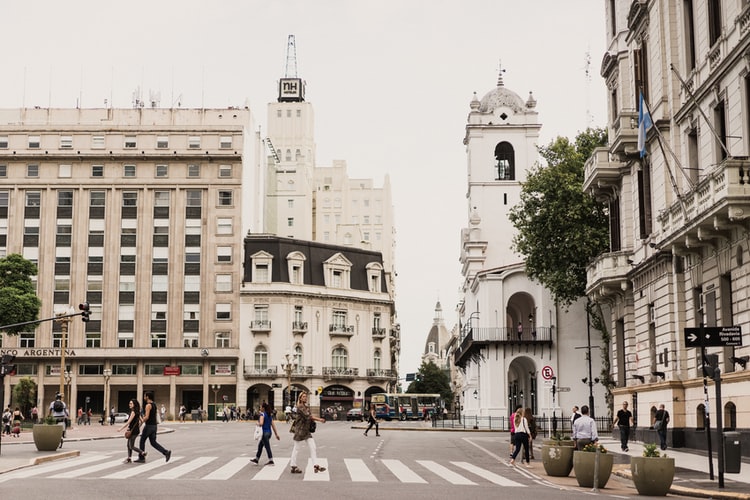 Enjoy Cosmopolitan Buenos Aires
Sometimes referred to as "Paris of the South", Buenos Aires is the capital of Argentina and the country's most important cultural hub. With its renowned European architecture, famous cuisine, interesting historical sites, fascinating museums and vibrant entertainment opportunities, it's definitely one of the must-see destinations in Argentina.
The city is divided into barrios, each with their own unique vibe and each worth visiting. Plaza de Mayo, in San Nicolás is home to the political and historical heart of the city. Surrounding this important square you can find: the House of Government or Pink House, the Cathedral and many other important buildings. Not far from there, the Manzana de las Luces is another unforgettable must-see. Puerto Madero is the newest neighborhood and it offers splendid views of the River Plate and the trendiest food scene in the city.
As a tourist, you can't miss La Boca and San Telmo, two of the most picturesque areas in Buenos Aires. La Boca stands out with its bright colorful houses and conventillos, attractive museums such as the Benito Quinquela Martín or Fundación Proa and the charming Paseo del Caminito. San Telmo, with its cobbled streets, is absolutely charming and an unmissable area if you love exploring flea markets and getting to know one of the oldest neighborhoods in Buenos Aires. Both La Boca and San Telmo are great places as well to learn how to dance tango or enjoy a tango show.
Recoleta and Barrio Parque are the fashionable upscale districts of the city. The area is known for its elegant, spacious Parisian-style buildings, important museums such as the MALBA or the Fine Arts Museums, embassies and large beautiful parks such as the 3 de Febrero and its lake, the sprawling Rosedal and the stunning Japanese Gardens.
No visit to Buenos Aires is complete without enjoying its splendid cultural life. There are plenty of art museums, the National History Museum in Lezama Park in San Telmo offers an interesting opportunity to admire the city's historic past and the splendid Colon Theatre with its perfect acoustic seduces locals and tourists alike with concerts, ballets and opera performances.
Admire the Deafening Iguazu Falls
The stunning Iguazu Falls lie along the country's border with Brazil and Paraguay, with Iguazu National Park on the Argentinian side and Iguacu National Park on the Brazilian side. They are protected as a UNESCO World Heritage Site and they are, without a doubt, one of the most breathtaking views in South America.
There are about 150 to 300 individual falls along its almost 3-kilometer edge that make up the Iguazu Falls. They vary in height between 60 to 82 meters and each is as spectacular as the next. Served by an international airport, it's a destination easy to reach, especially if you're flying from Buenos Aires.
The view of the Iguazu Falls is absolutely mesmerizing. Known as one of the largest and most powerful waterfalls in the world, and their sound is deafening! The tallest waterfall, known as Devil's Throat, is almost double the height of Niagara Falls!
There's an interesting network of easily accessible walkways and viewing platforms designed to provide visitors with the best possible views, including some at the bottom of the falls. This breathtaking spectacle is matched by the overwhelming beauty of the surrounding lush forest and exotic wildlife. There are also boat rides available for those interested in being up close and personal with the falls. Those interested in taking the experience to the next level should take some time exploring the beautiful Iguazu National Park on a jungle safari and see howler monkeys, caymans, jaguars, giant anteaters, ocelots and over 2000 plant species.
It's possible to cross the border to the Brazilian site and visit the wonderful Bird Park located right across the road from the entrance to the Brazilian side of the falls.
Discover the Ibera Wetlands
The Ibera Wetlands is a protected natural reserve boasting marshy swamps, shallow lagoons and moss-covered bogs. Located in the province of Corrientes, in the NE of the country, it's one of the largest wetlands on Earth and one of the most interesting and less known natural areas in Argentina. It consists of almost 8000 square miles of swamps, bogs, lakes, lagoons and natural waterways. Some of it is part of the protected Ibera Provincial Reserve.
The Ibera Wetlands seduces visitors with an abundance of exotic wildlife: capybaras, anacondas, giant otters, alligators and monkeys can be easily spotted lurking throughout the wetlands. The area is also home to 35 species of reptiles, 85 species of mammals, 45 species of amphibians and 300 species of birds, eagles, magpies, herons, deer and even great rheas!
Mendoza and the Stunning Cerro Aconcagua
Known as the wine capital of Argentina, Mendoza seduces tourists with delicious wine, great weather and the magnificent backdrop of the Andes Mountains. Set beside two main wine valleys _ Lujan de Cuyo and Valle de Uco _ it's the ultimate destination to visit famous wineries and vineyards. If you have ever wanted to try Argentine Malbec, this is where to do so! IOther wines produced in the region include Semillon, Torrontes, Tempranillo and Syrah. It's also a great destination for families and outdoor enthusiasts. From whitewater rafting to mountain climbing, trail riding and hiking, in winter time people flock to the Andes to enjoy the best ski slopes in the mountain range at Las Leñas _ renowned for its steep terrain_ and Los Penitentes, just close to the border with Chile.
Mendoza, the capital city of the province of Mendoza, is beautiful and lively, with sprawling green areas and large avenues. Needless to say, the foodie scene is also superb, with plenty of top notch restaurants where you can enjoy delicious meals paired with the most delicious local wine. Mendoza City is the fourth largest city in Argentina. It's a really pleasant city to visit, famous because of its broad tree-lined avenues.
Admiring the massive and impressive Mount Aconcagua is another of the best things to do while visiting Mendoza. The highest peak in the Americas and in the southern hemisphere is in the heart of the Aconcagua Provincial Park, a nature reserve with a sublime fauna and flora.
Over 3500 people attempt to climb it every year and there are many companies that can assist you in preparing and training for the climb. It's a popular destination amongst mountain climbers and it's important to book tours in advance. There are three typical routes for tour companies in Aconcagua: the Normal Route, Vacas Valley Polish Variation and the Guanacos Glacier Route. It's also possible to observe this little marvel and its eternal snow from several observation points, along hikes of different levels.
Fall in Love with Bariloche
While Mendoza is the wine capital of Argentina, tourists with a sweet tooth have to add Bariloche, the country's chocolate capital. San Carlos de Bariloche, more commonly referred as Bariloche, is a picturesque mountain town in Patagonia that borders the icy blue glacial lake Nahuel Huapi.
In winter, skiers from all over the world flock to nearby Cerro Catedral, the tallest of its peaks and a popular ski resort. It's one of the largest ski resorts in South America and it includes more than 100 kilometres of ski terrain and it's very popular because of its stunning views over Nahuel Huapi.
Surrounded by a stunning natural scenery that includes mountains, lakes, waterfalls, forests, glaciers and extinct volcanoes, the area offers adventurous visitors a plethora of opportunities to get themselves moving: rafting, cycling, hiking and climbing not to mention a beautiful driving circuit known as the Route of the Seven Lakes that takes tourists to the following lakes: Nahuel Huapi, Espejo, Escondido, Falkner, Villarino, Correntoso and Machónico and it's one of the most awesome driving experiences in Patagonia.
A great day hike to do from Bariloche is the hike to Refugio Frey. You'll be rewarded with views of Lago Gutiérrez before continuing through the forest past small streams and waterfalls, before finally coming out above the treetops and reaching Refugio Frey and the lagoon surrounded by mountains.
The short hikes to Cerro Llao Llao and Cerro Campanario are must-dos especially if you'd like to enjoy breathtaking panoramic views of the national park, the mountains and the lake. There's a famous hotel atop Cerro Llao Llao where you can enjoy delicious meals.
As said before, you can't leave Bariloche without tasting chocolate. There are many chocolate factories and chocolateries everywhere where you can sample this delicious treat!
Parque Nacional Los Glaciares and Perito Moreno Glacier
Parque Nacional Los Glaciares is home to Perito Moreno Glacier, one of the most important sites in Argentine Patagonia and a must-see for nature lovers. Here you can also find Fitz Roy Peak, with trails that take you across the Southern Patagonian Ice Fields. In addition, the largest freshwater lake in Argentina, Lago Argentina, can be found within this National Park. The nearest towns to lodge in the area are the city of El Calafate and the small town village of El Chaltén.
Los Glaciares National Park is absolutely gorgeous. It's Argentina's second-largest park and one of the largest and most easy-to-get-to ice fields on the planet. The repeated advancing and retreating cycle of the glaciers presents a never ending show of cracking ice and thunderous booms as giant blocks break away and crash into the lakes with enormous splashes. While the glaciers are located in the southern section of the park, the northern section features majestic mountains such as Mount Fitz Roy, offering plenty of hiking and climbing opportunities.
If you only visit one glacier in your life, make sure you pick Perito Moreno glacier. It towers above the turquoise glacial water beaming a blinding white and exuding cold blue hues. What makes Perito Moreno glacier extra special is that, unlike most of the other glaciers in the world, it's still growing. It is currently 19 miles long and rises an average height of 240 feet above the water. Altogether, it covers about 121 square miles! It is the third largest reserve of freshwater in the world!
There are viewing platforms to admire the glacier from a safe distance and if you wait for a while you'll probably witness huge chunks of the ice mass fracture off and crash into the water, creating a massive and deafening roar. There are walking paths as well that make it easier for tourists to check out the glacier from different points. Those interested in an up-close and personal encounter with the glacier can ride a boat that takes you on a 45-minute trip around the base. There are also trekking tours that take you out to walk on parts of the glacier itself. Special gear is provided for this trekking adventure and children o
over 10 years old can be part of it!
Salta
Salta province is located in the north west of Argentina and it's the sixth largest province in the country. Nicknamed as Salta la Linda, it's blessed with a beautiful colonial homonymous capital city and a stunning natural landscape with a plethora of natural attractions to enjoy.
Salta city is most famous for its neoclassical cathedral and sea of colonial buildings. Located at the foothills of the Andes, is one of the most popular tourist destinations in the Argentine northwestern region. The city stands out because of its colonial architecture, mountainous surroundings and delicious empanadas, wine and other local dishes. It's the place to go if you'd like to get a glimpse into the Andean and Quechuan culture. Whether you're a nature enthusiast, foodie or history lover, you'll find something catered to your tastes.
Around the central plaza you'll find the Catedral Basilica de Salta and plenty of cafés and restaurants. Don't miss the chance to see some other beautiful churches in the area such as the Iglesia San Francisco with its dark pink facade and the blue-domed Iglesia la Viña which are both worth seeing.
No visit to Salta City would be complete without taking time to see the world's most famous well-preserved mummies: the Children of Llullaillaco, on exhibit at the Museum of High Altitude Archaeology.
If you'd like to enjoy stunning panoramic views of Salta City, ride the cable car up Cerro San Bernardo. The ride is fairly cheap and you can do some shopping as you marvel at the view from the top.
Other unmissable things to do during your stay in Salta are: driving the Quebrada del Toro between Salta and San Antonio de Los Cobres or riding the Tren a las Nubes. The Tren a las Nubes is definitely one of the most unique experiences that Salta offers; it's one of the highest altitude train rides in the world at over 4200m elevation and goes through some watercolor highlands and a magical viaduct. It leaves from San Antonio de los Cobres.
Remember, never travel without travel insurance! And never overpay for travel insurance!
I use SafetyWing at $9 a week, and it's amazing. Also, it has great digital nomad insurance for people who are constantly travelling too! You can read my review here, and you can sign-up here
Also, if you want to start a blog...I CAN HELP YOU!
Also, if you want to start a blog, and start to change your life, I'd love to help you! Email me on johnny@onestep4ward.com. In the meantime, check out my super easy blog post on how to start a travel blog in under 30 minutes, here! And if you just want to get cracking, use BlueHost at a discount, through me.
Also, (if you're like me, and awful with tech-stuff) email me and my team can get a blog up and running for you, designed and everything, for $300 - email johnny@onestep4ward.com to get started.
How about $55 free AirBnB credit?
Oh, one last thing! If you've never used AirBnB before, here's a $50 voucher for you! Enjoy!