Are you thinking about going on a vacation and have no clue as to what you should do? Well, we have something for you. Something that is guaranteed to get your adrenaline pumping. We are talking about a zipline tour. Experience a thrilling and scenic view of nature in any of the following top zipline tours.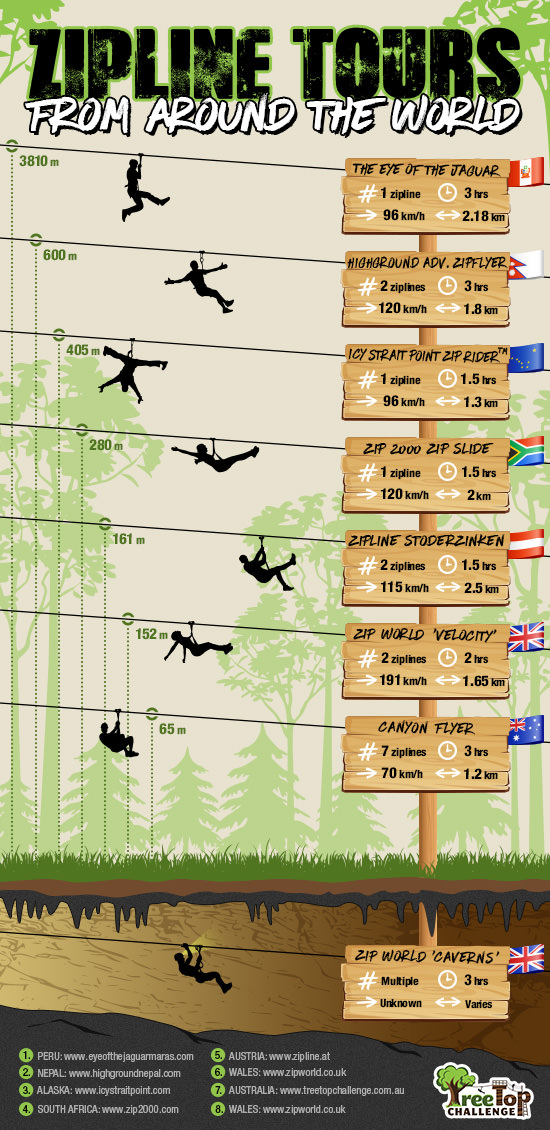 Eye of the Jaguar

The zipline is located in Southern Peru. It rests about 13, 000 feet above sea level and can travel to speeds of up to 96 km/hr. Enjoy the beautiful Peruvian landscape below as you soar. There's even a quad bike tour available if you wish to explore the countryside. Keep a reminder to visit the ancient Inca ruins.

HighGround Adventure Zipflyer

Deep in the heart of Nepal sits the HighGround Adventure Zipflyer. The zipline is inclined at 56 degrees, spans over 5900 feet and can keep you soaring above the lush mountain ranges at a speed of 120 km/hr. Other fun activities like paragliding within the famous Pokhara Valley and bungee jumping should also get you pumping.

Icy Strait Point Ziprider (a.k.a. the 'Scenic Mountain Descent')

This ziprider, which is located in Hoonah, Alaska boasts of 6 different ziplines. It will take you through the scenic mountainside at a speed of up to 96 km/hr. You have the option of combining this unique zipline tour with an ATV expedition and Whale Watching.

Zip 2000 Zip Slide

The Zip 2000 Zip Slide is one of a kind – it allows 2 people to ride alongside each other on the same zipline. Sounds like the perfect getaway for couples, right? You are in for a thrill. The zipline, which is located in the Sun City, South Africa sits 900 feet above ground and will take you on a 2km tour with speeds soaring to 120 km/hr. It's one of the fastest, highest and longest zip slides in the world.

Zipline Stoderzinken

It's surrounded by the snowy Dachstein mountains located in Stoderzinken, Austria. The zipline is divided into 2 sections and runs for about 2.5 km. Its altitude is approximately 500 feet. You can expect to soar at a speed of 115 km/hr with the beautiful plateau flashing down below. 

Zip World 'Velocity'

It's the world's fastest with speeds reaching 191 km/hr. In fact, on a windy day, you'd require a parachute to slow you down. Zip World 'Velocity' is located in Wales and doubles up as Europe's longest ziplines at 1.65 km. It's the ultimate prize for thrill seekers.

Canyon Flyer

Located on the Gold Coast is the Canyon Flyer. It's becoming more popular given the fact that it has 7 different ziplines to take you on a 3-hour tour of the magnificent Australian landscape. Strap yourself for a 70 km/hr ride. 

Zip World 'Caverns'

This unique zipline will take you on a 3-hour tour underground tour. The 'Caverns' tour boasts of multiple ziplines, rope bridges and lighting effects guaranteed to make your adventure a remarkable, uniquely exhilarating and definitely one that you won't forget. 
Fun fact: The Zip World 'Caverns' are big enough to fit 75 double-decker buses. 

This infographic was compiled by TreeTop Challenge , an Australian Adventure Theme park that is fast becoming the world's top zipline tour. Check out the highest, fastest and longest world zipline tours that should make your bucket list. Enjoy the adventure.