Being semi-based in Bangkok and often taking trips around South East Asia I'm well aware of the backpacking crowd in the region. the more trips I take around here, the more I feel inclined to stay in Bangkok and forget about traveling in SE Asia, just live my life until it's time for my next real trip, and leave SE Asia to the new crowd.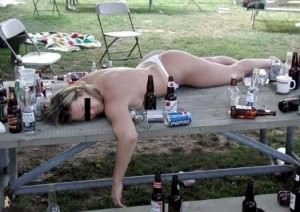 I don't know how it's developed but a trip through Thailand, Laos, Cambodia and Vietnam used to be about seeing Asia, experiencing new cultures, learning new languages, having life-changing experiences but something's gone very wrong along the way.
Speaking to so many people passing through Bangkok, and witnessing what goes on, I'd go as far to say that a standard trip through these 4 hotspots often doesn't constitute traveling anymore, it some sort of middle-class rite of passage for twenty-somethings and recent graduates. It's often a glorified boozey holiday for most, and it pains me to admit it. Just in the same way that Brits would flood to Ibiza to get drunk and get laid with other Brits, Aussies to Bali and Americans to Tijuana –  now the world has got smaller, flights have got cheaper and the whole lot congregate in South East Asia.
Just to highlight the issue, someone I knew (I'll mention no names) recently came to Thailand. Did they read up on Buddhism? Perhaps try to understand the longest reigning monarch in the world? Nope, they wrote back to Ireland saying "It's f*cking brilliant out here, but I have to watch out for all these f*cking chinks (derogatory term for Chinese, but he was actually referring to Thai people)" Marvellous.
Now I wish this was an isolated incident but having just come from Vang Vieng, it's just more of the same. Ditto for Khao San road, Pattaya, Koh Phangan, Koh Phi Phi (where I see they actually have a booze cruise now, sailing around the beautiful Maya Bay and for 600 baht it's 'all-you-can-drink'). Checking out people's photos from their 'travels' in the region will tell the same story, drunken night, hungover day full of family guy and friends reruns, back on the sauce again the next night.
I'm a huge advocate of travel, it should expand our minds, teach us about religion, increase our patience, help us understand how fortunate we have been in our lives. Using the strength of our relative foreign currencies so we can afford more booze does none of that, and it pains me to think that's what 'travelling' is coming to represent.
Of course there's time to cut loose on the road, partying is part and parcel of life in most countries so traveling shouldn't exclude that facet of culture, in fact it should embrace it, but when it becomes the main activity we partake in, we know something is amiss.
Now I'm aware some people are going to accuse me of getting on my high horse, acting superior or sanctimonious and if that's the case, so be it, I'll take it on the chin. Equally, I'm aware that there are people who come to the region for something other than fire dancers and buckets of cocktails, but the article above refers to a worrying, growing contingent. So next time someone tells me they 'traveled' in South East Asia, I'll ask them "did you travel there, or did you go on another lads holiday?". Safe travels :S