The USA has long being a favourite holiday destination for us Brits, from childhood memories of Orlando's Disney World to the skyscrapers of New York. Hollywood films and American TV shows like Friends and 24 have made visiting the states ever more popular with over 3 million British Holiday makers crossing the pond every year, and with a country as big and diverse as the USA it's no wonder why.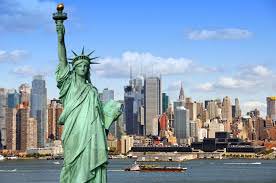 With over 50 states to choose from and with each state offering something different, choosing the right place for you can be quite a difficult task, so if you're thinking of booking a Holiday this year how about a multi centre trip combining all the places you want to visit in the USA in to one package? This way you can take in several states at once whether you're on a family holiday (or a vacation as they call it over there) or a lone traveller wanting to go down the famous Route 66, the big old US has something for everyone.
Let's take a look at some of the popular destinations in America.
NEW YORK or the Big Apple is home to the popular TV series Friends. This mega city is a mecca for shopaholics where you really are spoilt for choice, with its iconic skyline and famous landmarks like the Empire State Building and the Statue of Liberty you will never be bored in this energetic city.
SAN FRANCISCO in northern California is known for its big hills which trams commute up and down. The famous winding Lombard street and the notorious prison of Alcatraz and not to mention the mighty Golden Gate Bridge stretching across the San Francisco bay. With the many street entertainers this truly is a magical place.
LAS VEGAS built in the middle of the desert Las Vegas famed for its gambling and buzzing energy is known as the 'adults playground' with over 70 casinos it's no wonder it attracts many people from across the globe wanting to take their chances and win it big in this bright and somewhat crazy city. But it's not only casinos where you can win a bit of cash to keep you going, think about also playing slots online at Guts, it fits well when travelling.
LOS ANGELES the place to be if you want to try and catch a glimpse of your favourite celebrity as it is home to the famous Hollywood, there you take a walk down the Hollywood walk of fame to try and spot famous peoples stars, or if celebrity's aren't your thing you could hang out on Venice Beach.
The Discover USA website covers all the places you can visit which will get you started thinking of where's suitable. Also take a look at eShores multi centre page which has a few great suggestions of suitable itineraries for your holiday. There is so many options though, it really comes down to you, so get thinking, get researching and get planning that adventure!