Located directly across the river from Detroit, Windsor has been commonly referred to as Canada's motor city. As the headquarters of Chrysler Canada and host to the automotive facilities of Ford, this name is well-deserved. While its economy is not as deeply rooted in automobile manufacturing as the United States counterpart, Windsor is still one of the leading auto producers in Canada. Windsor also features many attractions that have created a thriving tourist industry that the city embraces. If you are considering planning a trip to Windsor, begin by deciding how to get there and where you will stay. You will then be ready to explore five ways to enjoy Canada's Motor City.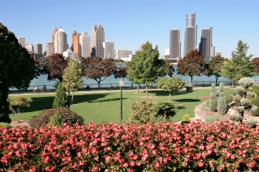 Arrival and Accommodations
There is a wide selection of transportation methods available when considering arrival. You can get to Windsor by plane, train, car or bus. With the Windsor Airport and Detroit Metropolitan Wayne County Airport within reach, both domestic and international travelers will be able to easily reach Windsor by air. The VIA Rail has a station located in the western end of Windsor for those who wish to travel by train.
Highway 401, which is a major highway throughout Ontario, connects to the western side of Windsor. This provides an entry point for cars and busses coming from all over Canada. You can also reach Windsor from Detroit by crossing the Ambassador Bridge and Windsor-Detroit Tunnel. However, please note that crossing this international border will require a passport and other forms of documentation.
Secure your accommodations as soon as possible to avoid any unpleasantries during your trip. While there are dozens of accommodations in Windsor and hotels throughout the city, due to the popularity of Windsor, they can fill up fast. If you are visiting during a major festival or sporting event, book your hotel months in advance.
Five Ways to Enjoy Windsor
Festivals – The pleasant weather and variety of venues available in Windsor make it a perfect location for festivals of all types. The Windsor International Film Festival is a great place for movie aficionados to view the latest and greatest innovations in film. The Bluesfest International Festival consists of four days of blues that promotes local and international artists. The Windsor-Detroit International Freedom Festival is held to commemorate both Canada's Canada Day as well as the United States' Independence Day. This multi-national event draws millions of visitors every year.
Gambling – The Canadian government does not tax any gambling winnings, making a trip to the casino a popular activity for locals and tourists. Caesars' Windsor is the largest and most popular casino in the area. Hit the tables, slots and other games and prepare for a wild night of winning. No one under 19 is allowed on the casino floor and anyone under 22 will need to show ID to enter.
Music and Theater – From the Chrysler Theater to the Capitol Theatre and Arts Centre, there are numerous venues available for the visitor who wishes to absorb the arts. There are Broadway-style shows, adrenaline-pumping concerts and respected orchestras performing throughout Windsor all year long. You can fill an entire trip with the unique venues and shows available year-round.
Sports – Whether you prefer hiking in the hills or golfing on the green, you can always find an ideal place to enjoy your favorite sport. Ambassador Golf Club features an impressive 18 hole golf course at an affordable rate. The Ganatchio Trail provides an avenue for rollerbladers, bikers and pedestrians to enjoy the warm Windsor weather, in the summer months. If spectating is your sport of choice, try to find tickets to a Windsor Spitfires game. This extremely popular hockey team won the championship in 2009 and 2010, making tickets hard to come by.
Food – Windsor boasts a multi-ethnic population that has produced a truly one-of-a kind culture. The fruits of this culture can be directly experienced at the restaurants and dining halls throughout the city. From authentic Italian to incredible Asian cuisine, flavors of all kinds can be experienced in this melting pot of a city.
Plan Your Windsor Trip Now
Canada's Motor City has much more to offer than a thriving automotive economy. Explore the local flavors at the multitude of restaurants, dance alongside the natives at a festival or enjoy a hockey game. Your trip to Windsor promises to be a truly unique experience – so plan your trip now!
Alfred Weston is a contributing writer and travel enthusiast. He enjoys visiting locations that have a lot to offer and have a rich cultural heritage. Alfred first visited Windsor over a decade ago and was immediately hooked.