If you're planning a winter sports holiday but are new to skiing, you might be a bit concerned you won't get the most for your money if you spend much of your time falling over and failing to master your skis at any speed. However, there are plenty of other pastimes to try out when you want some time away from the slopes.
Having never skied in my life, I can imagine the frustration of heading abroad with the high hopes of advancing on my skis rapidly, but the opposite being true. And, while it helps to be patient and not set your expectations too high, it can also be useful to have a go at some other activities during your getaway.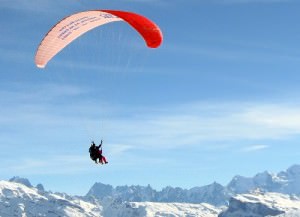 Winter sports destinations are, as the name suggests, places for experiencing a variety of snow and ice-based pastimes, and there are plenty of locations that cater well for non-skiers or those who want to divide their time between the slopes and other activities slopes. Read on for my top picks.
Mayrhofen in Austria
Although it is one of Austria's premier skiing destinations, Mayrhofen has plenty to offer those who don't want to spend all their holiday on skis. There's a terrain park and a half pipe here if you feel like giving snowboarding a try, while you can also experience tubing and tobogganing if you head to one of the resort's activity centres.
The local pool complex has plenty to offer in the form of a whirlpool, crazy river and a sauna, in addition to a children's area – ideal if you've arranged a  family skiing getaway with the kids.
Paragliding is an exciting activity you can try out if you're feeling brave, while ice skating is more sedate and a good option for the whole family. A number of lanes have been marked out on the rink here especially for curling – another pastime you might want to experience.
Zermatt in Switzerland
The popular resort of Zermatt in Switzerland is renowned among intermediate and advanced skiers, but also has much to offer those who aren't as passionate about skiing. There are three ice rinks here, and, if you feel like testing yourself, you can book some ice hockey tuition at the local school.
Other facilities include a heated outdoor pool and the chance to go parapenting, which involves strapping on a parachute and launching yourself off a cliff to glide over the peaks. Not a sport for everyone, but if you enjoy exciting pastimes it might be for you.
When you want to relax, pay a visit to the art gallery or the theatre on site, and in the evening you can venture into one of the many bars and nightclubs to be found at the resort.
Levi in Finland
Arguably one of the best global winter sports locations for non-skiers is Levi in Finland. The resort has its own sports centre where you can take a break from your skis, and it's worth arranging a place on a trip to see the Northern Lights during a break here.
There's an apres-ski activity centre for children, which includes bouncy castles and ball pools, while you can try your hand at ice fishing, go on a dog sledding safari and embark on a canoe trek during your time in Levi.
Nature trips, reindeer sleigh rides, snowshoeing and hunting excursions are all among the other activities on offer here.