No matter where I go on holiday, there is nothing I like to do more than take the time to soak up the culture of the destination that I'm in. With its rich past, Rome is the ideal place for history lovers to visit. Of course, the Italian city is known the world over for being the birthplace of the Roman Empire, but I'm going to focus on an aspect that is slightly less ancient – its talking statues.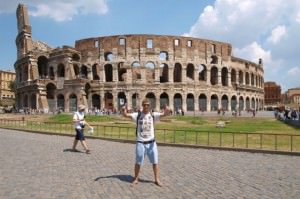 First of all, I think it's worth pointing out these monuments don't literally speak. Instead, their name comes from the fact that they were used as a way for people to publicise their views on local politics anonymously. This practice dates back to the 16th century and, although their popularity began to decline by the end of the 19th century, talking statues are still used to this day.
With the monuments (which are also referred to as the Congregation of Wits) an early precursor of the bulletin board, I think they are a fascinating facet to the city's history. Talking statues are situated in Rome's busiest streets and, at night-time, placards were posted on them that featured satirical verses and criticisms targeting the pope and other important public figures.
Also used by local officials for propaganda purposes, the statues were quickly given names, with the Pasquino monument commonly regarded as being the most famous. It is from this statue that the words 'pasquinade' and 'pasquil' derive, terms that refer to an anonymous satirical verse or a piece of prose.
Situated in Piazza Pasquino, this monument dates back to the third century BC, though it was buried for many years until it was rediscovered in 1501. While this statue is heavily damaged – with its arms and legs missing – and it wasn't until cardinal Oliviero Carafa draped its torso with a toga and decorated it with Latin epigrams that it was used by the public to express their displeasure with the church and local politicians.
From here, a number of talking statues cropped up over the city. These include Babuino, a monument of Greek mythical creature satyr near the church of St Athanasius, and Madame Lucrezia, which is located on the corner of Piazza San Marco. The latter is badly disfigured, but it's widely believed to be either the Roman empress Faustina or Egyptian goddess Isis and is the only female talking monument in the capital.
Its name is thought to have derived from a 15th-century woman who had fallen in love with the king of Naples who was married at the time. Arriving in Rome to ask the pope to let the monarch get divorced – a request that was turned down – Lucrezia lived near Piazza San Marco for several years after the king's death.
Hopefully, I've given you some encouragement to discover Rome's talking statues for yourself and, as the capital has pleasant weather for much of the year, it's a fantastic destination to visit at pretty much any time.
Generally speaking, it's best to head to the city in either the spring or autumn when the temperatures are warm but aren't unbearably hot (as they can get in the summer). It's also a good idea to find a centrally-located hotel that enables you to reach the statues easily. Of course, you'll also need to book a flight to the city, which is something you can learn more about by  clicking here.
Are you planning on finding Rome's talking statues while on holiday? If you are, please let us know by leaving a comment below.