THE BEST Bangkok Itinerary (3-5 days in Bangkok)
UPDATE AUGUST 2023: I've lived in Thailand for more than 10 years, ever since I bought a condo in Bangkok here in 2013. , and I'm always getting asked about things to do in Bangkok, so finally, I figured I should use my experience to design the perfect 3 day Bangkok Itinerary, followed by loads of other things to do in Bangkok below, in case people have 4 days in Bangkok, or 5 days in Bangkok. Or, like me, people who live here but haven't done all the cool things Bangkok has to offer just yet. So here it is. I've also included the most popular skybars in Bangkok, the best vegetarian restaurants in Bangkok and the coolest bars in Bangkok from my time here, so I hope that helps.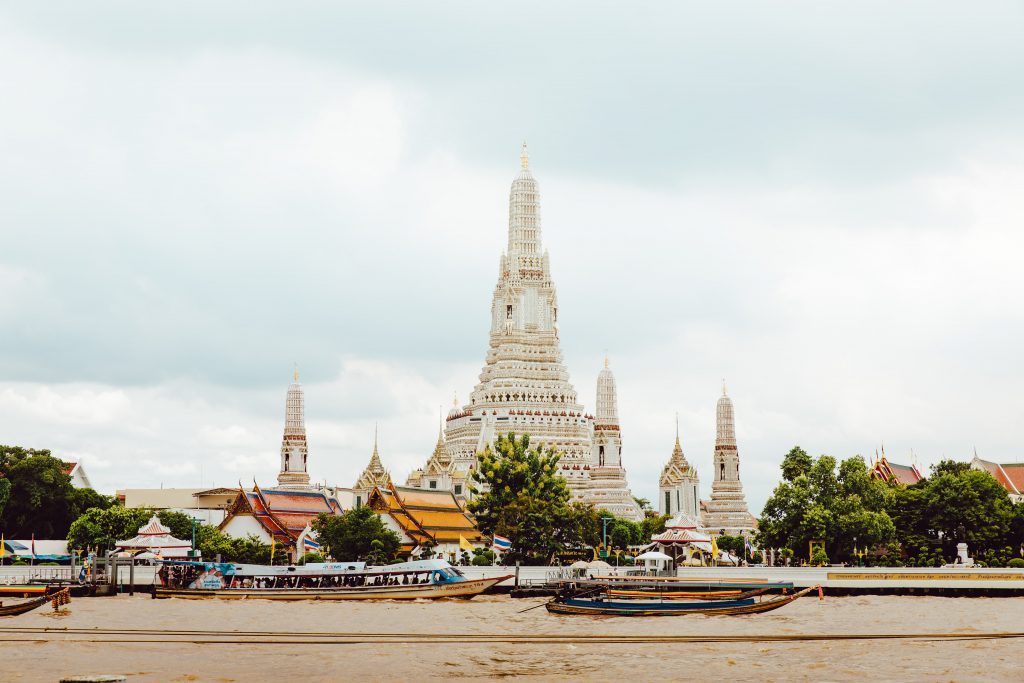 So next time my friends or family ask me for a suggested itinerary for Bangkok, I'll direct them here. I'm pretty sure this is quite conclusive. So whether you have 1 day, or up to a week in Bangkok, I hope this Bangkok guide helps you guys, any questions, please contact me on my Instagram.com/onestep4ward and I'm normally pretty quick to get back to you. Enjoy Bangkok, in my opinion, the greatest mega-city in the world!
THE BEST (3 DAY) BANGKOK ITINERARY
DAY 1 MORNING:
Ok, so Day 1 morning. If you read on, I discuss a little about where to stay in Bangkok, but basically I always recommend staying in the city centre, which is along Sukhumvit Road. If you're doing that, then after breakfast, make your way to Central World (BTS stop Chitlom). Central World used to be the biggest mall in the world, and is the 2nd most 'checked-in' place in the world on Instagram last year. Wild. From here, you can walk outside and head to Pratuman Pier, where you take the western bound canal boat to the terminal station – Panfa Leelard Pier. This is a whole experience in itself! You don't buy a ticket, simply hop-on board. If you're not mobile, this isn't a great choice, as you literally have to step from the pier onto the canal boat! Anyway, the guy will ask you for money as you ride.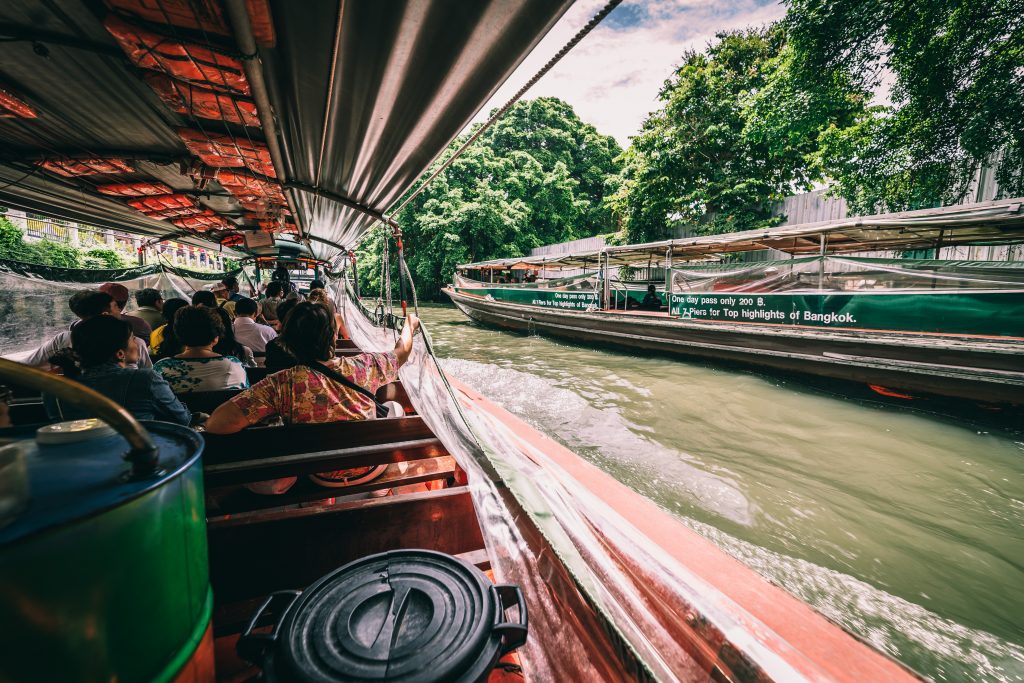 The price is about 12THB ($0.40) and will take you straight to the north West of the city. You 'll see the real Bangkok from a canal-level view. And it's quite an eye-opener. Once you reach Panfa Leelar Pier, hop out and you're less than a 10 minute walk from your first big ticket item of the day – Wat Saket AKA Golden Mount.
Wat Saket is a Buddhist temple that sites on a steep artificial hill, dating back almost 300 years. Entrance fee is just 50THB, To get to the Golden Mount (the big Golden Chedi atop the hill) now requires 318 steps, but you can take your time, and the views across Bangkok make some nice resting points. It opens at 8am, and closes at 5pm. If you're around this area at night, they light it up and it's spectacular too.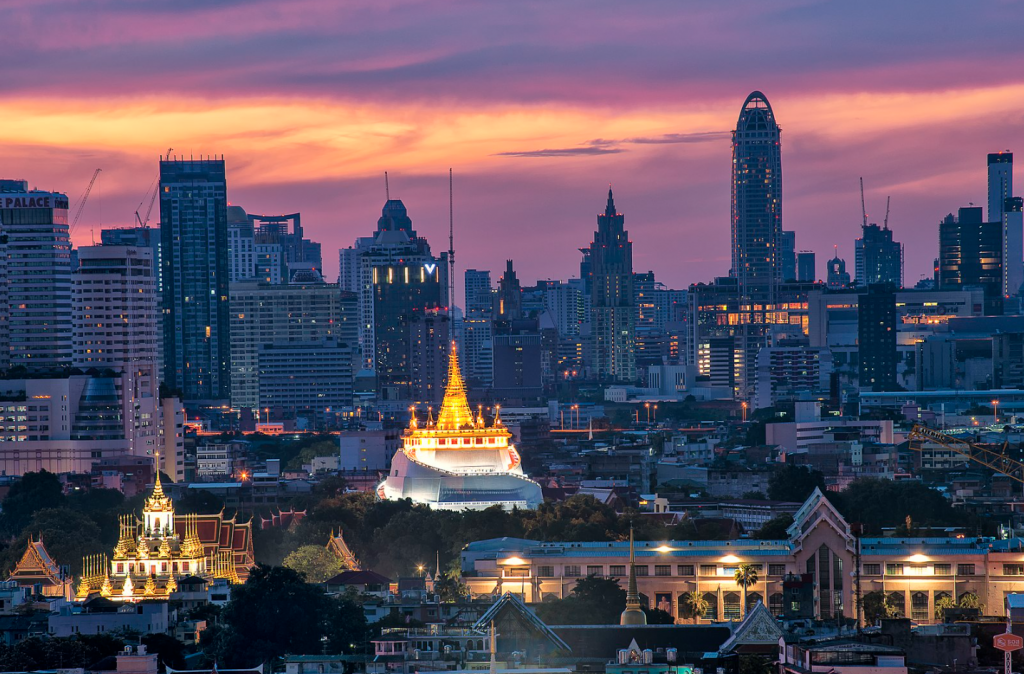 DAY 1 AFTERNOON:
By the time you've navigated yourself across the canal boat, and climbed to the top of the Golden Mount, then checked out the museum there, and got back down. It'll be near lunchtime, so now you can divide your afternoon up how you'd like. Basically from after Wat Saket, you'll want to visit the Grand Palace, the Emerald Buddha, Wat Pho (the reclining Buddha) and perhaps Wat Arun. Along with this, your lunch spot should be on the Chao Phraya river either at 'The Deck' or, a bit pricier, Sala Rattanakosin. The best way around, I think, would be to check out Wat Pho first, and then the lunch stops are just 5 minute walk from there. Eat, then hop in a tuk-tuk, or walk, to the Grand Palace, and then the Emerald Buddha (Wat Phra Kaew). 
Remember, you need to dress somewhat respectfully for all these sites today, so now vest, no shoulders on display, and ladies (and gents actually) knees covered too. By this stage, no doubt you'll be getting towards being templed out! I certainly would be, but don't worry, it's all leisure time next.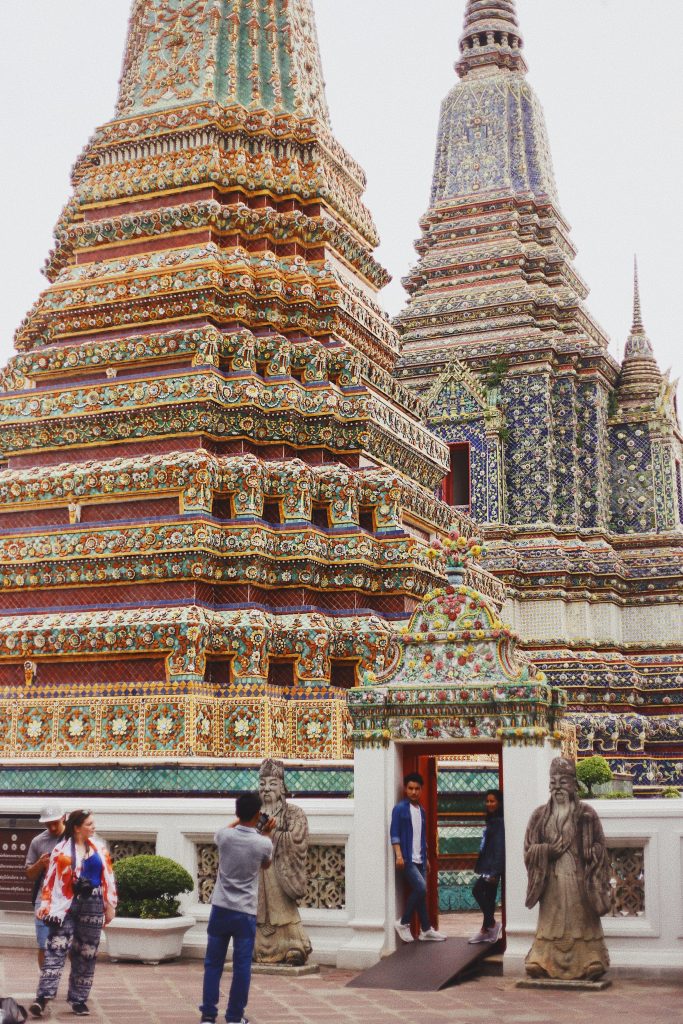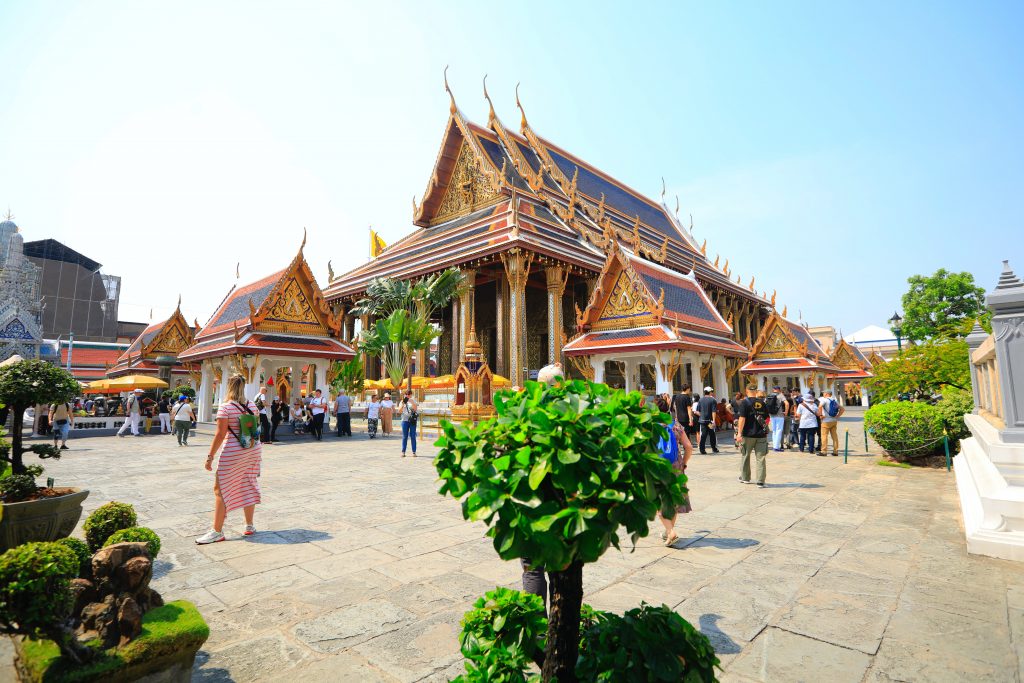 DAY 1 EVENING:
You're in the area of Khao San Road, the home of the backpackers! So it would be amiss not to check out what all the fuss is about there. From Wat Phra Kaew it's just a 15/20 minute walk. Khao San is a crazy place, full of people selling you weed, people wanting to tattoo you, or dread/braid your hair. Cheap beers, or buckets, on the street, and as the sun sets it only gets crazier! If it's all too much, Rambutrri street just around the corner is kind of 'Khao San-lite' so if you need to escape, that's your vibe!
From this point, depending on time, you can go shopping here, or grab a smoothie. But make sure you've made reservations for the world's most famous street food, a 15 minute walk from Khao sAN AT Jai Fai restaurant. The old lady here has been awarded a Michelin star for her street food omelettes, so without a reservation, you'll be waiting over an hour (reservations by email:jayfaibangkok@gmail.com). The omelettes still set you back an almost unbelievable $20-$30 but it is world-famous so fair enough. If you're on a budget, head to Jai Fai and check out Tip Simai 2 door down. 'Bangkok's best pad thai' apparently & I can vouch for its deliciousness! Often queues there too, but nothing like at Jai Fai. 
After eating, either head back to Khao San to party cheap, or if you want something more upmarket, jump in a taxi to China Town (known as Yarowat in Bangkok). Only 10 minutes or so, and home to the coolest bars in the city. I'd do a little pub crawl of Tep Bar, Teens of Thailand and Smalls. If you still want to rage, Maggie Choos is open late!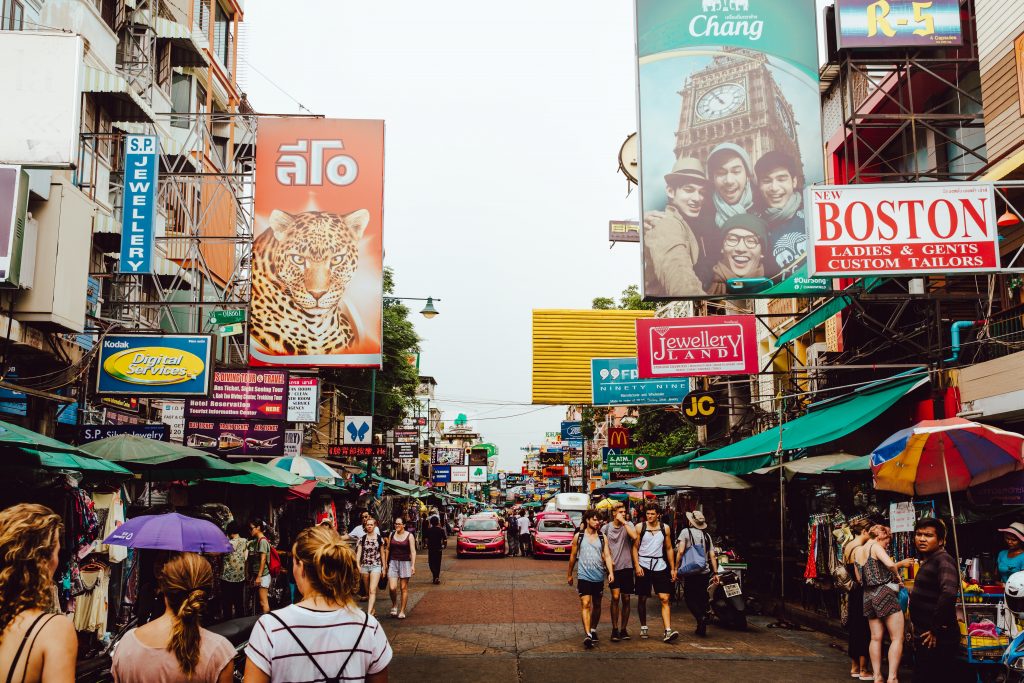 DAY 2 MORNING:
How's the head after those cocktails? Shake it off, it's time to visit Bangkok's answer to Central Park, Lumpini Park! A huge green space in the centre of Bangkok, and an exercise hub for thousands every day. It's also home to the famous Monitor Lizards, but don't worry, they're not aggressive. There's a running track around the park that runs just shy of 3km, so I'll see you guys there around 8am, right? If you're not the running type, it's also nice to grab a coffee in the morning, or around dusk, and watch the world go by while escaping Bangkok's normal madness.
After Lumpini, quick pit-stop in your hotel to shower, then make your way by Taxi/MRT (Petchaburi stop) or BTS (Siam stop) and it's time to get your gifts.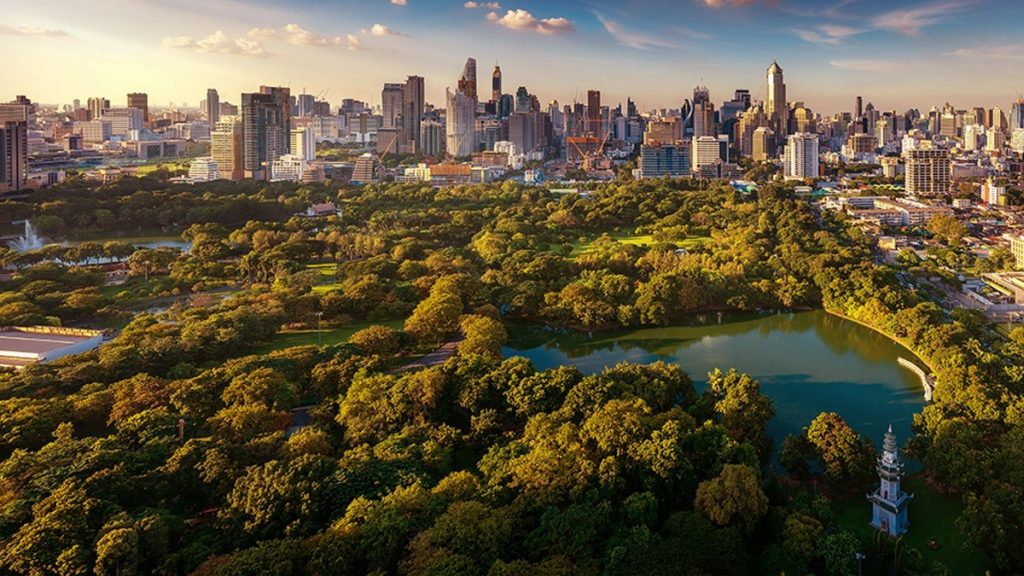 Siam is the consumer centre. MBK is probably the most famous mall, where you can pick up your Thai trinkets amongst fake rolexs and DVDS. If you want some higher ender malls then Siam Paragon, Siam Discovery, Siam Center are all right there, 5 minutes from each other. The foodcourts on the top floor of each mall (bottom floor of Paragon) are the best spot for lunch. Endless choices, and under 100THB ($3). It'll blow your mind.
DAY 2 AFTERNOON:
After lunch, hop back on the BTS, and go all the way to 'Chang Erawan' Stop, from there you can walk to the Erawan Museum. Calling it a museum is pretty bad marketing. It's an EPIC GIANT 3-headed elephant structure where the Museum is INSIDE the stomach and head of the Museum! Very cool! It's privately-owned so at $10 it's kinda pricey, but it's a fun place to be honest.
Now you're on this side of the city, you can go and discover one of Bangkok's best kept secrets, Bang Krachao, also known as Bangkok's Green Lung. It's a super-surprising 'suburb' that has been maintained as the oxygen-creator for Bangkok (hence 'Green Lung'). You take a little canal boat over the river for 2 minutes, rent a bicycle from one of the various vendors, and cycle around the area. Tiny little hole-in-the-wall coffee shops are dotted around, but if you're peckish then I'd recommend the Bangkok Tree House as the best snack spot. Give yourself a couple of hours in the Green Lung, it's a very unique experience.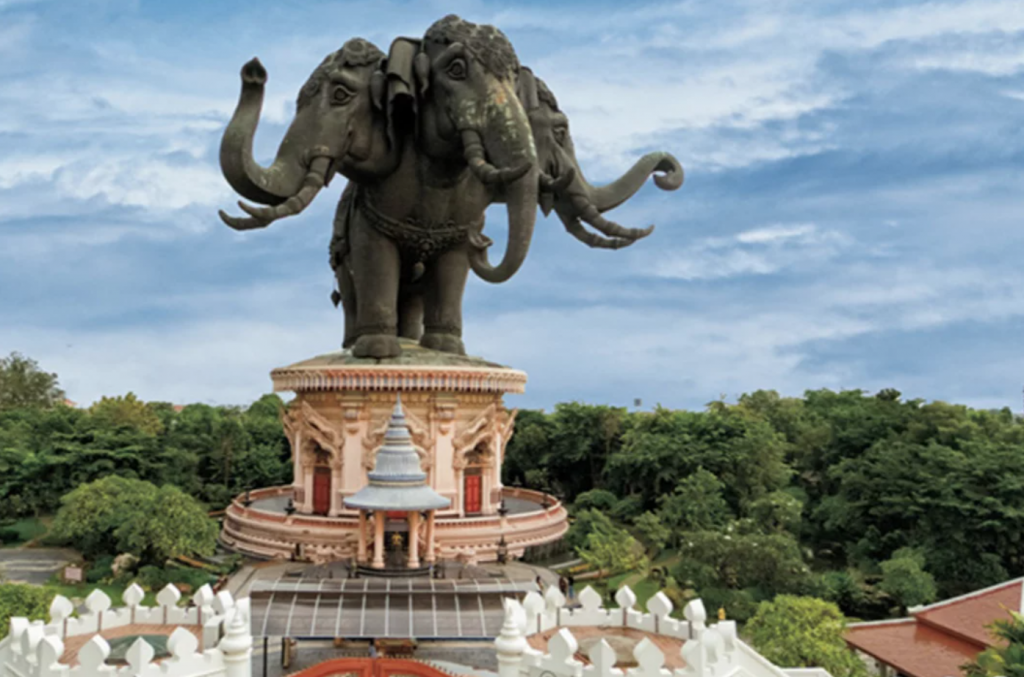 DAY 2 EVENING:
Back to the hotel, shower time. Then hop on the MRT to 'Thailand Cultural Centre'. Here you can walk behind the Mall next to it and find the 'Train Market' or 'Talat Rot Fai'. It's now on every evening from sunset until just after midnight. It gets pretty busy, so take your time and get lost amongst the endless stalls.
At the far side of the market is where the bars are, that's the best spot to find a table, order a drink, and then use that as a base to go back to the food stalls, pick and mix all you want, then bring it back to the table at the outdoor bar where you ordered a drink, and eat your food there. That's kind of how it's done. This is as laid back as it gets. No dress code, drinks flowing, all you can eat, but don't expect to be alone, it gets crowded, especially at weekends!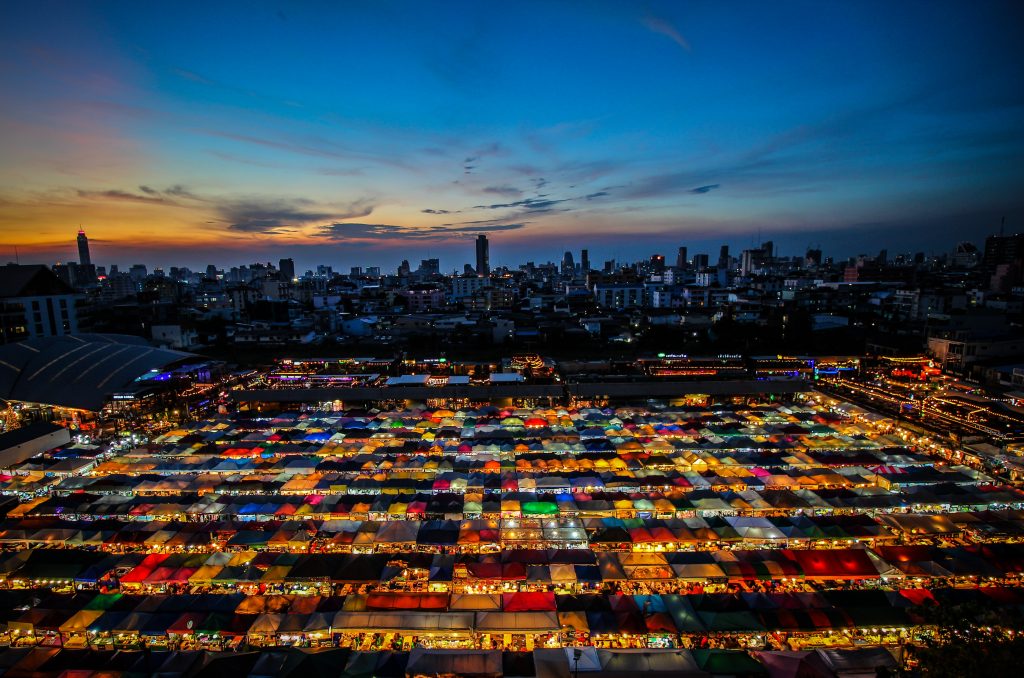 If you want to go and sample more Bangkok nightlife, finish up and make your way to Soi 11. If you're on Soi 11, go to Above Eleven Sky Bar for unbelievable views, find the secret bar 'Find the Photobooth' (really cool!) and part on in Havana. 
DAY 3 MORNING:
But don't drink too much, because this morning you're going to Chatuchak Market. You have to manage your schedule yourself here though, because Chatuchak Market is only open on the weekends, so time this for a Saturday or Sunday. It's the largest weekend market in the world, and the largest outdoor market in the world so expect it to be busy. The easiest way to get here is by BTS, all the way to Mo Chit station, it's just 5 minutes from there.
Once in, you could be there for hours! Depending on your tolerance for shopping, people have spent full days there. There are also 2 lovely parks next doot – another called 'Rot Fai' (not the same as the market above) which is a great place to go and chill to recover from the consumerism! Within Chatuchak (also known as JJ market) there are also foodcourts, food stalls etc too, so once you're there, they plan to keep you until you're broke!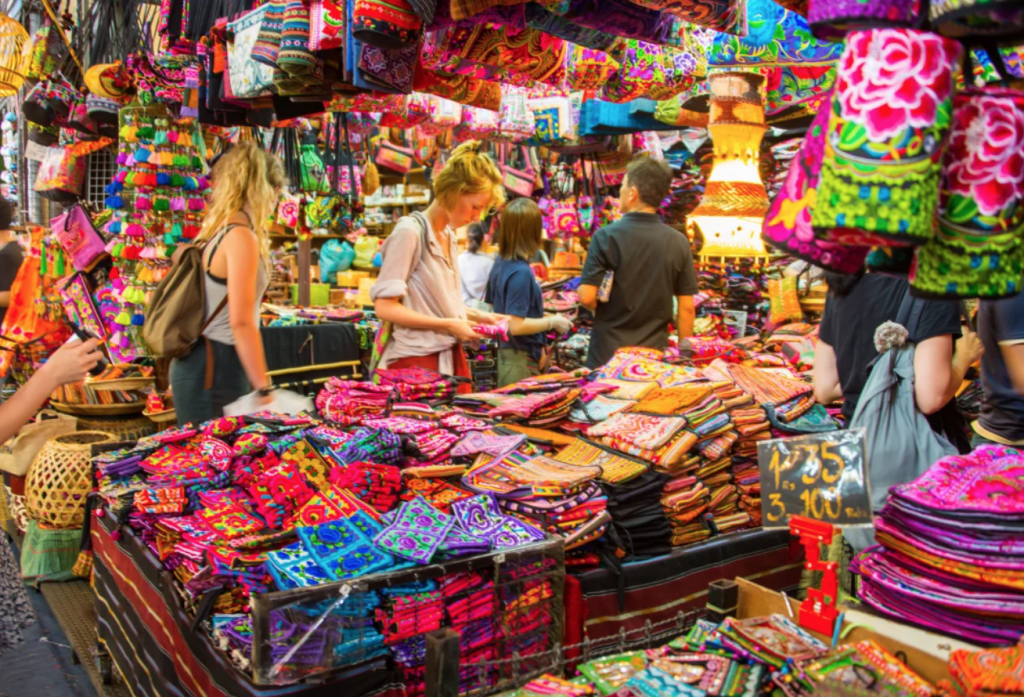 DAY 3 AFTERNOON:
After this Bangkok itinerary, you'll be starting to get pretty weary so you earned the easiest part of your 3 days in Bangkok now. Thai massage time! Actually, there are Thai massages available around Chatuchak, but they're pretty average, I'd head back into town for it if I were you. Sukhumvit generally has the best spas, and the hotels often have the best of the lot. If massage isn't your thing, you can do a half-day cooking class, kind of compulsory on your first trip to Thailand! Believe it or not, the most famous cooking school in Thailand is called…. Cooking With Pooh (that's her name by the way!). So check that one out.
Or, if you're like me, and you're a movie buff, this best way to spend your 3rd day afternoon is to go Central Embassy (BTS stop Pleonchit) and go to the top floor where the have '1st Class Movies'. Now, this isn't cheap, but it's a movie experience like no other. A snack buffet beforehand like a business class airport lounge, a butler taking your popcorn and drinks orders, a minibar, slippers, someone to take off your shoes and put on said slippers, a bed, only maybe 6 other people int he cinema, it's amazing. It's also an amazing price at roughly $60 each, but honestly, it's a fun experience,e and one I certainly recommend. I do it every couple of months now.

DAY 3 EVENING:
Your last night (maybe!). Make it one to remember at the Lumpini Boxing stadium with watching, and maybe a little gambling and drinking at the Muay Thai boxing. Normally there are fights every Tuesday, Friday and Saturday so factor in the right day for your Bangkok itinerary. It's better to book your tickets online first. The whole evening runs around 6pm to 10pm, so it's most of your evening up. If you've got any time left, you could check out Thong Lor and get yourself a whiskey at the Black Amber Social Club, I love that place. Or relax at either the Commons or Seen Space. 
TOP-TIP: You can book your Muay Thai tickets VIP ONLINE here!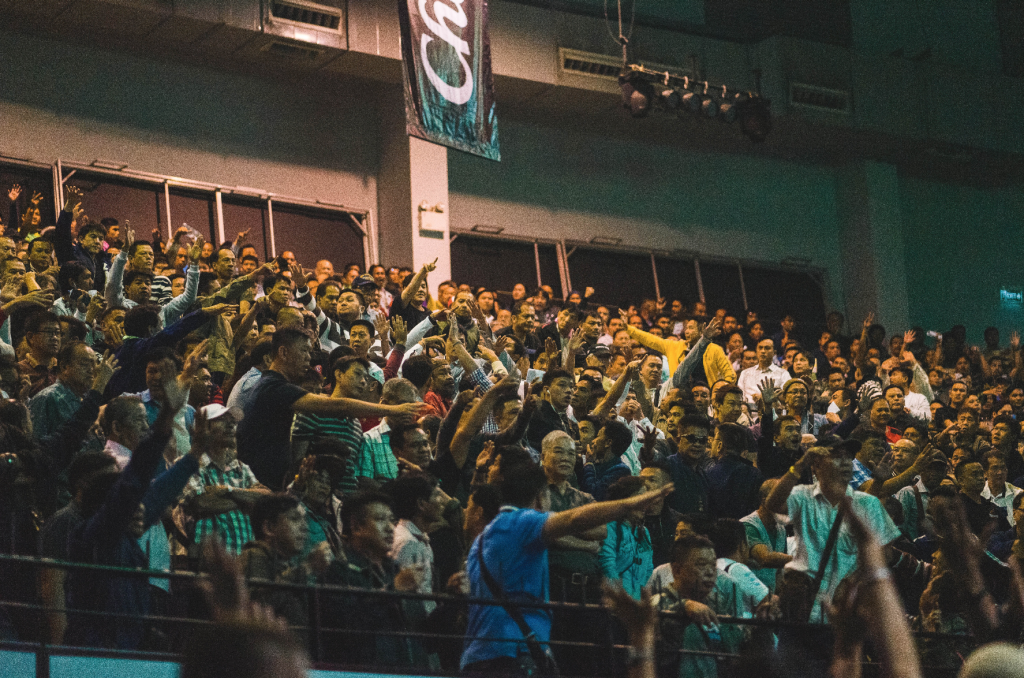 Coolest Bars in Bangkok
Tep Bar: Hipster cocktail bar, pricey, small, very cool
Wallflower upstairs
Sing Sing; Nightclub, themed like a Chinese opium den. Probably Bangko's best club now.
Maggie Choos; Similar to Sing Sing, really cool/
Moustache; Late, late night small bar
Teens of Thailand; Ultra-cool cocktail bar
Find the photobooth; Hidden bar that you go through a photobooth to get, attached to a sports bar on Soi 11
Havana Social; Enter through another phone booth! Cuban themed bar-cum-night club, packed on the weekends. 
Smalls; Great place to break the bank on delicious cocktails
Tuba; Vintage bar since 2005
Black Amber Social Club; Attached to my barbers, Chicago-style speak easy
Buddha & Pals; Jazz bar for when you're just too cool for everywhere else. In a faux-run-down building.
Hemmingways; Great option for all your staple bar needs. Cool vibes. big crowds, great booze, and my buddy is a co-owner!
Best Skybars in Bangkok
Above Eleven; Peruvian-Thai fusion bar with the best views from a men's bathroom you're ever likely to see!
Brewski; The least pretentious of all skybars in Bangkok with banging views and great beers
Sky Bar, Lebua; The one from 'The Hangover'. Pricey, swanky, dress-code applies.
Vertigo; Top of the Banyan tree, floor 61. Pricey, swanky, dress-code applies.
Speakeasy; In the Hotel Muse, cool decor, even cooler drinks
Redsky (and Cru Champagne Bar): On top of the Centara, slap bang in the middle of Bangkok. Great place for a date.
Octave; On top of the Marriot, 360 views, probably the best in the city.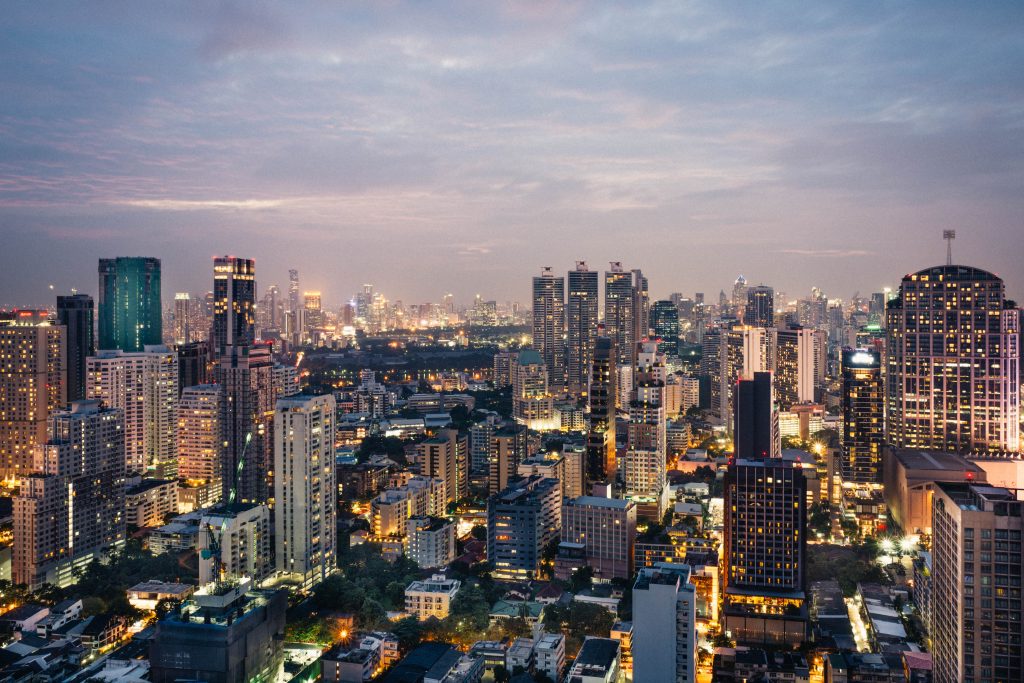 Best Vegetarian Food Options in Bangkok
Bangkok is becoming super veg-friendly. I haven't eaten meat in years and years, so the city has been good to me, be sure to check out these veg and vegan restaurants when you're in town.
Veganerie Concept; Delicious, if not so healthy, vegan food – burgers, fries, cheesecake, smoothies. Bangkok's number 1.
Broccoli Revolution; Great smoothie bowls and great western takes on Thai food. 
Vistro: The best 'Moo Ping' (grilled pork, but veggie) on the market!
Nourish; SUPER healthy options.
Ton Phon, On Nut; The cheapest answer to your veggie needs.
Barefood Bangkok; If you're hardcore vegan but need cheese, Barefood is your friend.
Hummus Boutique; You can guess what they sell here, but also vegan pizza. 
May Veggie Home; Bangkok's original veggie-thai food place, still going strong.
Summerbowl; Smoothie bowls to make you drool
Govinda; Indian food.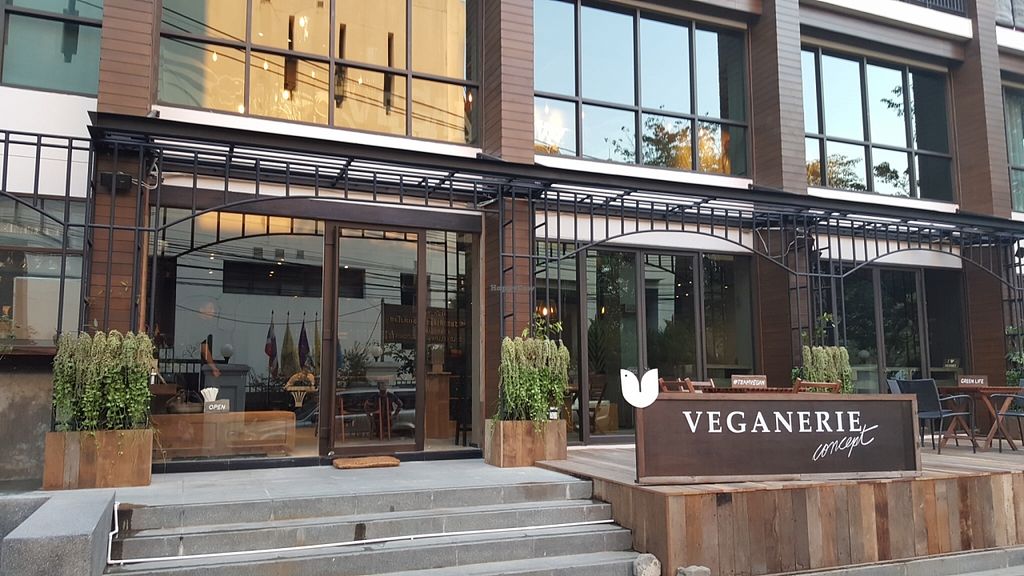 Where to Stay in Bangkok?
It's tough to know where to stay in Bangkok unless you know the city. The easiest way is to break it down in 5 areas, which I explain a little below, so read on. In a nutshell though, Sukhumit is the city centre, so I'd also recommend staying there UNLESS you're a younger backpacker on a tight budget, then Khao San is your spot. Anyway, check it out;
Sukhumvit: The city centre (and where I live). The best areas to stay are Thong Lor, Ekkamai, Phrom Pong, Asoke, Nana. But anywhere along Sukhumvit from Victory Monument to On Nut is pretty ok, and you can use the BTS Skytrain to get around super easily, quickly and cheaply. 
Silom: The secondary city centre, and the business district. I spend very little time here personally. Got a bit of a red-light zone here if you're after that too.
Khao San Road: The Backpacking Mecca of the world, Khao San Road. More backpackers per square meter than anywhere else on earth (and not so many Thais in this area!). If you want to find super cheap accommodation, lots of other foreigners, and cheap street pad-thai and beers, this is your spot. It's not very representative of Bangkok, or Thailand, but it is a fun spot. Especially if you're under 30.
Yarowat: Chinatown. Feels like the Bangkok you've seen the movie 'The Beach'. Old people cooking up a storm on the street, fire burning, neon lights, crazy traffic. Becoming quite a hipster area these days too. Right beside Hua Lampong Train station too if you're riding the train to Chiang Mai.
Chao Praya River: The most relaxing area in Bangkok, although generally if you want to relax, you don't come to Bangkok!  The best spot if you're after a Bangkok Staycation though.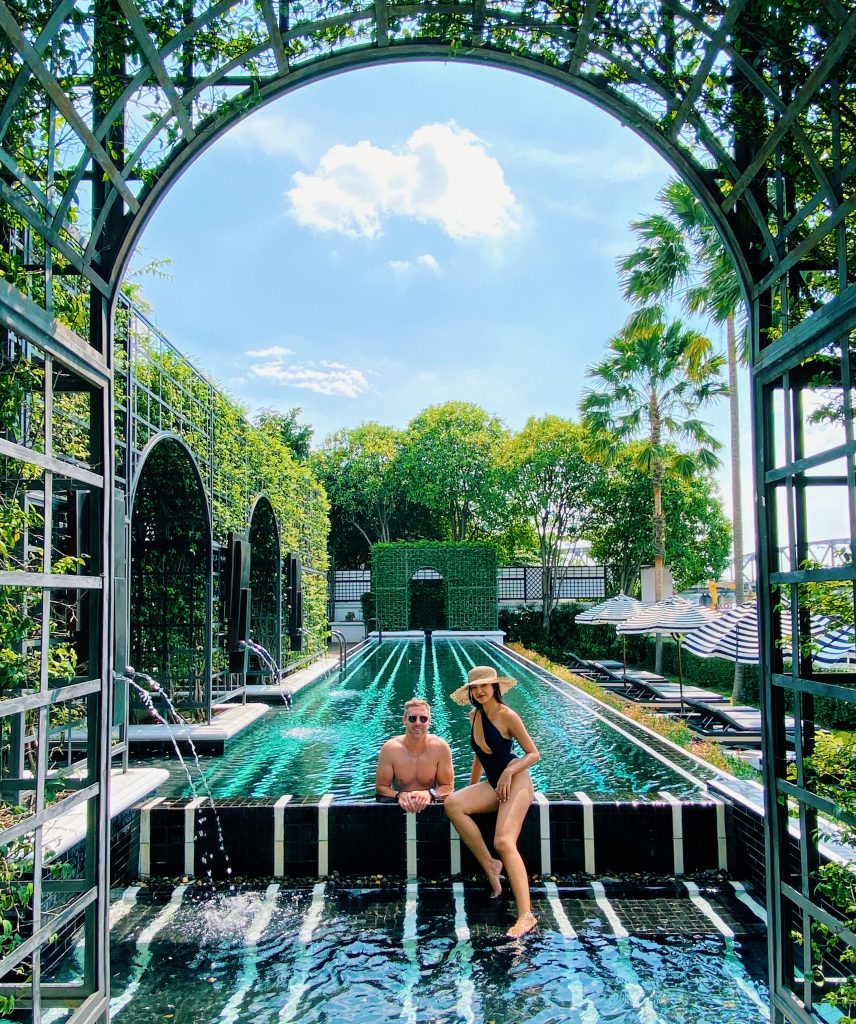 How to Get Around Bangkok
You can walk in batches. For example, the temples are all roughly in the same area, or if you're downtown moving between the malls, you can walk too. But Bangkok is big, so sooner or later you'll need some transport. Remember, the traffic in Bangkok is amongst the worst IN THE WORLD. So if you're wanting to travel during peak hours (7am to 10am or 4pm to 8pm) then take a taxi/car at your own risk, you may lose an hour or two. Seriously. Anyway,  there are 6 main ways to get about. 
BTS: The Skytrain is the most common way to get around downtown. Note though,it doesn't go all the way to Chinatown or Khao San. Tickets are 20-50Thb ($1-$2) each. Really easy to use.
MRT: Same system as the BTS skytrain, but underground.
Taxi/Grab: There are endless taxis in Bangkok, and they're cheap (figure less than $5 per hour!). As a tourist, they may insist on not using the meter (that's illegal, but good luck fighting it), so I'd say if it's roughly 200THB or less, you may be better just paying than wasting your time fighting. The best way to avoid that though is to download South East Asia's version of Uber – GRAB. Works exactly the same (they actually bought UBER out here!). Also, you can use GRAB BIKES which is a motorbike taxi, MUCH faster. It's what I do 90% of the time.
Boat: Cool way to get around, but only good if you're on the Chao Phraya way, or you know your way around the canals. Definitely use it once or twice, but not a means to really get around as a tourist.
Tuk-tuk; A bastion of your Bangkok itinerary. You have to ride a tuk-tuk at least once. Actually probably only once. Weirdly they're more expensive than air-conditioned taxis, and much less comfortable. But still, it's a rite of passage during your 3 days in Bangkok.
Buses. Complicated, and confusing. Don't bother. (Bloody cheap though!)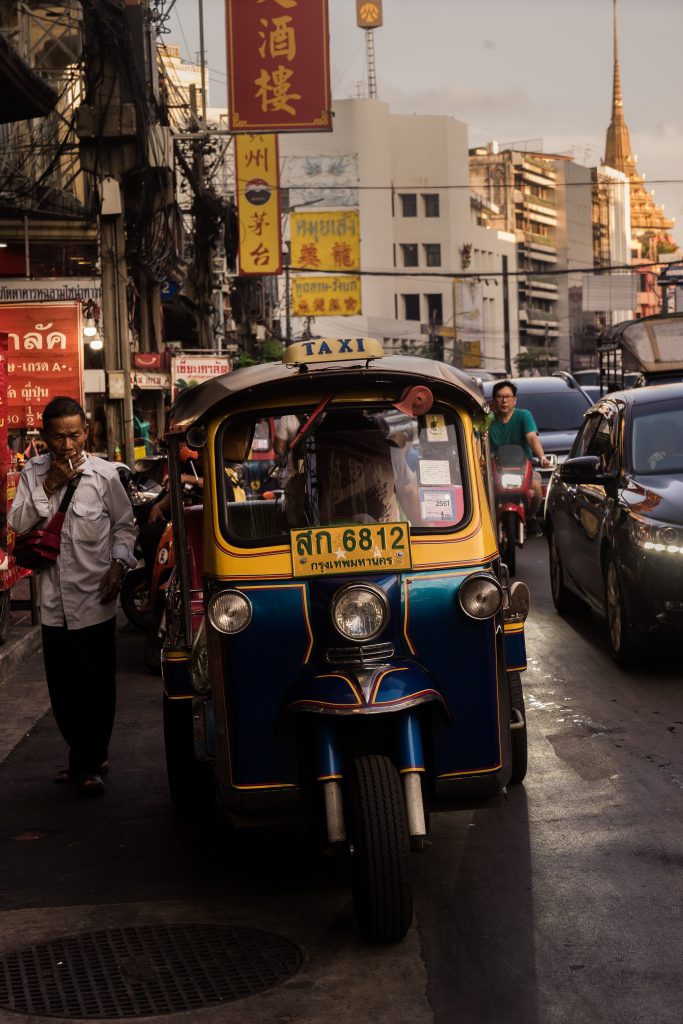 23 THINGS TO DO IN BANGKOK; Extend your Bangkok Itinerary
If you're staying longer than 3 days in Bangkok, then you can add any or all of these bad boys to your Bangkok itinerary. Actually, you could come to Thailand for 2 weeks, and use Bangkok as your base which you hop elsewhere for 2/3 days in between and have the trip of a lifetime to be honest. 
Temples (Grand Place, Emerald Buddha, Reclining Buddha, Wat Pho, Golden Mount).The first thing any tourist does in Bangkok, check out the temples! The Grand Palace, the Reclining Buddha, and lunch or dinner opposite Wat pho would be the 3 I'd say are a must. And the views from atop Golden Mount are also pretty special. 
Talat Rot Fai; Known as the train market (not to be confused with the Maeklong Railway Market), Talat Rot Fai is a nightmarket behind the Thailand Cultural Centre MRT train stop. Hundreds of stalls selling handicraft, massive street food options, and cool vibes for drinks too. Great place to hang-out. 
Watch Muay Thai; Lumpini Stadium is the home for the real Muay Thai, every frida they have fights. Book your ticket online in advance. 
Study Thai in Bangkok; If you'd like to delve a little deeper into Thai culture, the best Thai language school is Duke, near Nana BTS. I'm currently studying Thai there too.
Bangkok Staycation; For those of us who live here, taking a staycation in Bangkok is a great way to relax during COVID. I did that recently and drew up a perfect Staycation Bangkok Itinerary here.
Chatuchak Market: The biggest outdoor market in the world, the biggest weekend market in the world. Says it all!
Jim Thompson's House: The most famous American in Thai history, and essentially gave birth to the silk industry here. Pretty boring in my opinion, but if you're a history buff, you may see it differently.
Asiatique: The huge Ferris wheel on the Chao Phraya river, surrounded in bars and restaurants. A little touristic, but I still love the place for an evening. 
Mall hop: South East Asia's biggest shopping scene for a reason; Central World used to be the biggest mall in the world, Icon Siam is the new centre piece, Siam Paragon, MBK. Shop till you drop.
Gogo Bars: Not my scene, but obviously a part of Bangkok culture. Nana Plaza, Soi Cowboy, or Patpong. 
Lumpini Park: Biggest park in Bangkok, and home to Bangkok's famous massive Monitor Lizards. Great spot for morning or evening runs. Same to be said for Benjakitii Park, near Asoke BTS (and Terminal 21 shopping mall).
1st Class Cinema, @ Central Embassy; Sounds boring, but you've never had a movie experience like it. Butler, minibar, free-flow popcorn, slippers etc etc. About $70 though!
Skybars: You have to have at least one overpriced drink at an amazing skybar with Bangkok cityviews
Bang Kachao – Bangkok's Green Lung; An escape from the chaos of Bangkok, but within Bangkok. Really cool, cycle around and soak up the greenery.
Bangkok's Airplane Graveyard; Made famous by Instagram! Unused aeroplanes dumped just outside Bangkok's city centre, pretty cool to be honest.
Wakeboarding in Bangkok: Not a lot of people know that it is indeed possible to go wakeboarding in Bangkok, just 40 minutes outside the city centre. 
Dinner at Jai Fai: Thailand's cheapest Michelin starred restaurant, and one of the few street-food Michelin-starred places on the planet. The famous omelettes still run about $20 though. Next door is Bangkok's most famous Pad Thai place, so if you're on a budget, go to Thip Samai next door instead!
Visit the Erawan Museum; More of a shrine than a museum, Bangkok's giant 3-headed elephant is well worth an hour or 2 of anyone's time. It's a sight to behold, especially when you go inside the giant elephant's head!
Chao Phraya Dinner Cruise; Great option for families, or for dates. You get picked up at the side of the Chao Phraya river, and depending on your package have either A La Carte, or Buffet dinner, occasionally with free-flow alcohol, as you meander up and down the Chao Phraya river by night. It's beautiful. Everyone should do it at least once.
Khao San Road. The backpacker mecca. A street (which is now an area making up multiple streets) is the place for cheap accommodation, to meet other travelers, buy copied goods, drink beers on the street, and/or get your hair-braided. It's not for everyone, but its certainly worth a look.
Ancient City; The only thing I haven't done on the list! A 200 acre 'museum' often called the world's largest outdoor msueum which features lots of ancient Siamese (old Thai) architecture. About 40 minutes south of the city centre.
Thai Massage; You can't NOT have a Thai massage when you're here! Cheapest, easiest option is around Khao San Road when you check that out, but also around Sukhumvit, just walking along the street you can't go 200m without seeing one! They range from 200THB ($7) to 2000THB for a fancy spa.
Ride Canal boat or Chao Phraya Boat: To see the real Thai culture, you should try to ride a canal boat at one stage. It's in my 3 day Bangkok Itinerary above to get from downtown to Khao San area, so I'd recommend that. It's also great to take a boat from around Golden Mount down to the other temples like Wat Arun, or to Asiatique for dinner.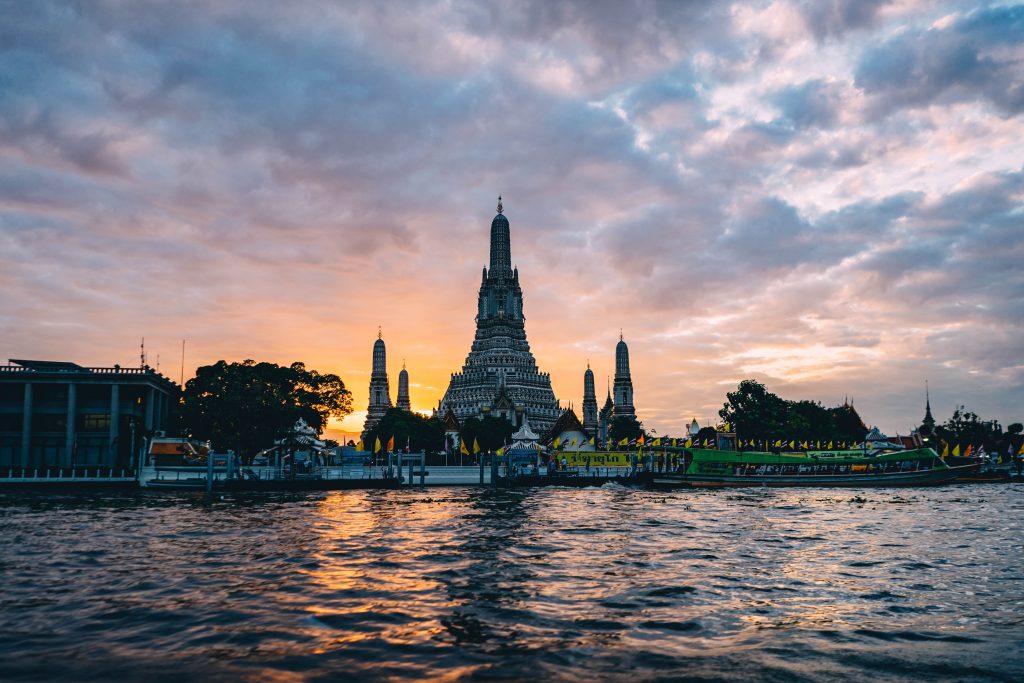 9 DAY TRIPS FROM BANGKOK, or MULTI-DAY TRIPS FROM BANGKOK
Day trip to the famous Maeklong Railway Market or 'train market'; You know when the train pops right through the market, and the vendors have to quickly pull back their umbrellas and removes their stalls to allow the train to pass by? That's Maeklong Railway Market, about 90 minutes outside Bangkok. 
Day Trip to Damnoen Saduak Floating Market: The famous 'canal markets' where people sell you stuff from their boats. Damnoen Saduak is the most famous, and it's possible as a day trip from Bangkok. A little touristic, but still pretty cool.
1 or 2 Day trip to Amphawa: Like Damnoen Saduak, but more Thai (probably a better option in my opinion, weekends only thought, whereas Damnoen Saduak is every day).
2 Day Trip to Khao Yai: Thailand's biggest national park, home to beautiful views, wine-tasting hiking, and fresh air. It's about a 6 hour drive or so though, so better stay a night or 2 if you're going 
2/3 Day trip to Kanchanaburi; Better to stay a night or 2 there as there are lots of things to do in Kanchanaburi, staring with the 'Bridge Over the River Kwai'.
1/2 Day trip to Koh Laan (or Pattaya): Pattaya is famous for its seedy, raucous nightlife. Koh Larn is an island just off Pattaya which many people like to visit as its the nearest island to Bangkok. 
2/3 Day trip to Hua Hin: A seaside town about 4 hours south of Bangkok, hugely popular with expats and Thais for a sleepy break from Bangkok
Day trip to Ayutthaya: Possible as a day trip from Bangkok, or a 2D/1N trip from Bangkok to Thailand's ancient Capital. Famous for the temples, and that's pretty much it!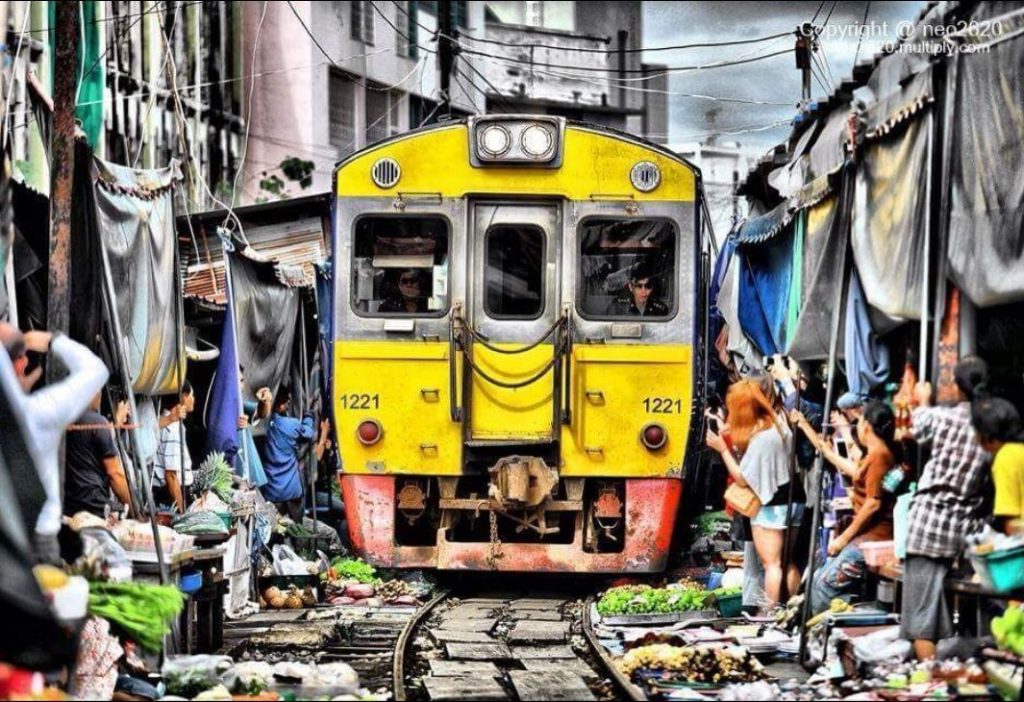 FINAL THOUGHTS ON MY BANGKOK ITINERARY
I love Bangkok. It has a little bit of everything. I understand why some people don't love it – it's crazy, loud, dirty, hectic. But it's alive. And in my opinion, it's the best big city in the world. I hope this blog post helps you plan your 2 days in Bangkok, 3 days in Bangkok or however many days you have, you should be able to plan your Bangkok Itinerary accordingly.
Let me know your thoughts, or if you have any questions. I'm sadly leaving Bangkok soon, moving back to Chiang Mai to start a family, where I bought some land, but I'll always love this big, beautiful, bonkers city. Enjoy!
Remember, never travel without travel insurance! And never overpay for travel insurance!
I use HeyMondo. You get INSTANT quotes. Super cheap, they actually pay out, AND they cover almost everywhere, where most insurance companies don't (even places like Central African Republic etc!). You can sign-up here. PS You even get 5% off if you use MY LINK! You can even sign up if you're already overseas and traveling, pretty cool.
Also, if you want to start a blog...I CAN HELP YOU!
Also, if you want to start a blog, and start to change your life, I'd love to help you! Email me on johnny@onestep4ward.com. In the meantime, check out my super easy blog post on how to start a travel blog in under 30 minutes, here! And if you just want to get cracking, use BlueHost at a discount, through me.
Also, (if you're like me, and awful with tech-stuff) email me and my team can get a blog up and running for you, designed and everything, for $699 - email johnny@onestep4ward.com to get started.
Do you work remotely? Are you a digital nomad/blogger etc? You need to be insured too.
I use SafetyWing for my digital nomad insurance. It covers me while I live overseas. It's just $10 a week, and it's amazing! No upfront fees, you just pay week by week, and you can sign up just for a week if you want, then switch it off and on whenever. You can read my review here, and you can sign-up here!