The Best Digital Nomad Insurance
If you're an expat, a digital nomad or a long-term traveler, you need travel health insurance. Finally, for just over $9 a week, you can have all the health insurance you need around the world for cheap. That my friends, is a fact. What's also a fact is that I've never had it, for 10 years on the road. Stupid? Yup. Lucky? Hmmm, not really. I've broken my leg in Thailand, my foot in Korea, suspected Malaria in Burkina Faso, slipped 2 discs in my spine in Australia, broken hands, broken noses, broken shoulders, amongst various smaller injuries around the globe. To treat them, I either ignored them and hoped for the best (because I had no insurance and couldn't afford to pay) or went to a cheap local hospitals and got sub-par treatment.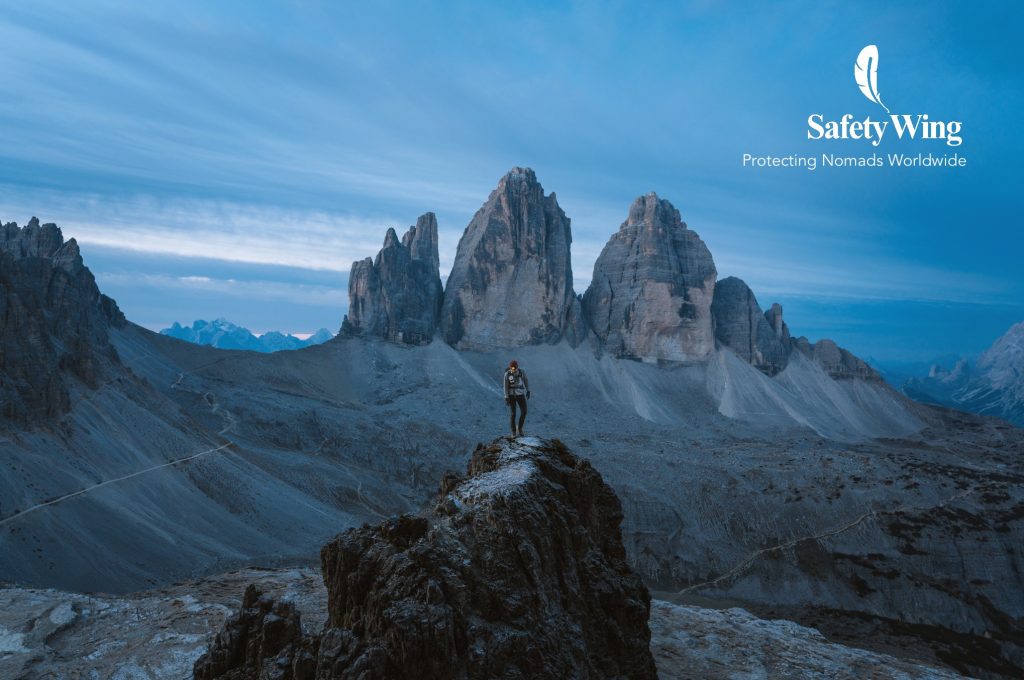 Previously I was winging it, and it has been starting to stress me out. Now I realise I NEED health care. What if something goes wrong? Motorbike crash? Mugging? I spend a lot of my time in Thailand, and various other countries throughout the year, and the reality that I had NO health cover anywhere other than back in Ireland & the UK, has been playing on my mind. Not any longer. I've finally sorted it, and I'm going to show you guys how to do it too. And for cheap!
*Don't be like me, having to use cheap Government Hospitals around the world (see below) when you can go to the best private hospitals in the country for $9 a week!

OVERVIEW; SafetyWing
SafetyWing is the best digital nomad insurance, or long-term traveler insurance available. If you don't have travel medical insurance, then get it. You'll have PRIVATE HEALTH CARE IN ALMOST EVERY COUNTRY IN THE WORLD FOR $9 PER WEEK (CLICK HERE TO GET INSURED)!
SafetyWing's travel & medical insurance plan costs just $37 for every 4 weeks & with awesome emergency medical and dental coverage, $3,000 of lost luggage coverage and a $250,000 maximum limit. In other words, it offers the best value of any travel and medical insurance plan on the planet.
| | | |
| --- | --- | --- |
| Your Age | Monthly Price | Monthly Price (including USA) |
| 18-39 | $37 | $68 |
| 40-49 | $60 | $111 |
| 50-59 | $94 | $184 |
| 60-69 | $128 | $251 |
For most digital nomads or long-term travelers, insurance is just something that you'll get around to. But never do. Then disaster strikes and you wish you did. I know the feeling.  And it's such a complicated world. Deductibles, excess, liability. I was so confused and because of that, I stuck my head in the sand. Finally, this month I decided to get it fixed once and for all. After researching the most famous travel insurance in World Nomads, and then researching the new kids on the block, SafetyWing, I decided to go with the latter. Why?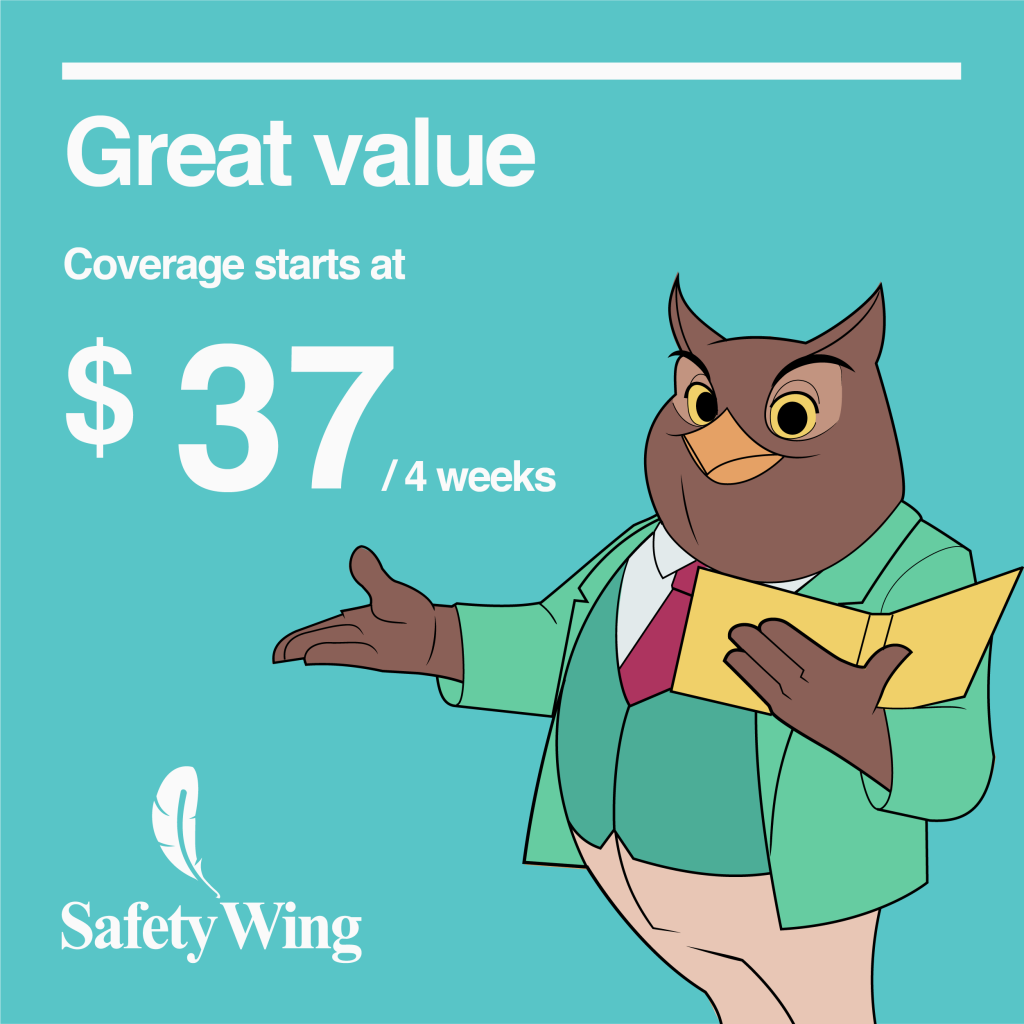 COMPARING WORLD NOMADS & SAFETYWING
I know, I know. EVERYONE seems to recommend World Nomads. I also used to. It's user-friendly and super easy to sign up. But wanna know why most bloggers recommend it? Because they pay huge commission compared to any other insurance provider (sssssh industry secret, don't tell anyone!). So when I finally got my act together to get medical insurance for my travels, I assumed I too would get World Nomads. I always thought it was cheap, I was a little shocked to see it cost about $1300 a year (it's no wonder I never had it!).
So let's compare SafetyWing and World Nomads and see why I choose Safety Wing.
PRICING:
SafetyWing: $37 for 4 weeks. Bargain!
World Nomads: Starting* at approximately $120+/month
FLEXIBILITY:
SafetyWing: You can sign up at home OR when you're already traveling. The monthly fee is rolling (like Netflix), so you don't have to sign up for X amount of months, you just keep it running while you travel or live overseas. Every travel insurance should do this, but alas they don't.
World Nomads: You can sign up at home OR when you're already traveling. You have to buy a pre-determined amount of time (3 months in South East Asia for example).
TRAVEL MEDICAL INSURANCE:
Safety Wing: First and foremost, SafetyWing is ridiculously cheap medical insurance as you travel. It covers unexpected illnesses and injuries sustained abroad, including expenses for hospitals, doctors and prescription drugs. It also covers emergency travel-related benefits such as emergency medical evacuation, emergency dental treatment, travel delay/interruption and lost luggage. It even offers coverage in your home country, perfect for the frequent traveler who still likes to visit home once in a while. Americans have 15 days of home country coverage for every 90 days of their policy, while everyone else gets 30 days of home country coverage for every 90 days of their policy.
World Nomads: Triple the price of SafetyWing, similar medical insurance.
TRAVEL INSURANCE:
SafetyWing: Travel delays out of your control, does not include missed flights Lost checked luggage is covered up to $3k with $500 per item. Stolen and broken electronics are not covered, they're updated plan later in the year will cover this though. Also, they even cover kidnap/ransom kinda stuff! Quality peace-of-mind when you go join me on my tours to countries like Yemen, Syria, etc (just kidding, we'll be fine!)
World Nomads: The same as above but also includes stolen goods up to $500 per item. For triple the price, and the slim chance of having stuff stolen, not worth it in my eyes.
COVERAGE
SafetyWing: THE WHOLE WORLD (apart from North Korea, Cuba and Iran)
World Nomads: The whole world.
CONCLUSION?
Pretty simple really. SafetyWing is the clear winner. It's a 1/3 of the price of it's biggest competitor, World Nomads, AND you pay monthly rather than a one-off fee! It's an unbelievable product that gives me (or you) private health insurance all around the world, in almost every single country, all year around for $9 a week. That's honestly crazy. It makes me feel pretty stupid that I've never had it before, to be honest. Better late than never though. Click here to finally make sure you're covered for health insurance while you're not in your home country.
Quick check about what you'll be covered for. Yaaay: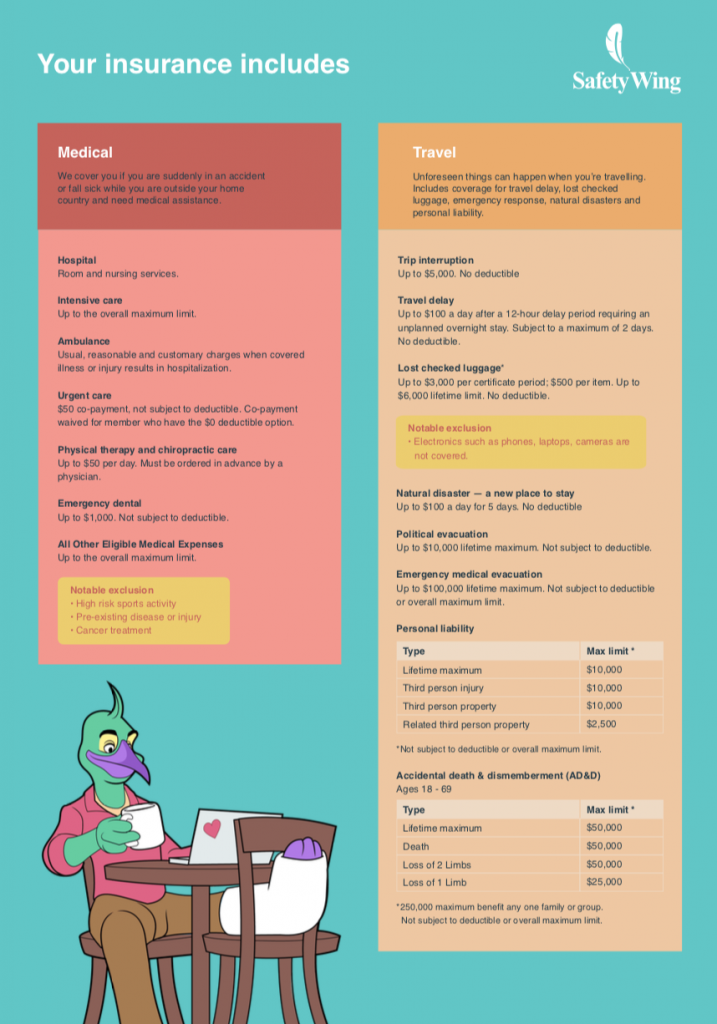 SAFETYWING HIGHLIGHTS:
I wanted to feel confident in finally endorsing one travel medical insurance above another, so after more and more research, I looked deeper still into SafetyWing so I could outline all their highlights. Here's why I finally, FINALLY took out insurance with these guys:
MONTHLY BILLING: NO ONE-OFF PAYMENT! You pay each month, direct from your debit card or credit card, just like Netflix. You don't need to sign up for any length of time. Month by month. Amazing.
PRICE: It's the cheapest, by a mile. Most company's charge $100+ minimum for private health care insurance. To pay $37 is amazing. Travel insurance finally reached where it's stupid NOT to have it. At last.
PRIVATE HEALTH CARE: I never understood how travel insurance worked. But with these guys, you hop into their website, log-in to your profile and check which private hospitals you can visit whether you're in Bangkok, Bali or Beirut (and it's almost all of them!).
Private Health Care in YOUR HOME COUNTRY: Yup, even when you're at home you can visit private hospitals for up to 30 days for every 90 days you have coverage. Crazy.
DIRECT BILLING: Unlike most insurance companies, most of the time you visit a hospital you don't have to pay and then claim it back. The bill goes straight to these guys.
SIMPLICITY: No bronze/silver/gold stuff. Pay your $9 a week and you're covered. And sign up, or cancel, at any time. It takes 5 minutes. How it should be.
YEARLY DEDUCTIBLES. That means 'excess' in the UK. So it's the amount you have to pay when you first claim (like if you're TV is broken or stolen at home you have to pay like $250 then, the insurance company covers the rest). These guys do a yearly version, so you don't have to keep paying the first portion of every claim. $250 a year is the max you can pay as an excess/deductible PER YEAR. Unreal.
OFTEN NO DEDUCTIBLES: For stuff like lost checked luggage, travel delays, crisis response, emergency dental, medical evacuation, trip interruption, personal liability you don't have to pay any deductible. Pretty cool.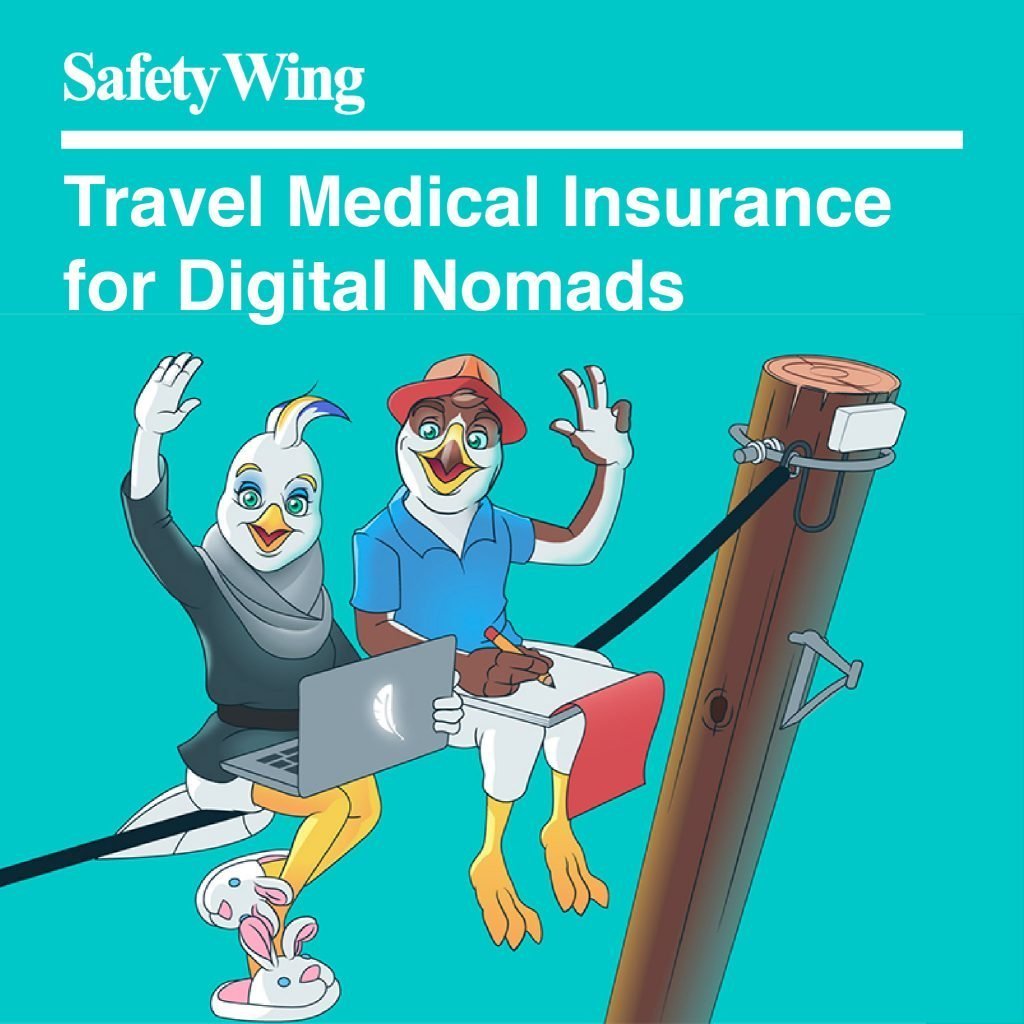 SAFETYWING FAQ