EMAIL ME TO JOIN THE WAITING LIST – THIS IS PENCILLED IN FOR OCT/NOV 2023!
Socotra Tour, Yemen 2023 (& Cairo, Egypt or Abu Dhabi, UAE)
After running 2 tours to Socotra in February and March 2020, I knew this was a place I had to help the world discover. Tours to Socotra are hard to come by, and it's such a privilege to visit this amazing island, that I'm delighted to be able to share with you guys. So here we are, and the next group trips are in Oct/Nov 2023, so come and join me.
If those dates don't work, I can organise private groups too, email me if you want to do that too.
PRIVATE TRIPS AVAILABLE ON ANY DATES YOU NEED
EMAIL ME IF YOU WANT TO VISIT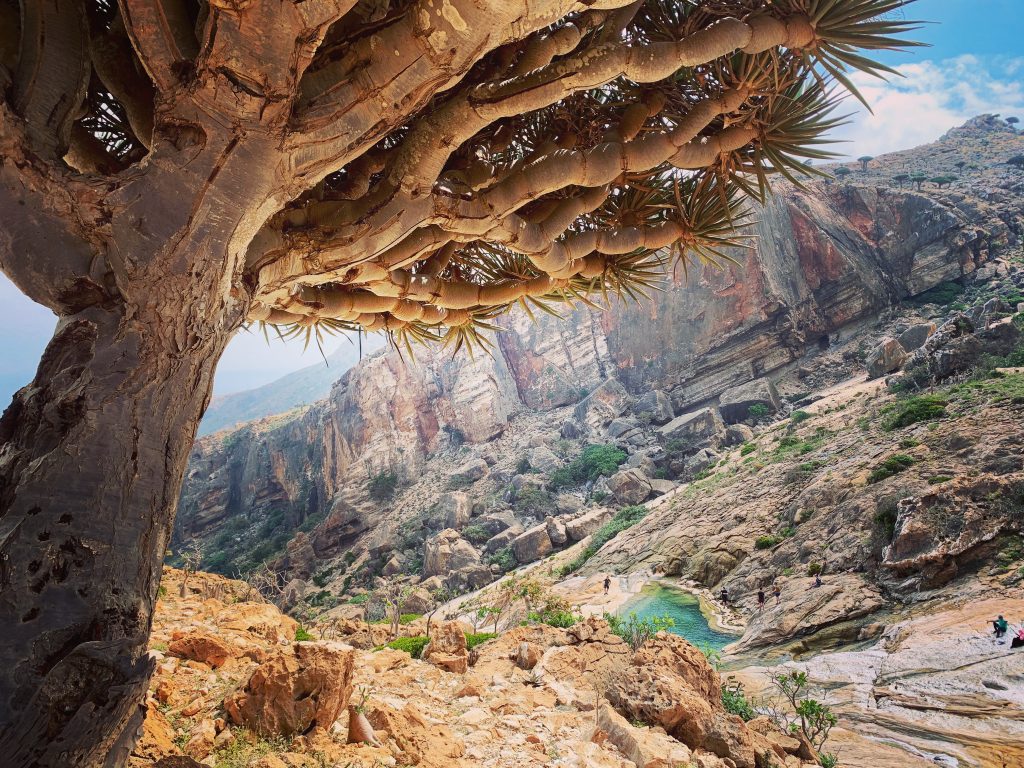 So, Socotra then? The most beautiful island on the planet in my opinion. One of the last untouched pockets in the world. Tours to Socotra offer something that no other destination does, you'll be one of just a handful of people who have traveled here in the last 5 years or so, and with the UAE and Saudi taking more and more control, this is your chance to experience paradise before the hotels, the coffee shops and the charter flights being. It's time for an adventure, so let's do it. 
In 2017 I became the only tourist in Yemen, but I had to hitch a ride on an illegal Indian cement cargo ship for 4 days to access it. Thankfully, Yemenia Air have started a once-weekly flight to Cairo or Abu Dhabi again, except it can't be booked online. It needs to be paid cash. In Cairo or UAE. Crazy but true. But don't worry, I take care of all that. Even better, I take care of your visas too, no need to visit any embassies, just send me your passport and meet me in Cairo.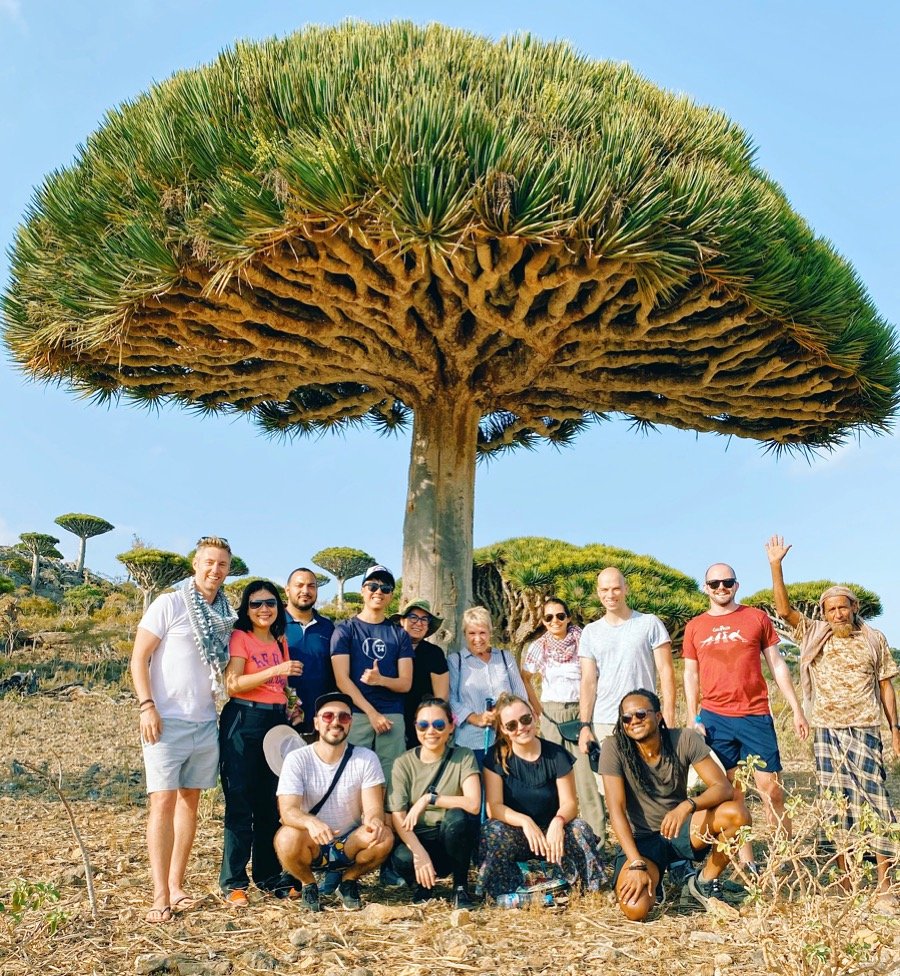 TOURS TO SOCOTRA
So it's your turn to see the other-wordly Dragon blood trees. It's your turn to roam the 200ft sand dunes, and swim from the sandbanks of Qalansia beach. It's your turn to REALLY travel. Your old friends don't understand you? They don't know why you would want to visit Yemen? don't worry, join me and my group, and you'll make some other crazy friends who want an adventure just as much as you do.  
My group tours offer something slightly different from any other tours to Socotra. Firstly, people who follow my blog here, or my Instagram.com/onestep4ward, are adventurous, fun souls! They know my travel is a little crazy, and they're ready for the trip of a lifetime, so expect a great group of international people!
Secondly, unlike may Socotra operators, we don't camp every single night. We do 4 nights in a guest house, and 3 camping. With never camping 2 nights in a row. This gives you the chance to keep everything charged, it gives you the chance to shower every single day, it gives you the chance to escape the heat and sample a little air conditioning (power permitting!) every other day. The guest house is basic, but going to bed clean and showered every 2nd day keeps the energy levels up, and in my opinion, is the best way to experience Socotra for a week.
Finally, (for better or worse!) I'll be on the trip! I know tours to Socotra are expensive, I know it can even be a little scary going to Yemen, so I don't farm you out to any other company. This is my operation, and I'll be there. You deal with me directly, questions, emails, WhatsApp, and then I'll personally be there for the trip too. No language barriers, and a friendly face (I hope!) throughout the whole process.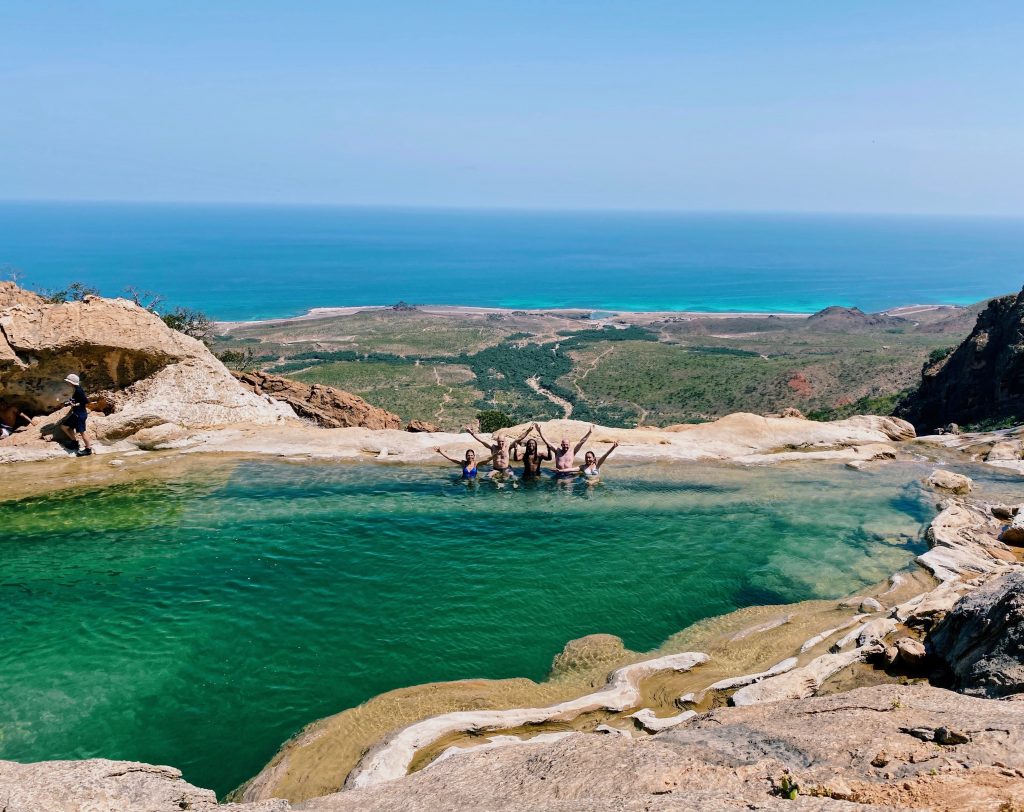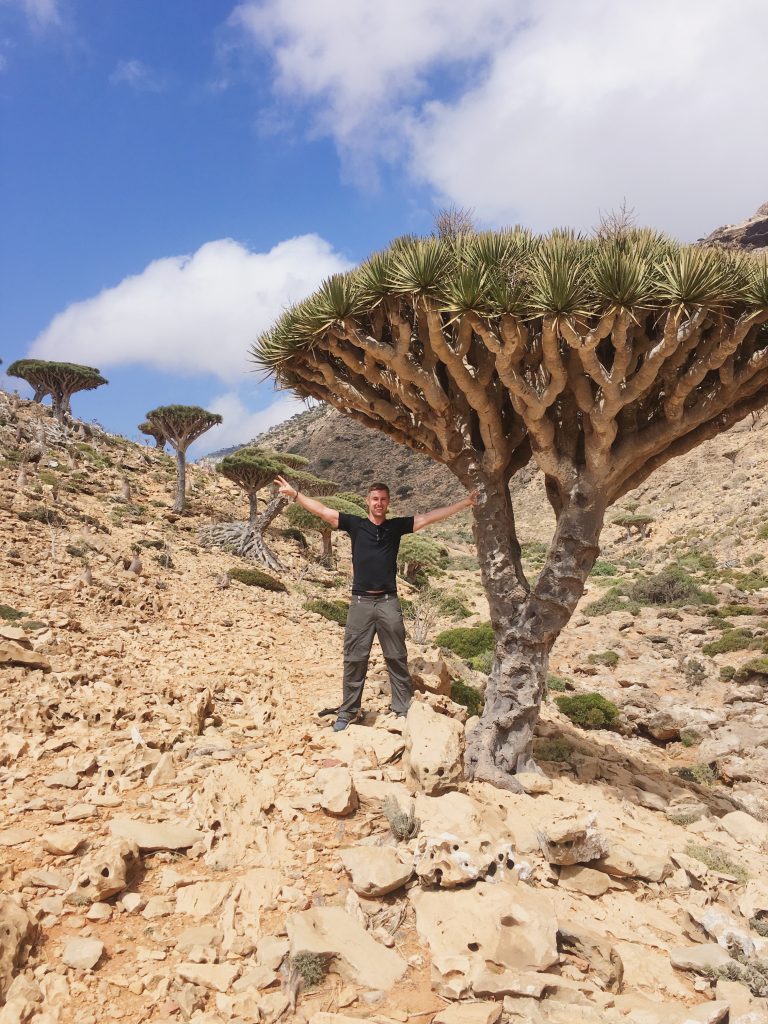 Is it Safe to Visit Socotra? Isn't Yemen dangerous?
As someone who recently ran trip to Iraq, where everyone told us we would never be able to visit Baghdad and Babylon in Iraq as a group, but we did it, and it was epic! Or when we traveled to Syria with a group last year, and that was beautiful too, well let me tell you that Socotra is 10 times safer than that. In fact, it's safer than New York, London or Paris. Socotra Island is detached from mainland Yemen, but physically and culturally. The heartbreaking Yemeni war hasn't touched the island, nor will it. The people are welcoming and warm, and the island needs tourists to return. So is Socotra safe? Yes, 100% it is.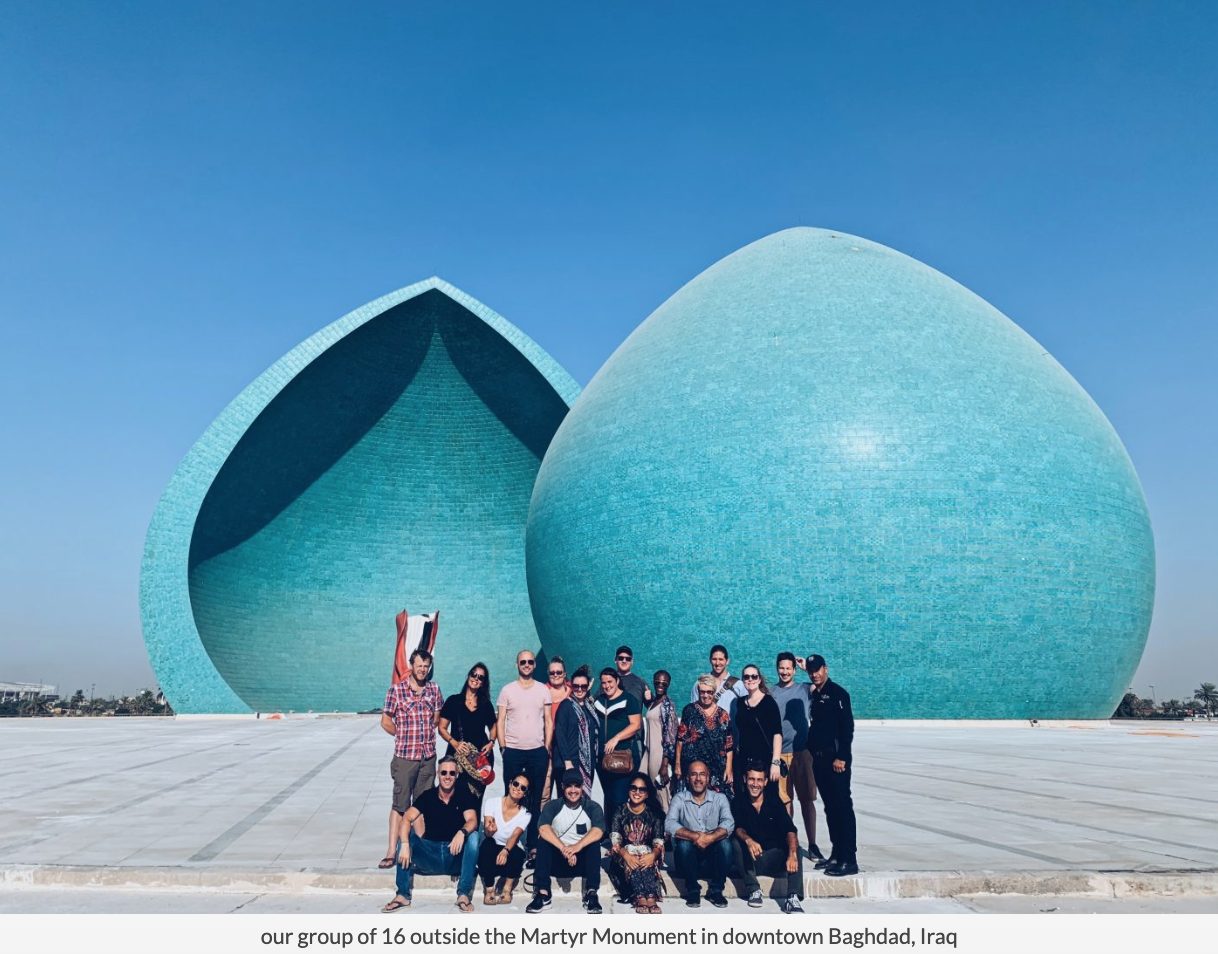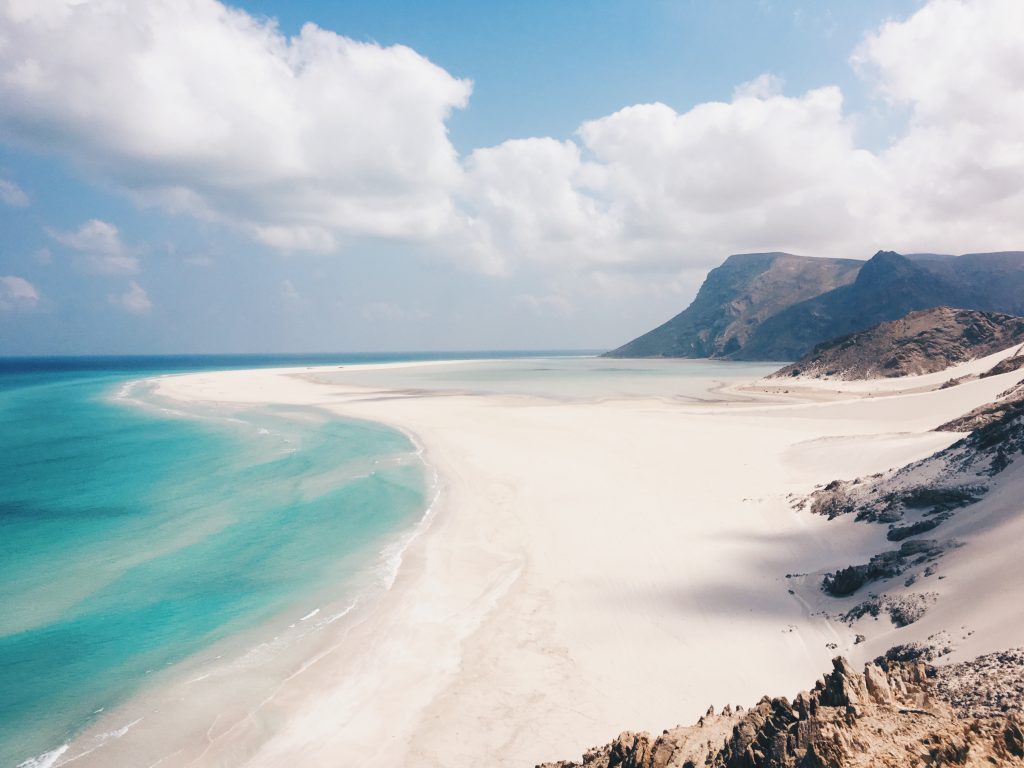 Of all the places in the world you can visit, I can safely say Socotra is THE most unique place on the planet. Endemic plant species like no other, untouched landscapes, a real feeling of real travel and adventure and 15 other people to share it with. It's the trip of a lifetime.
Where Is Socotra exactly?
Socotra is an island belonging to Yemen, but closer to Somalia than Yemen itself. It's in the beautiful Arabian sea and far enough away from any coasts to ensure the water is pure, clean and crystal clear. And the nature of the island means no war has touched it at all.

How Do We Get to Socotra?
Thankfully, we don't have to repeat my trick of spending 4 days on an Indian cargo ship! This time, we will fly to Socotra, from Cairo. The flight isn't bookable online, it's not searchable online either, but with our contacts in Socotra, and in Cairo, I take care of all those procedures. The flights are expensive as only one airline (Yemenia) fly there so they have a monopoly, but the flights from Cairo to Socotra are included in the price of the trip, so don't worry. And if those flight prices increase, don't worry, I'll guarantee the price within the cost of the trip.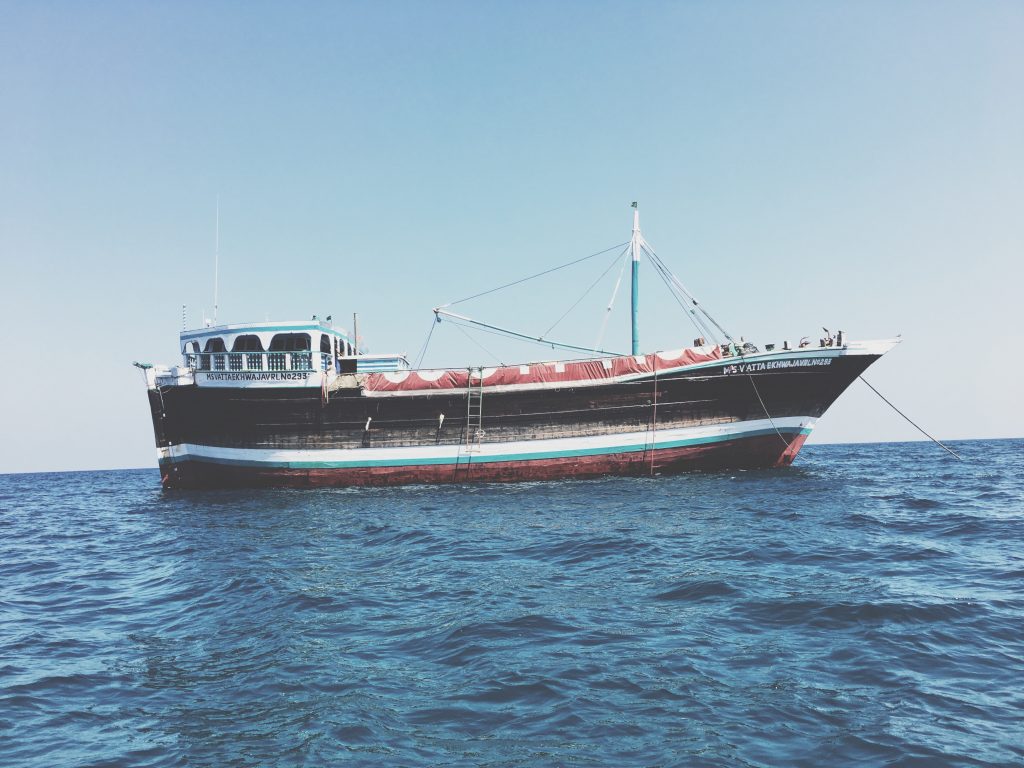 What about the Yemen Visa?
Don't worry. One of the best bits about traveling to Socotra with me is that I take care of your Yemen visa 100%. You don't have to visit any embassy, or pay any money. I take care of all the paperwork, so when we all go Cairo airport together, it's all ready to go. Our fixers stamp us in when we arrive in Socotra. We have a 100% success rate. 
MORE INFORMATION
DATES:
January 4th to 14th, 2021
COST:
EARLY BIRD: (deposit paid June 1st): £3180GBP/$3899USD
STANDARD PRICE: £3340GBP/$4099
20% non-refundable deposit (£636/$780) to secure your spot. Refunds, minus fees, expenses, and exchange rate costs, will, of course, be issued if the trip is canceled due to security issues, or the flights to Socotra are canceled. 
All funds to be paid in GBP (not USD)
$100 discount if you've been to Iraq, Syria or climb Mount Fuji with me.
Full balance to be paid 2 months before the trip (November 4th, 2021).
Price based per person sharing.
Single supplement priced at $450 extra
PAYMENT PLAN available upon request

Qalansia Beach, Socotra Island
ITINERARY:
January 4th: Day 1
Arrive in Cairo anytime today. We're staying at a central 4* hotel, we'll have a trip briefing at 6pm in the hotel, then walk to a local restaurant for some Arabic food and a first group dinner. Time to meet the other adventurers amongst us!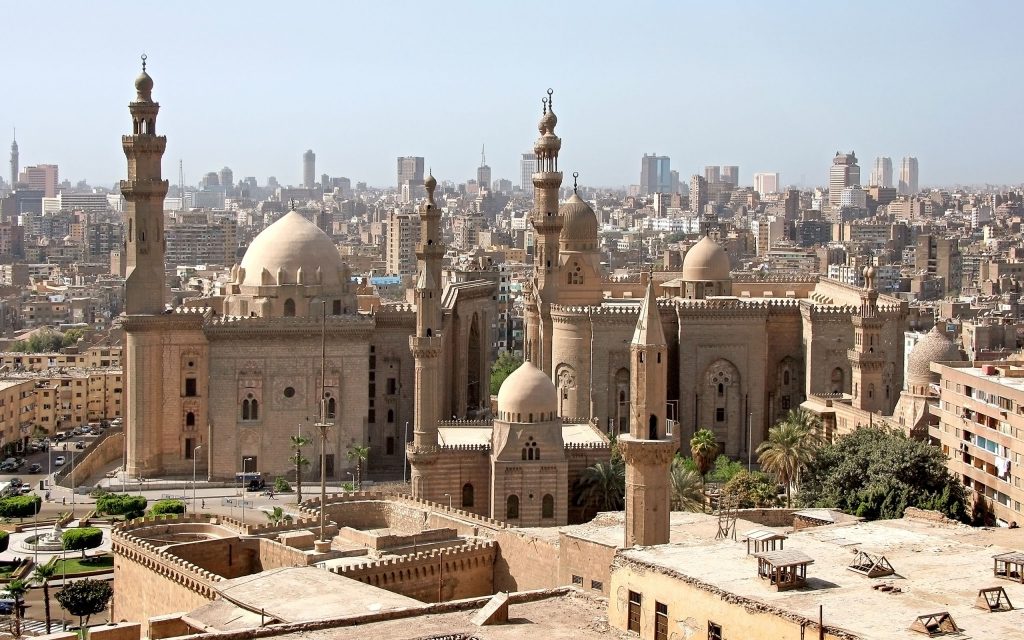 DAY 2
The Arab world's biggest city, Cairo, is waiting for us. Our private bus, and Egyptologist will meet us in the morning at 8am. 
First up, we head straight to the Pyramids of Giza, to hear about the 4000 year old history, how they were built, and what they represent. It doesn't matter how many times you've seem them on Instagram or TV, your first gaze at the Pyramids never fails to leave an impression. After grabbing all the Insta shots you need, we're off to the other side of the city.
The Khan el-Khalili bazaar is up next, so get your bargaining skills ready. Wandering between the ancient lamps and garments, we'll stop a local restaurant for some hummus, Arabic coffee and snacks for lunch, before some free time to explore the bazaar and spend your hard-earned cash. Make sure you grab yourself a headscarf for when we get to Socotra!
After you're all 'bartered-out', we hop back on the bus and make our way to the world's Number 1 Musuem, Cairo Museum. Home to Tutankhamun's Sarcophagus and head piece, countless mummies and endless priceless artifacts, even for people who don't like museums, this is pretty epic. 
That evening, it's a quick dinner at the hotel before we leave at an ungodly hour to the airport for a night flight to Socotra Island, Yemen!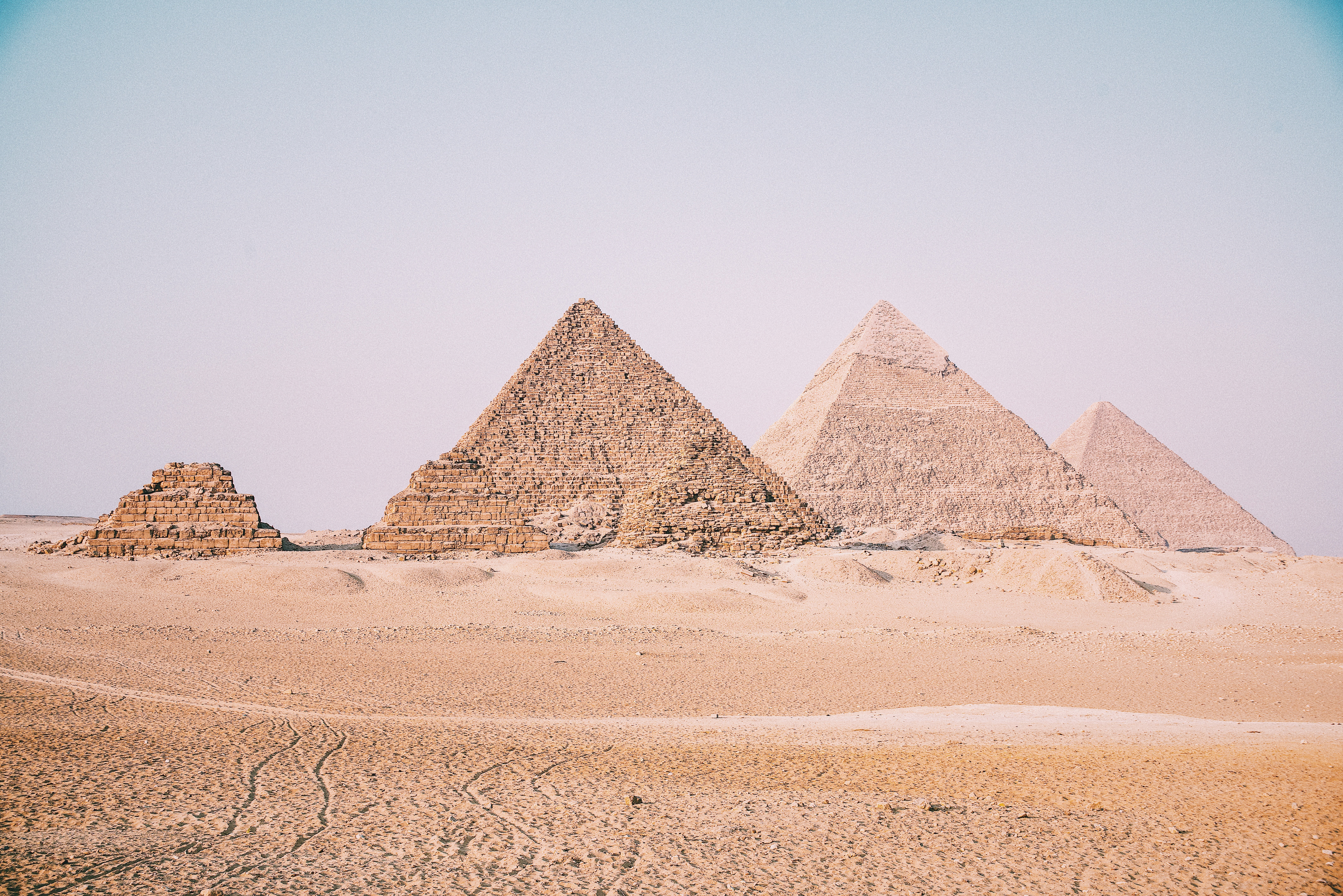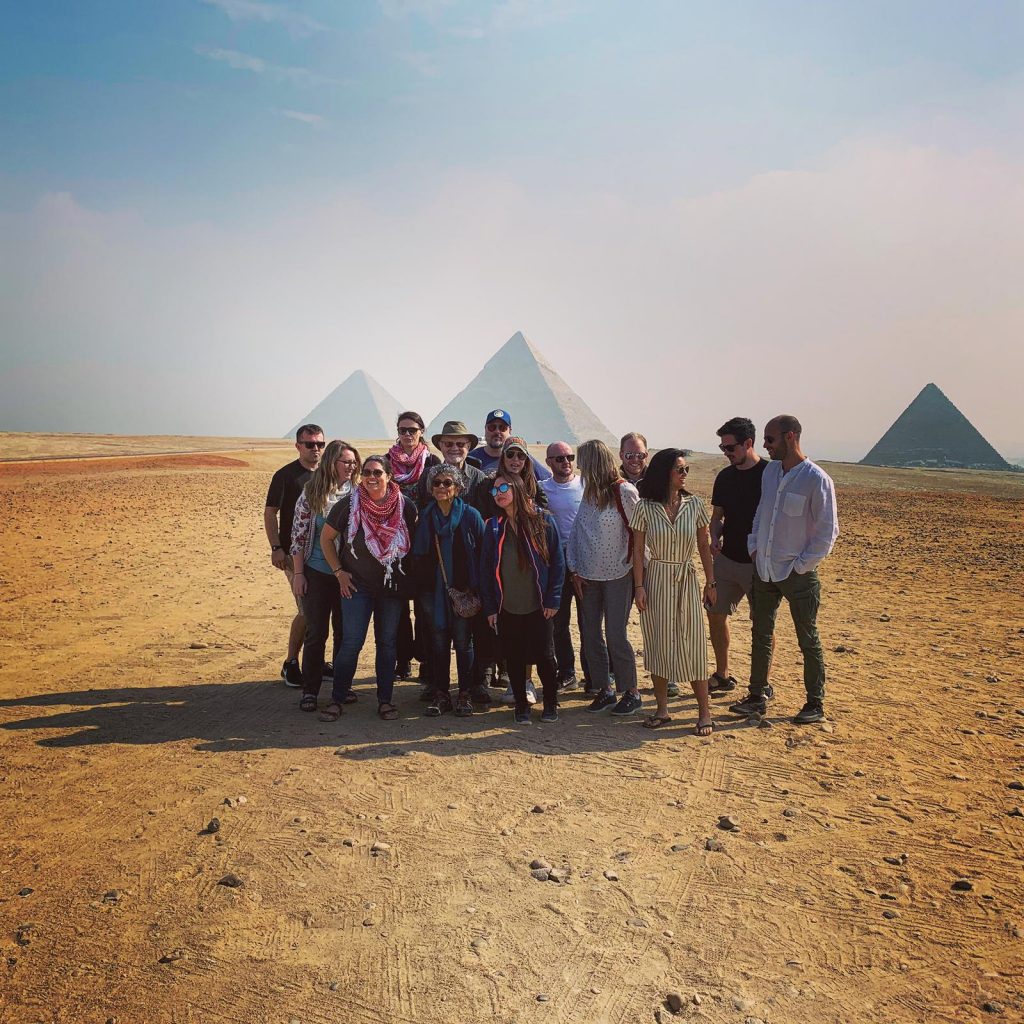 DAY 3
The day we've all been dreaming off. Touch down in Paradise. Normally we land around 10am or so and make our way to the guest house in Downtown Hadibo, Socotra's bustling (if a little dirty!) capital.
We'll be shattered from the night flight, so we'll have lunch and then some downtime to go shopping and perhaps have a nap before meeting again in the afternoon.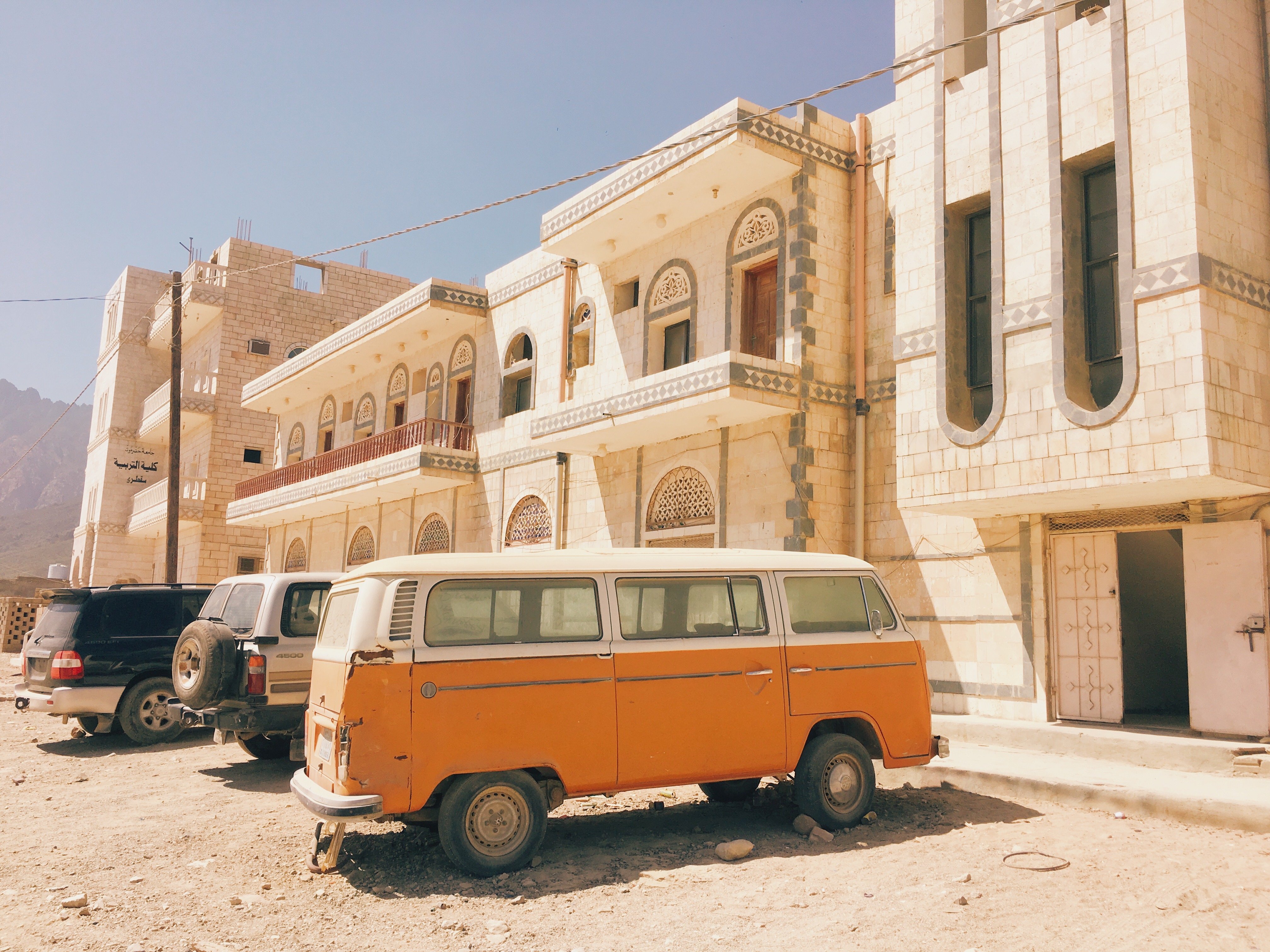 Nothing too strenuous today folks, we hop in our private landcruisers and drive for about 20 minutes and stop at a beach where you can take your first dip in the Arabian sea. After relaxing and recovering from the flight, we'll make a pitstop off at the Soviet Tanks, aging in the desert having never fired a shot, for sunset. You'll start to get an idea about just why this place is so special.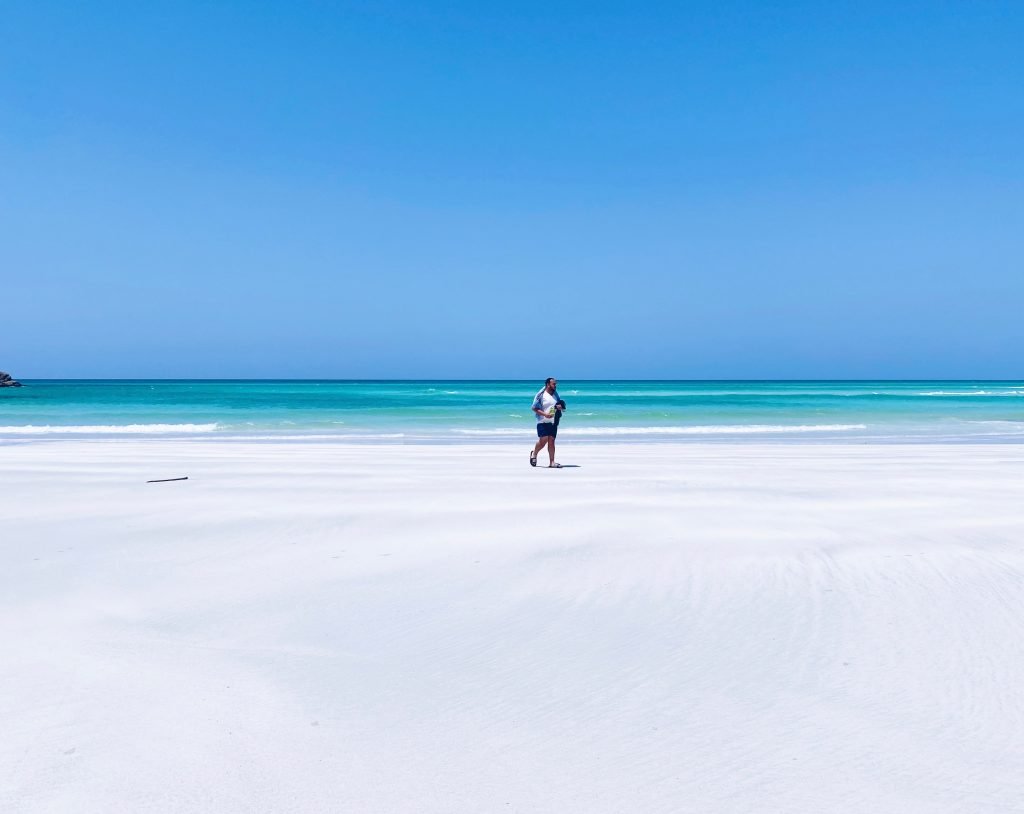 DAY 4
Today is the day our dreams come true, the Dragon Blood trees in all their glory, Dixam Plateau is calling.
After breakfast in Hadibo, we're back in the land cruisers, making our way to the centre of the island. On the horizon, you'll start to see the outlines of the fabled Dragon Blood trees. More and more start to appear in the distance, and before long, you're surrounded by them. We'll stop off at the breathtaking Wadi Dirhur Canyon before testing the 4 wheel drive as we go off-road and have lunch in the valley, looking like the landscape comes straight from The Land Before Time (ever seen that movie? Showing my age perhaps!).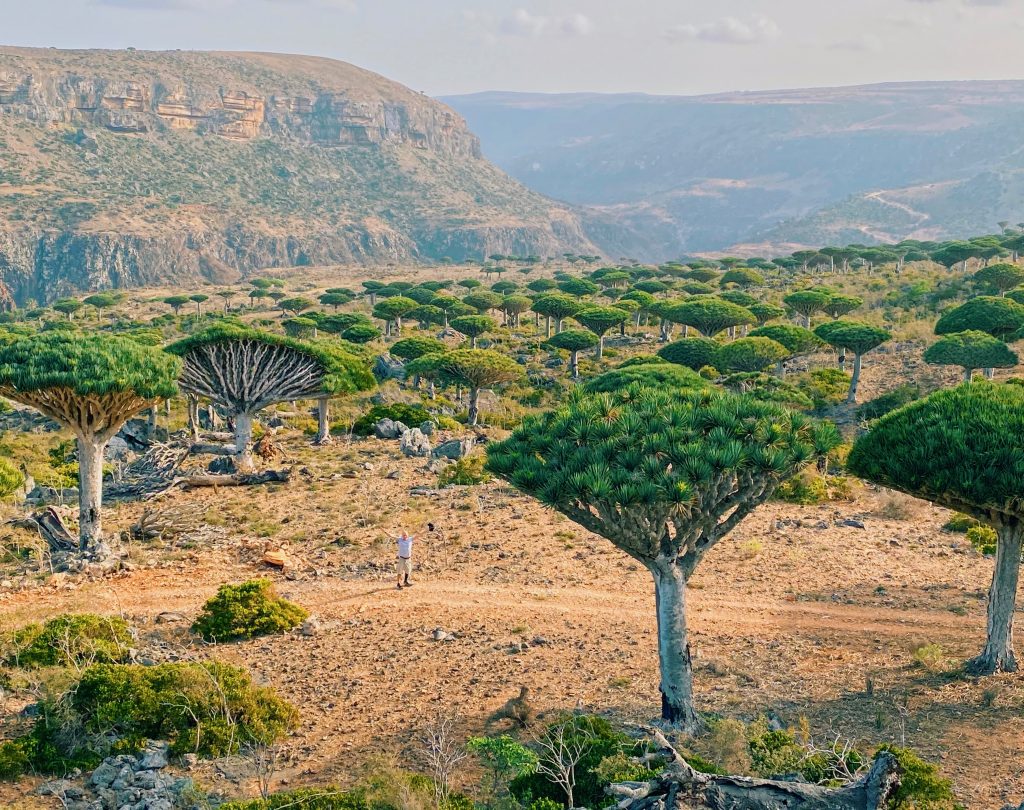 After lunch we swap our flip-flops for sneakers and go for a hike to search for the unique endemic Dragon Blood trees (Dracena), up close and personal. We reach the Dragon Blood Tree forest, so many that you can barely see through them. This is why we came, and I guarantee you won't be disappointed. Paradise.
This place is my favourite location in all of Socotra. That night, we'll camp in a local village near Wadi Dirhur, and depending on your smuggling skills, we may have a nightcap to welcome our first night in the tents.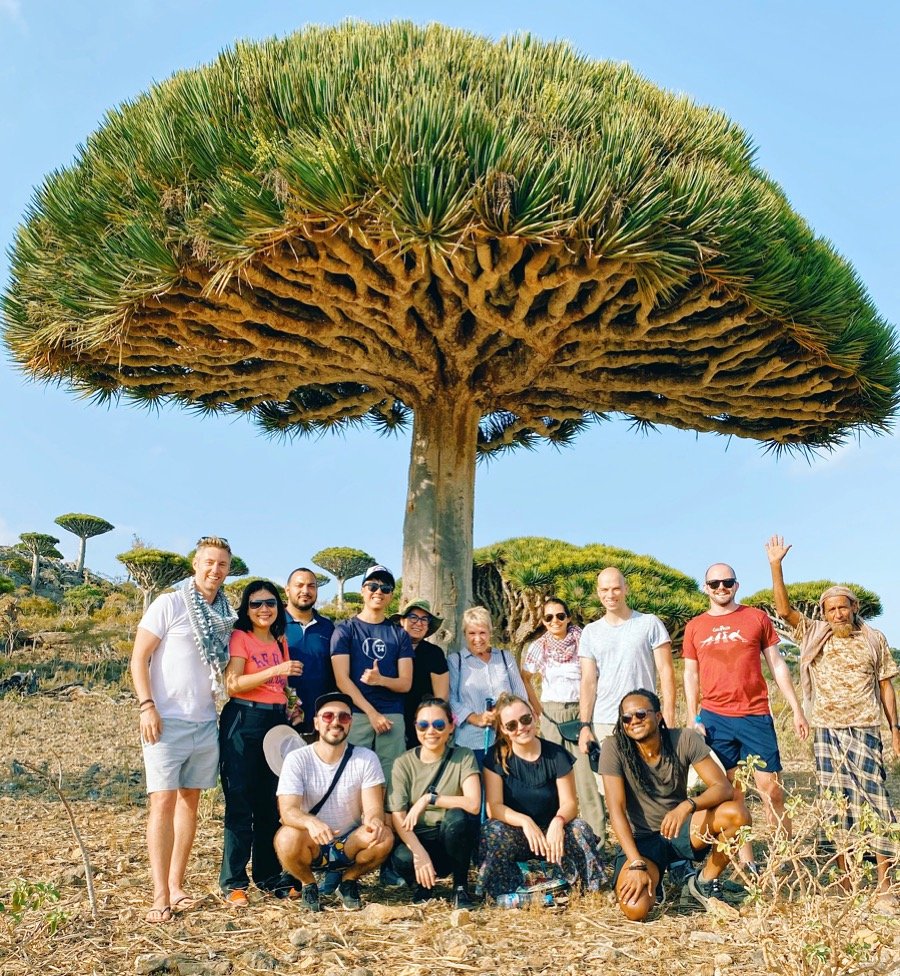 DAY 5
Breakfast at camp, and we say goodbye to the Dragon Bloods as we head south to Aomak beach.
On the way South, we'll stop at a local cave, where we may see the locals girls skipping school, covered up in full Niaqbs and Burqas, but endlessly curious as to why, and how, a group of foreigners have ended up in Southern Socotra!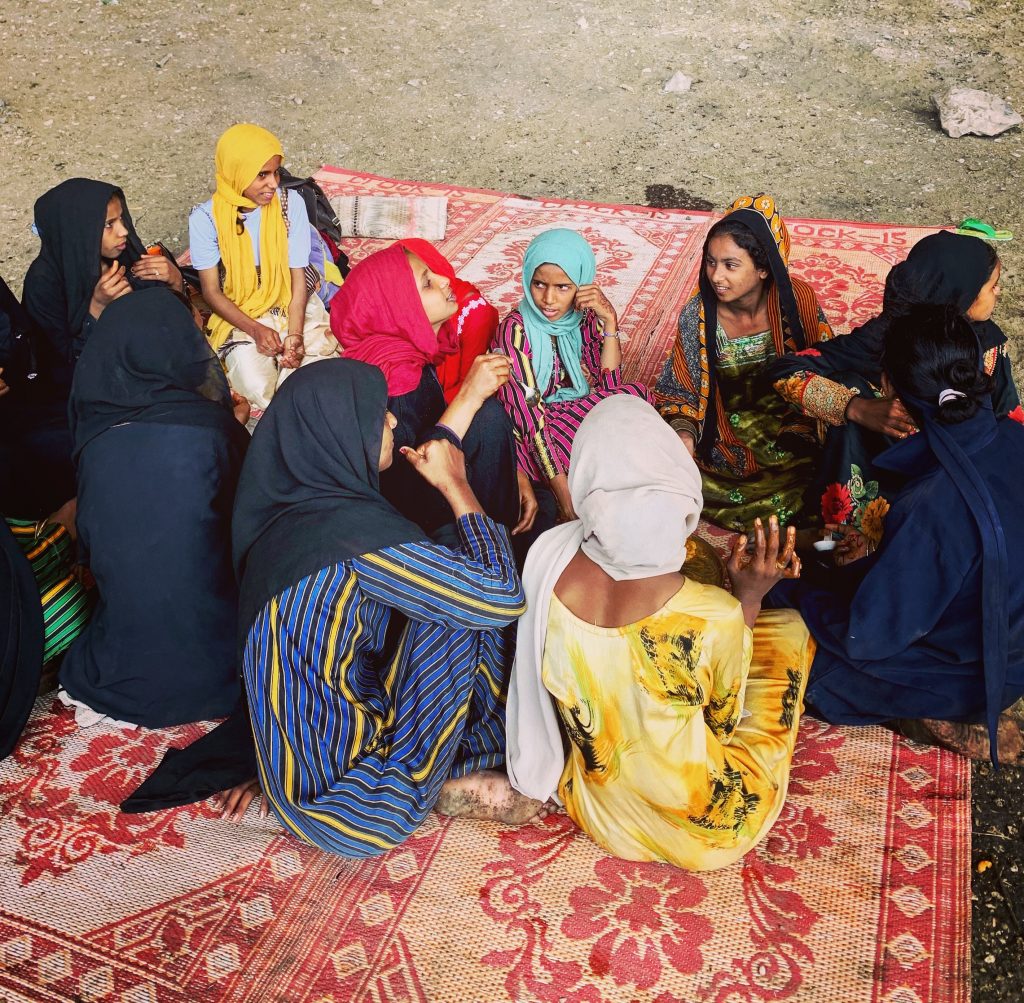 After exploring the cave, we end up at the undulating sand dunes of Aomak. Beautiful sand dunes, as far as the eye can see. The ocean to one side, mountains to the other, and not a footprint, or person, in sight. Anywhere but Socotra and we'd be sharing this with hundreds, or thousands, of tourists. But not here. 
Soon, lunch is calling, so we go to Aomak beach proper and have lunch under the shade of the Date Trees. Then it's time for a dip in the ocean. Endless white sand beach, and not a person in sight. If you didn't already, you'll understand why I never shut up about the beauty of Socotra. 
After lunch we make our way back to Hadibo for the night in a guest house. Remember, other groups camp every night, but with me it's one night in a guesthouse, then next night camping, then next night guest house, and then camping again. So you can shower everyday, charge your cameras and phones everyday. The perfect itinerary awaits.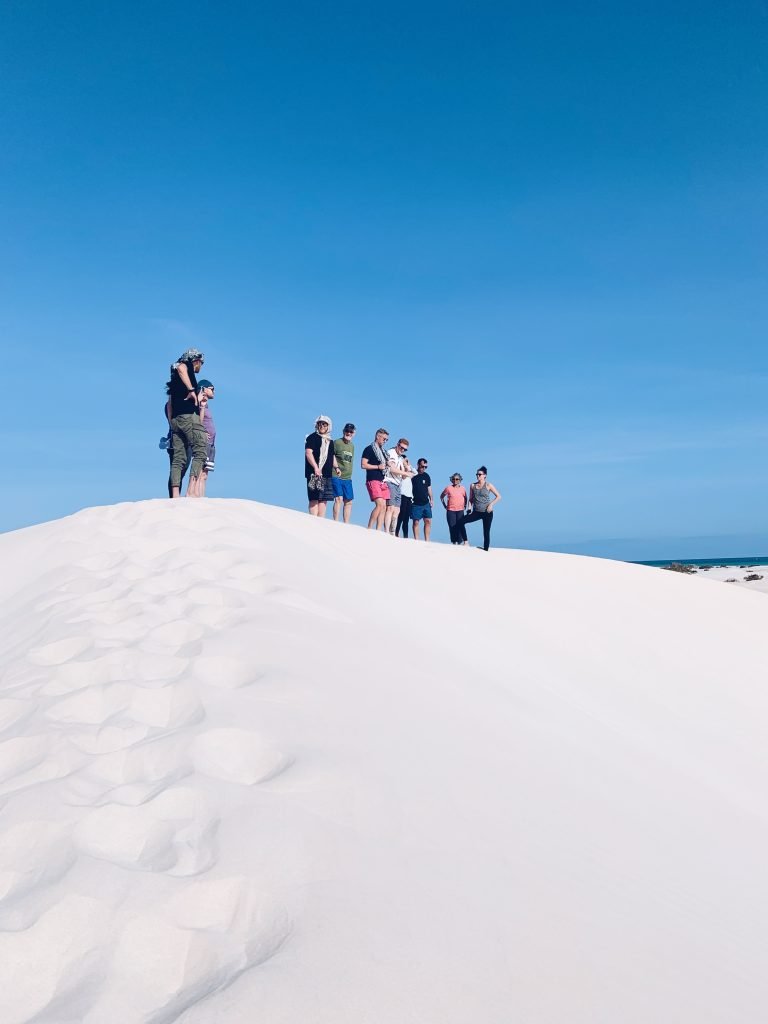 DAY 6
Today is often everyone's favourite day. We wake up in Hadibo, have some brekkie, then move to the North Western tip of the island. It's time for Qalansia beach,
One day, when Socotra is famous, and you tell your kids, or grandkids, that you traveled therefore before anyone knew about it, it'll be Qalansia that made the island famous.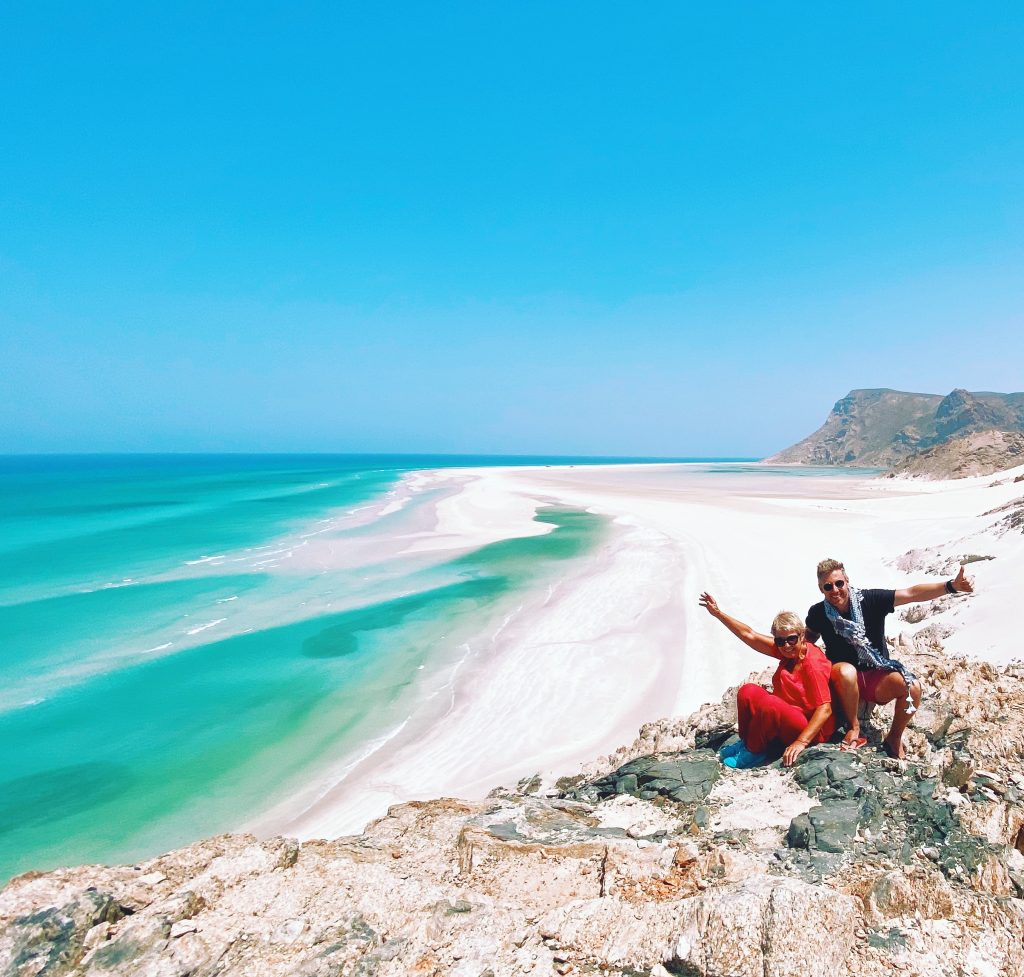 Qalansia beach is perhaps THE most beautiful beach in the world. We'll scramble to a viewpoint, soak up the beauty, take some pics, then make the glorious walk, and swim, along the beach. The next couple of hours are like a dream, slowing making our way to our campsite, right by the Ditwah Lagoon, home to hundreds of Sting Rays just below the surface.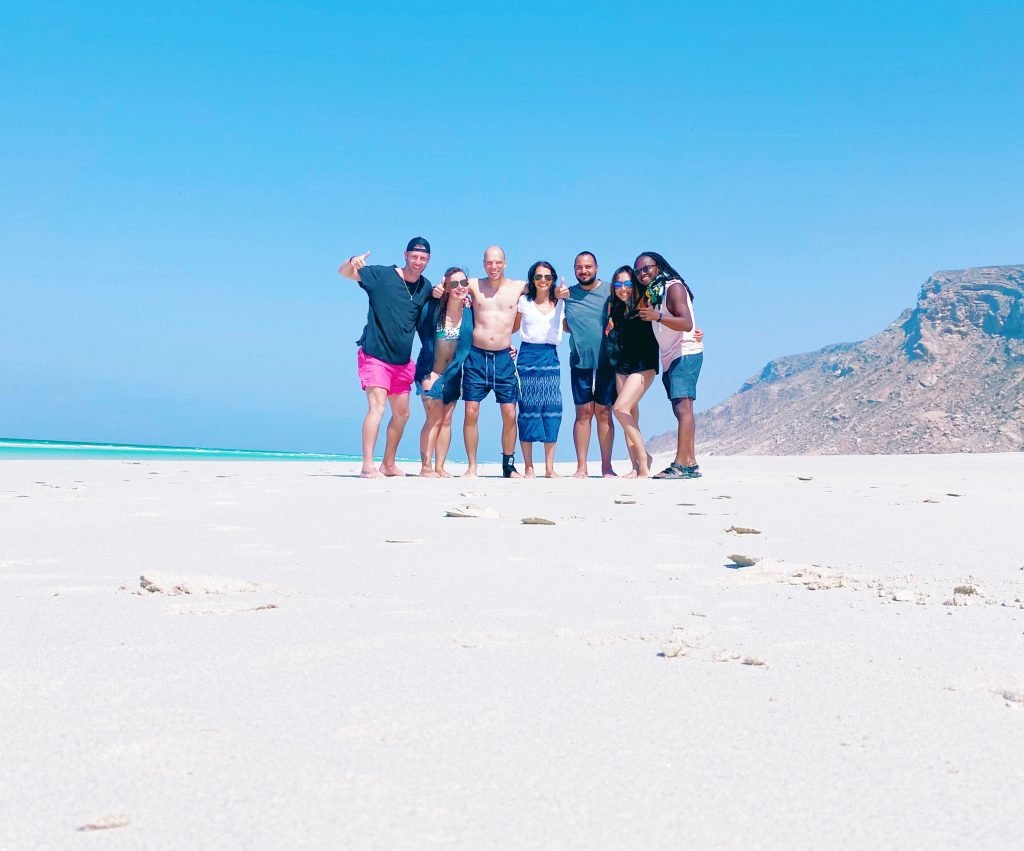 After lunch at camp, we'll hike to Abdulla's cave where Abdulla will take us for a little walk through the lagoon and introduce us to the sea urchins, the squid, his pet Octopus, the puffs fish and all other types of sealife which we maintains explains why he has 12 children! We'll camp that night in view of the lagoon.
DAY 7
After breakfast at camp, we move to the village of Qalansiyah. Here we hop on a few local fishing boats who drive us around the ancient cliffs, above water as clear as glass, for an hour or so, to the untouched beauty of Shoab beach.
We may pass a few local boats who are heading to the mainland, bringing families along with them, if not, the beach is all ours. Paradise once more.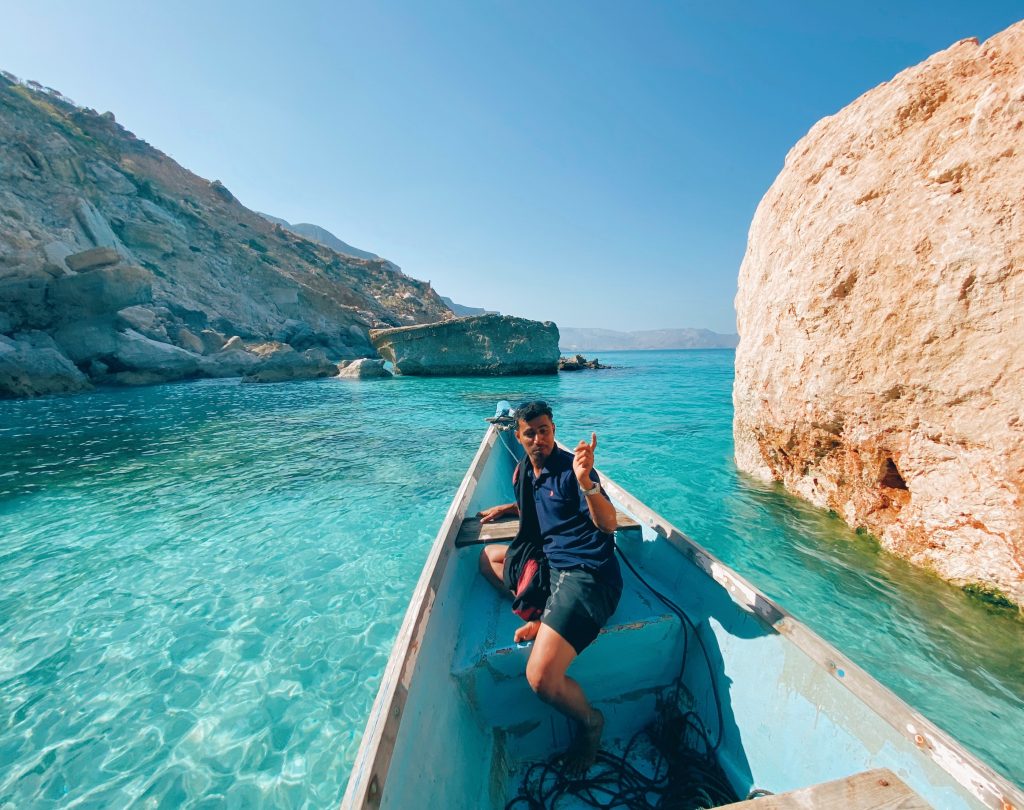 After we jump back on the boat and back to Qalansiyah town, we have lunch then drive back to Hadiboh to our guesthouse. That evening we'll have dinner at the 'All Stars Restaurant', a beautiful treat, but I'll let you guys experience that for yourselves.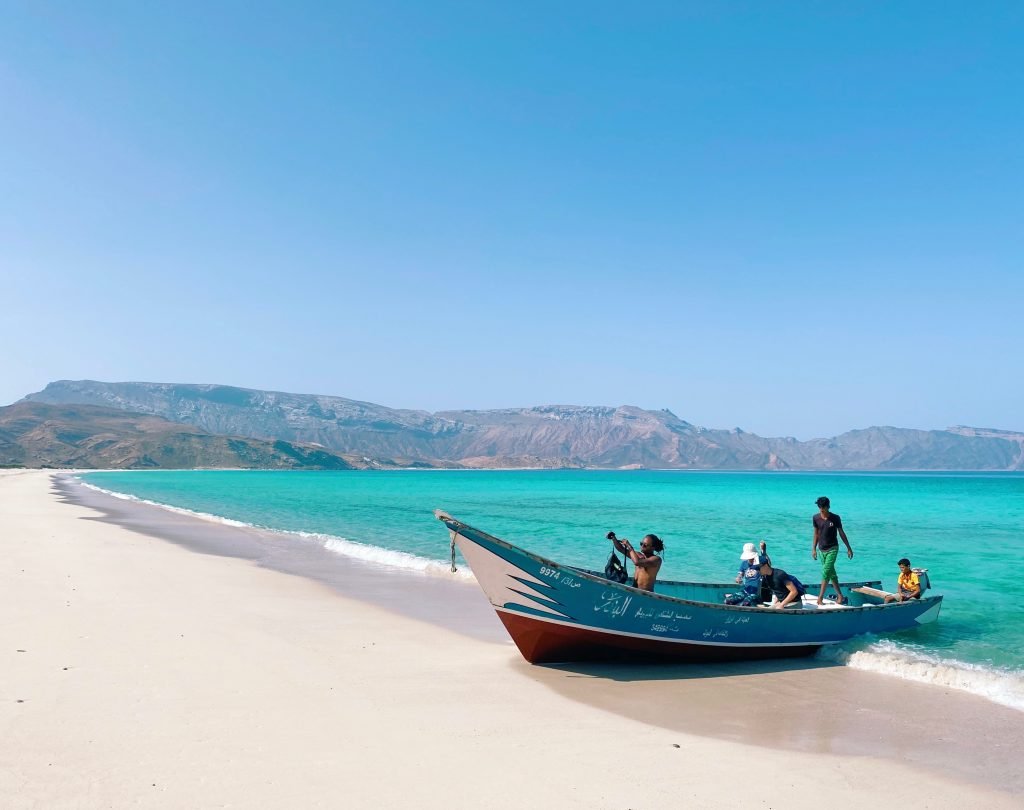 DAY 8
Tonight is our last night camping. So we leave Hadiboh behind and head to the North Eastern tip of the island. First though, we stop off at the islands biggest cave, Hoq Cave. It's quite the hike up there, 45 minutes to 2 hours depending on your fitness levels. And the view from the mouth of the cave instantly rewards you for the effort of getting there.
Don't forget your head torches! We take a local guide, and go deep into the cave, 1km+ of epic stalagmites and stalactites, and even tap on the 1000+ years 'Socotra Piano' inside.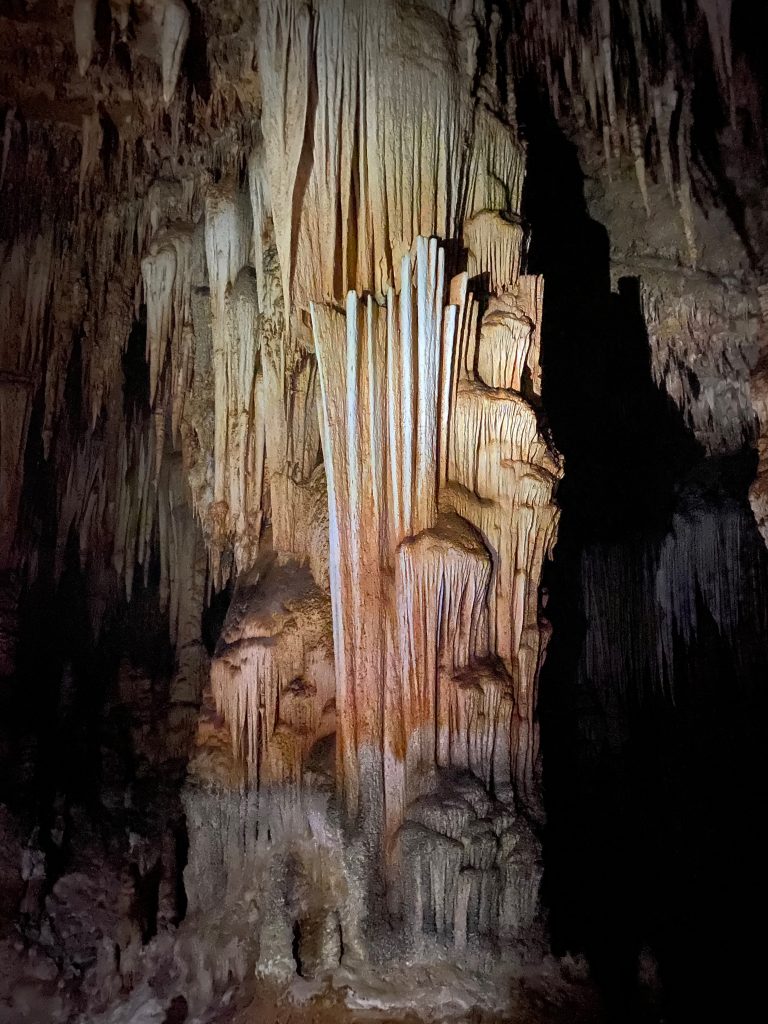 After clambering back down to the vehicles, we drive to our final campsite, and in my opinion, the best. Right on the coast of the Arabian sea, we set-up camp, at the moot of the huge Sand Dunes and mountain range behind us.
After lunch, the challenge to climb the Sand Dune awaits. Currently, the 19-minute record is held by our German friend Max, with the 70+ year group record held by my mum at 97 minutes. Can you face the climb? The views from up top are SPECTACULAR!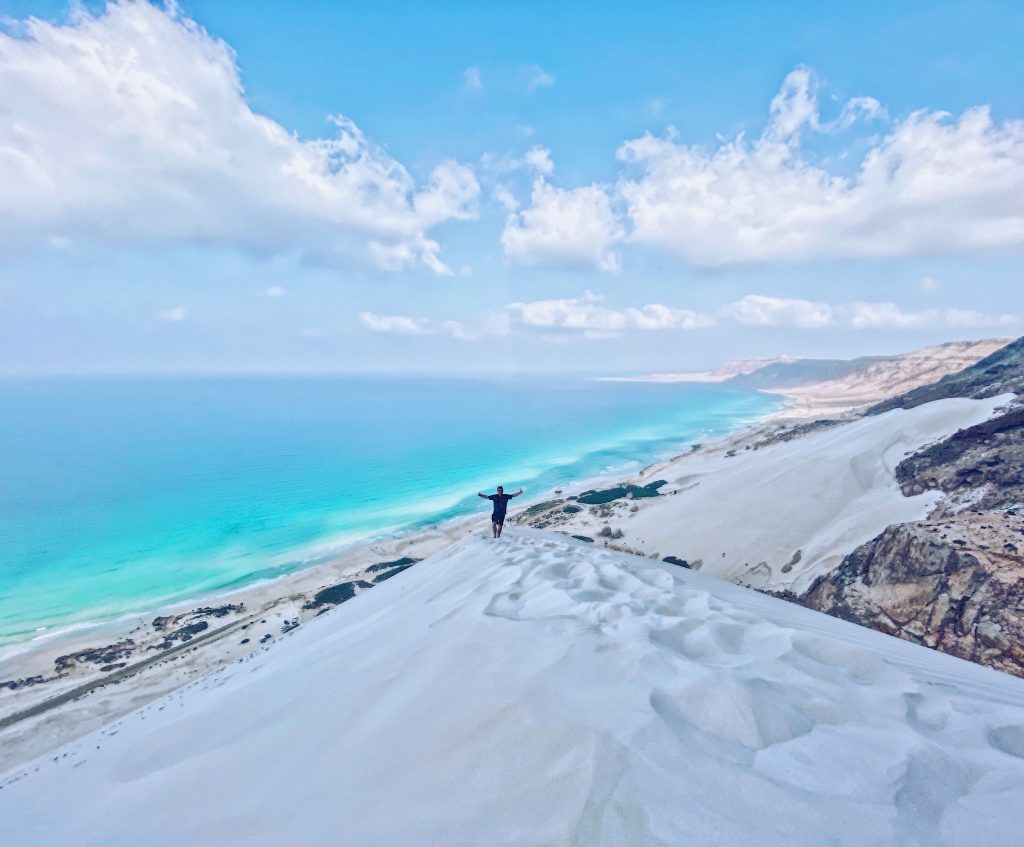 Clean yourself off with a dip in the ocean at sunset, and get ready for a dinner, a campfire, and any of that smuggled booze you have left. Our time is almost up.
DAY 9
That's almost a wrap folks. Well, almost. We have one last hike, and a gorgeous reward for it. Homh Hill awaits. The hike is roughly an hour or so, quite steep, but at the top lies a natural swimming pool, overlooking the Arabian sea coast.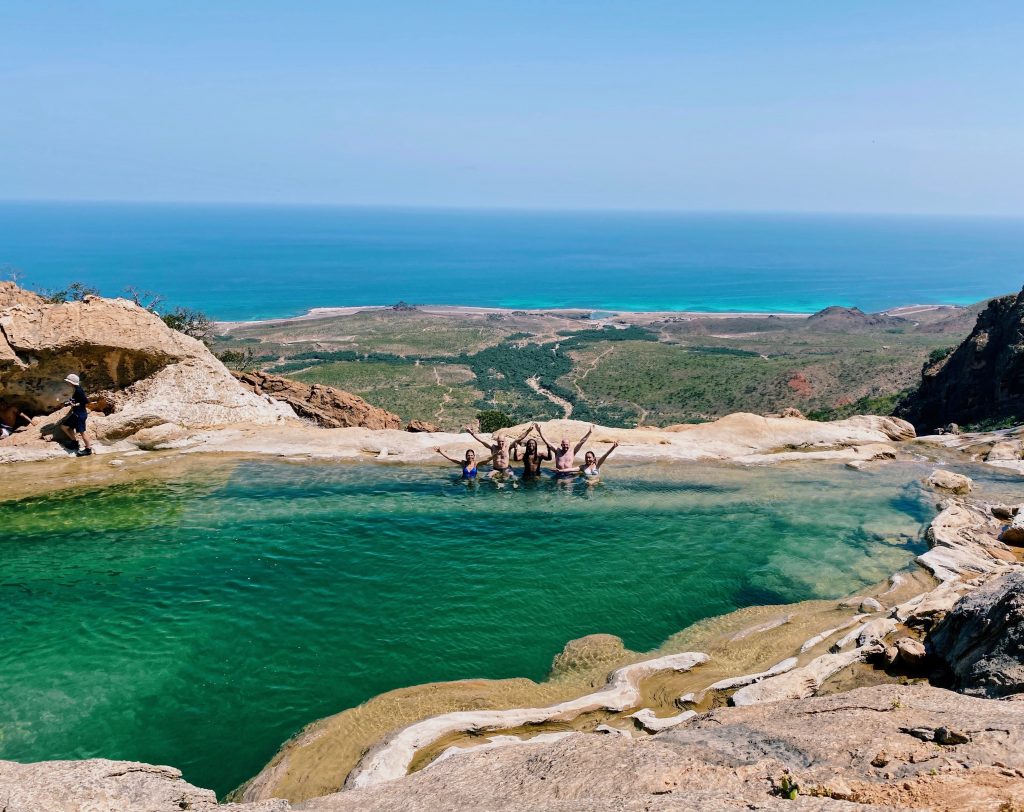 We will cool down and chill in the freshwater pool before one last wander up to Homh Hill village where we have once last chance to experience the fat-stumped, cute Bottle Trees and our last look, and photo opp, with the Dragon Blood trees. Hundreds of them. Soak it up, our time in the world's most unique, most beautiful, most untouched island is up. Back to Hadibo for one last night in the guest house.
DAY 10
Last breakfast in Hadibo and we take a morning flight back to Cairo, landing late afternoon back in Egypt.
We check back into our hotel for one last night, before our final group dinner. Reminisce, share pics, order happy hour drinks and enjoy the feast. We did it. And no doubt it was even better than expected. Paradise is behind us now, but what memories we will have created. See you on the next one, so another untouched part of the world.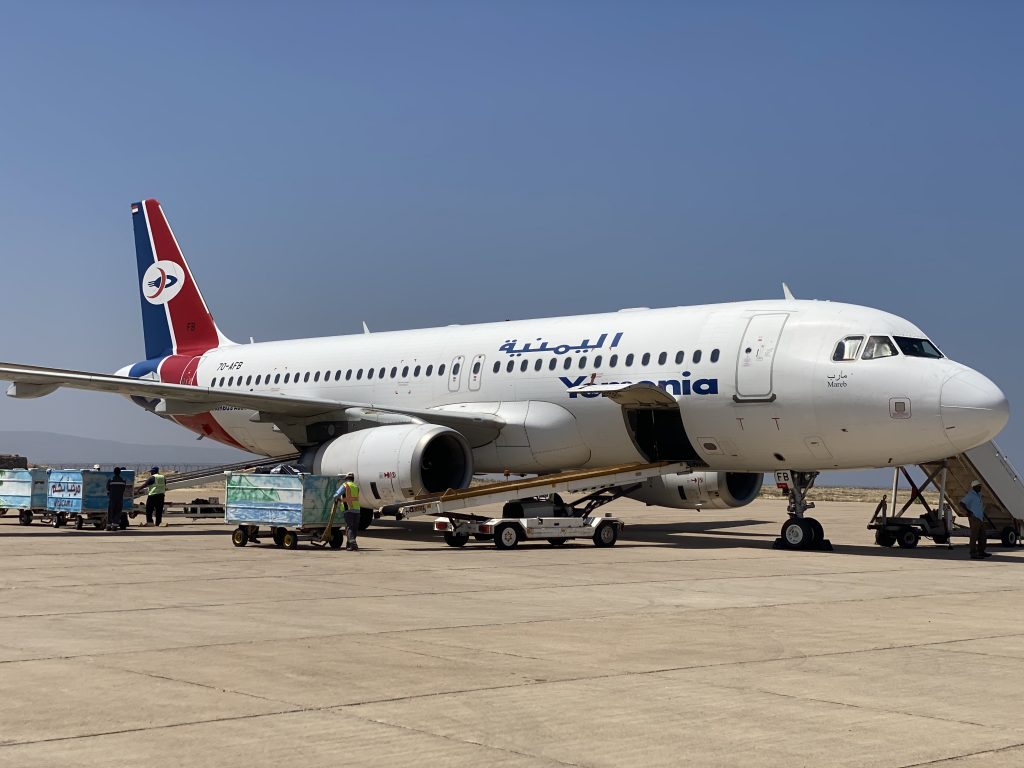 DAY 11
Our time is up folks. Check-out is at midday, depart Cairo anytime (or as many of our group do, go and explore Egypt with your new adventure-friends – Aswan, Luxor, Alexandria await!).
WHAT'S INCLUDED:
Round-trip International Airfare from Cairo, Egypt to Socotra, Yemen ($1300+)
Cairo City Tour, including the Pyramids
English speaking local guide in Socotra, Yemen
Johnny will be our international guide throughout
4*4WD and drivers.
All Cairo accommodation
4 nights guesthouse in Socotra, Yemen
3 nights camping in Socotra, Yemen
Camping materials: Tent, mattress, pillows, blanket
Protected areas entry fees
3 meals per day in Yemen
Cave and mountain local guides
Yemeni visa cost ($150)
Yemeni visa work (no need for you to do anything!)
WHAT'S NOT INCLUDED:
International airfare to Cairo
Travel insurance
Any additional food or snacks
Egyptian double entry visa
Airport transfers in Cairo (I can assist you here though)
Snorkeling rental equipment
Tips
Sleeping bags
Lunches and dinners in Egypt 
Additional entrance inside actual pyramids, and additional entrance to the Mummies room in Cairo Museum
NOTE: There's always a risk of cancellation when taking trips to Socotra. Flights and visas can be cancelled last minute, with no advance warning. Partial refunds will be given, minus any costs incurred. A full refund will not be possible if we are already in Egypt by the time of cancellation. 
WANT TO COME?
Email me on johnny@onestep4ward.com with the subject "tours to socotra", or send a message on instagram.com/onestep4ward or facebook.com/onestep4ward.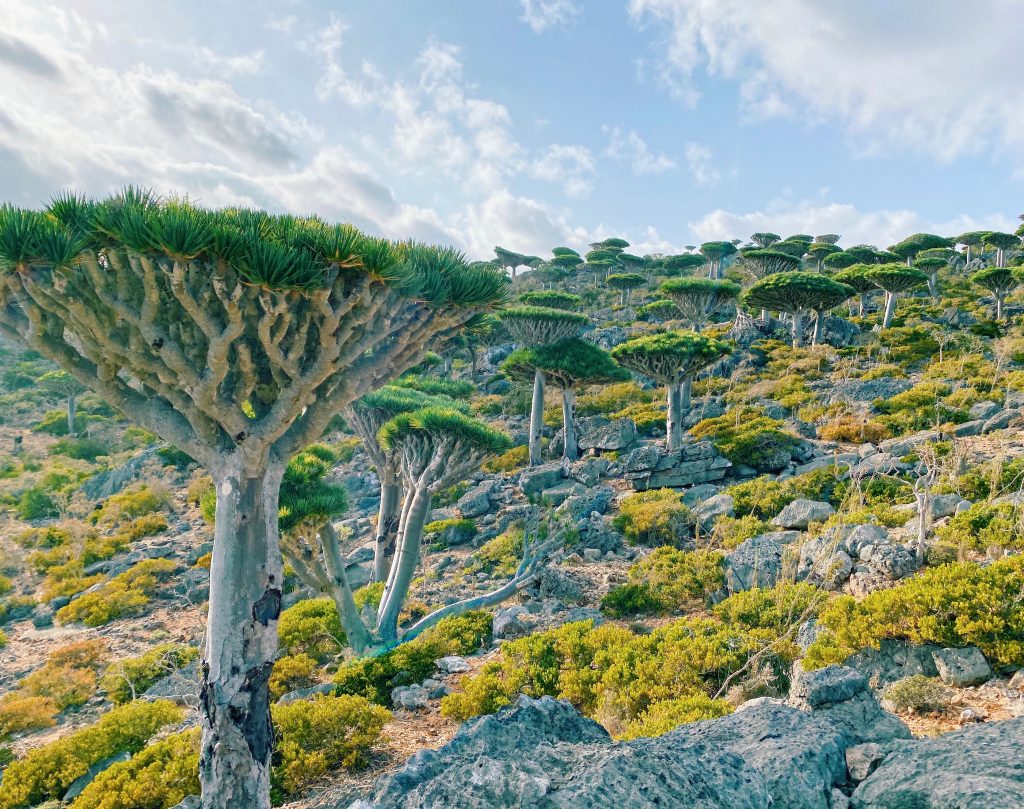 Remember, never travel without travel insurance! And never overpay for travel insurance!
I use HeyMondo. You get INSTANT quotes. Super cheap, they actually pay out, AND they cover almost everywhere, where most insurance companies don't (even places like Central African Republic etc!). You can sign-up here. PS You even get 5% off if you use MY LINK! You can even sign up if you're already overseas and traveling, pretty cool.
Also, if you want to start a blog...I CAN HELP YOU!
Also, if you want to start a blog, and start to change your life, I'd love to help you! Email me on johnny@onestep4ward.com. In the meantime, check out my super easy blog post on how to start a travel blog in under 30 minutes, here! And if you just want to get cracking, use BlueHost at a discount, through me.
Also, (if you're like me, and awful with tech-stuff) email me and my team can get a blog up and running for you, designed and everything, for $699 - email johnny@onestep4ward.com to get started.
Do you work remotely? Are you a digital nomad/blogger etc? You need to be insured too.
I use SafetyWing for my digital nomad insurance. It covers me while I live overseas. It's just $10 a week, and it's amazing! No upfront fees, you just pay week by week, and you can sign up just for a week if you want, then switch it off and on whenever. You can read my review here, and you can sign-up here!