JOIN MY TOUR TO SOCOTRA – April 2024
– JUST 2 SPOTS LEFT!
Why run tours to Socotra? Well, A few years ago on my journey to every country in the world, I became the ONLY TOURIST IN SOCOTRA! It was wild. 4 days on a cement cargo ship to get there. And when I discovered Socotra, it blew my mind. Truly one of the most beautiful places in the world. AND UNTOUCHED.
A lot of the guys who join me on trips to Central African Republic, South Sudan, Iraq, Syria, Turkmenistan, Mauritania – you've been harassing me to go back! So here we are. April 2024. Let's go and explore one of the world's most beautiful island together, I'm personally guiding this trip along with my local guides.
What makes my tour a little nicer, is rather than cut costs and camp EVERY night. We break up the camping with 3 nights in the islands best hotel. It's a slightly more comfortable experience. Allowing us showers, internet connection (real toilets!) etc.
Check the info below for dates, prices, visas etc. This will SELL OUT, I PROMISE. So be quick!
Here's a quick vid to get you in the mood if you're on the fence….
IF YOU DON'T CARE ABOUT READING ALL MY STUFF ABOUT SOCOTRA BUT JUST WANNA SIGN UP BEFORE IT'S SOLD OUT, EMAIL ME ON JOHNNY@ONESTEP4WARD.COM
OR MESSAGE ME ON INSTAGRAM.COM/ONESTEP4WARD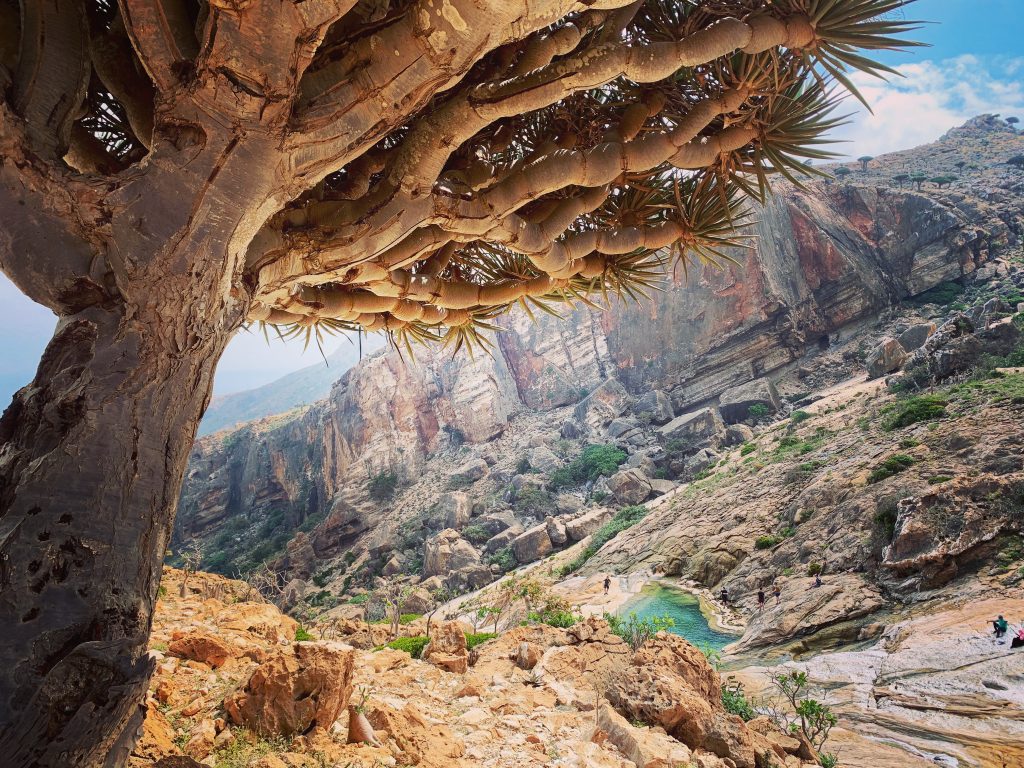 SOCOTRA TOUR INFORMATION
DATES:
April 8th to April 16th, 2024
COST:
$3749USD
10% non-refundable deposit ($375) to secure your spot. Refunds, minus fees, expenses, and exchange rate costs, will, of course, be issued if the trip is canceled due to security issues or the flights to Socotra are canceled. 
Full balance to be paid 2 months before the trip (February 8th, 2024).
Price based per person sharing. But don't worry, most people come solo, I will match you with someone of the same gender. No need to pay single supplement.
Single supplement priced at $950 extra if you want your own room
PAYMENT PLAN available

Qalansia Beach, Socotra Island
ITINERARY:
April 8th, 2024: DAY 1; Abu Dhabi
Meet in Abu Dhabi (right beside Dubai), in the United Arab Emirates. We have a sexy 5* hotel, with gym, pool etc booked in Abu Dhabi for one last night of luxury before heading off grid. We will meet in the hotel lobby for a group briefing on the trip at 6pm, then knowing me and the kind of people who join these trips, maybe a few cheeky beers as we meet some new travel friends.
If you come a little earlier, you can check out one of the most beautiful buildings in the world Sheikh Zayed Grand Mosque. Or the fastest rollercoaster in the world at Ferrari World.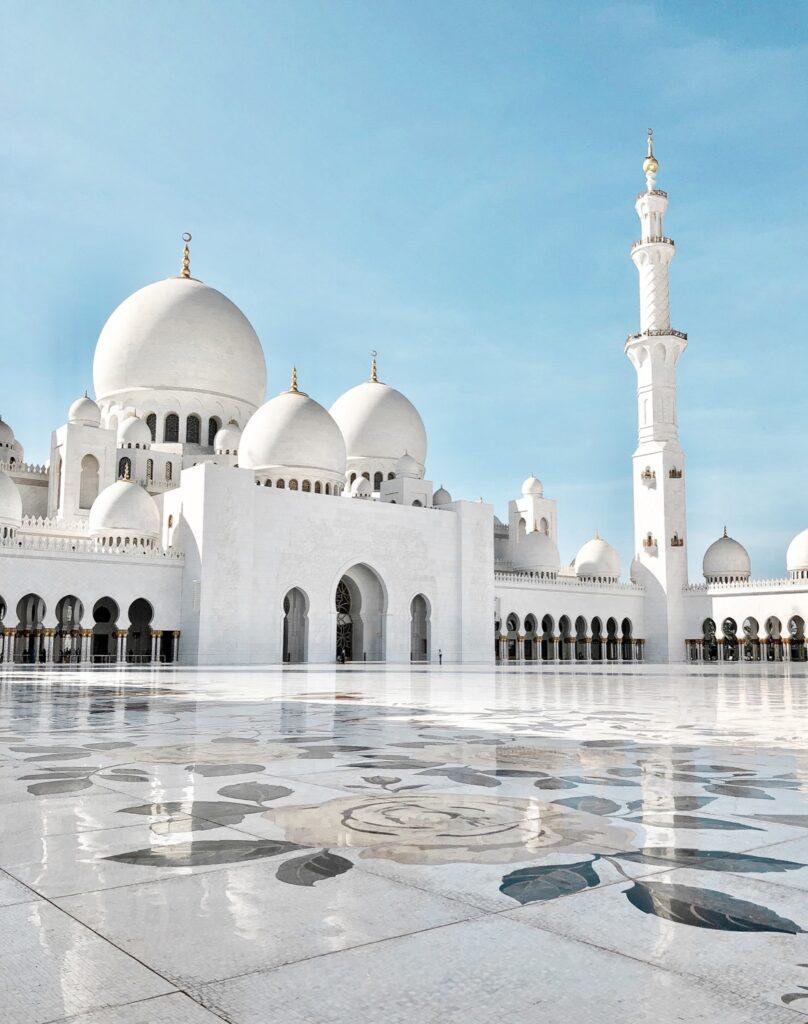 DAY 2; Hadibu and Ayhaft Canyon
After an amazing brekkie at the hotel, we'll head in our transfer to Abu Dhabi airport and take the only direct flight to Socotra that exisits.
We should arrive in Socotra Airport around 2pm where we will be welcomed by my local team. We take the short 12km drive to Hadibu Capital city for hotel check in followed by lunch in a local restaurant and a visit to Wadi Ayhaft. Here's we're surrounded by the glorious Hajher mountains and different endemic species of trees. Overnight in our Hadibu hotel. WELCOME TO SOCOTRA!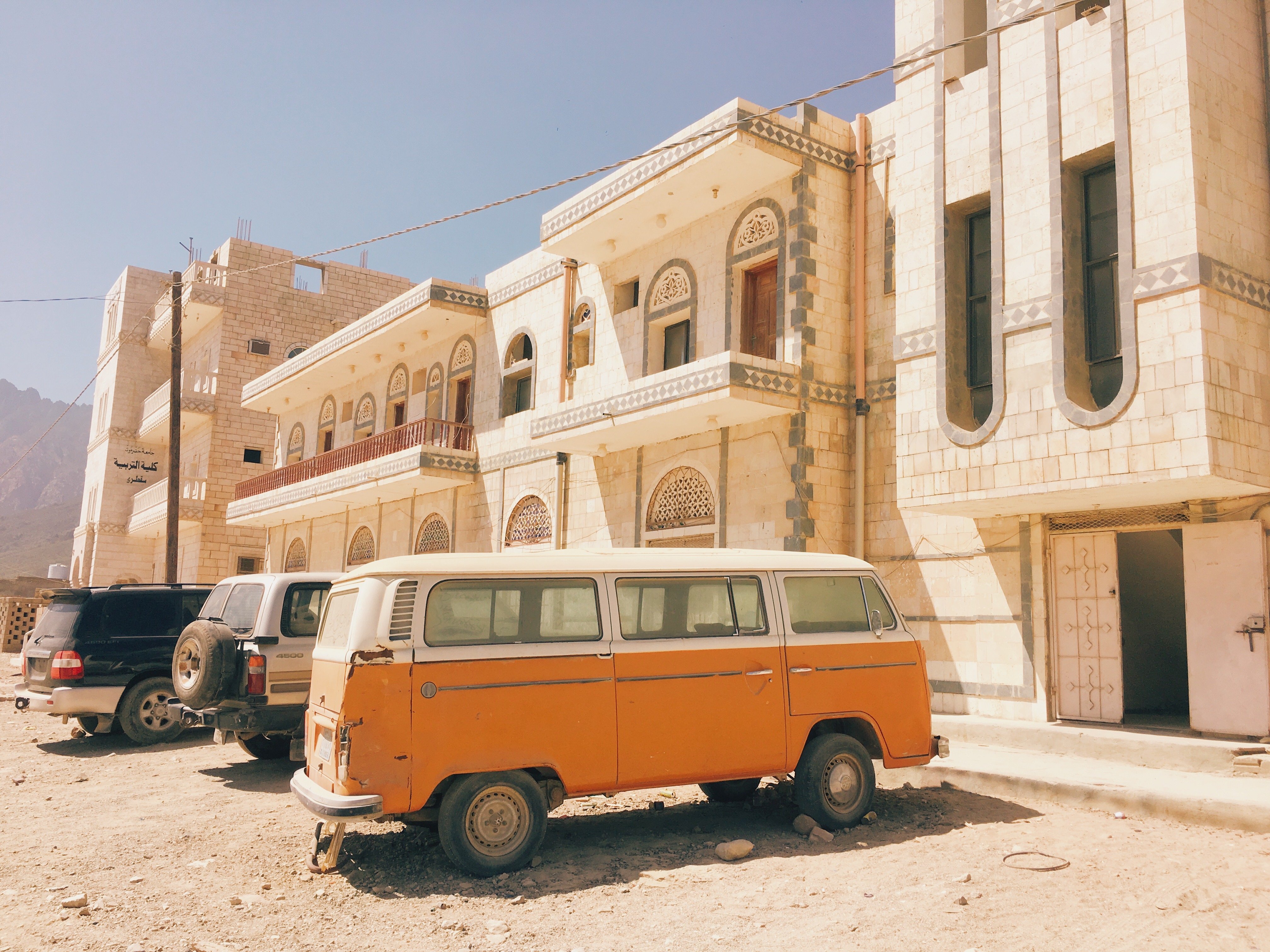 DAY 3; Hoq cave & Arher Sand Dunes and Beach
We have a local Soctran breakfast and spend the morning moving towards in Arher. En route, our roadtrip will reach our first stop after 90 minutes. The hike up to Hoq cave. Here the cave reaches deep 3kms inside, and requires head torches. We'll then return down to the vehicles to continue driving towards Arher where the monumental sand dunes and the clear river flowing from the mountains illustrate the uniqueness of the area.
Right on the coast of the Arabian sea, we set-up camp, at the moot of the huge Sand Dunes and mountain range behind us.
After lunch, the challenge to climb the Sand Dune awaits. Currently, the 19-minute record is held by our German friend Max, with the 70+ year group record held by my mum at 97 minutes. Can you face the climb? The views from up top are SPECTACULAR!
Clean yourself off with a dip in the ocean at sunset, and get ready for a dinner, a campfire, and any of that smuggled booze you have left (ssssh!).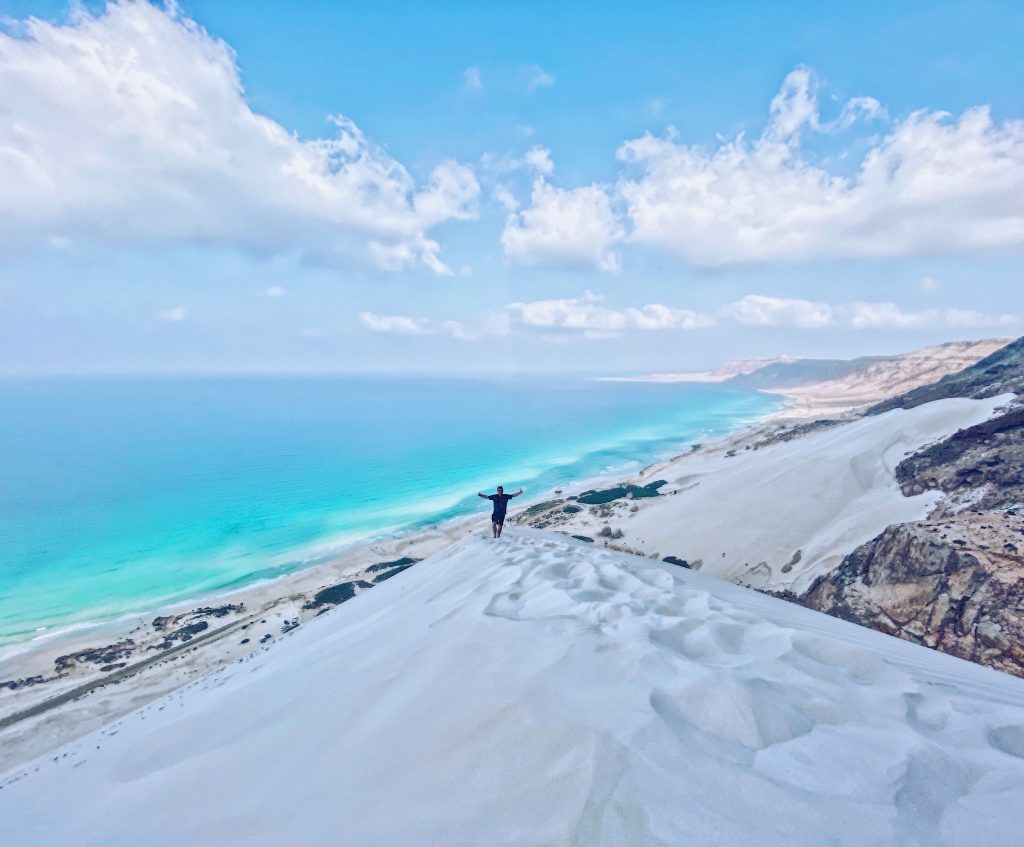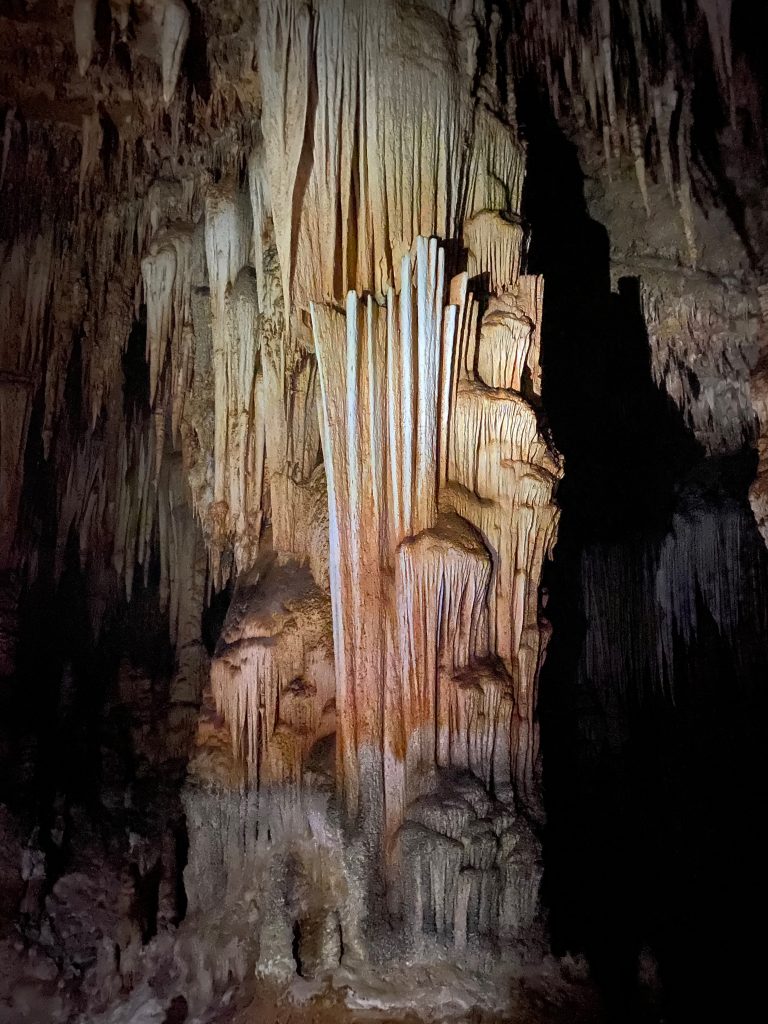 DAY 4: Homhil & Snorkelling at Dihamri Nature Reserve
One of my highlights. Get the sneakers back on for a little hike, but with a gorgeous reward for it. Homh Hill awaits. The hike is roughly an hour or so, quite steep, but at the top lies a natural swimming pool, overlooking the Arabian sea coast.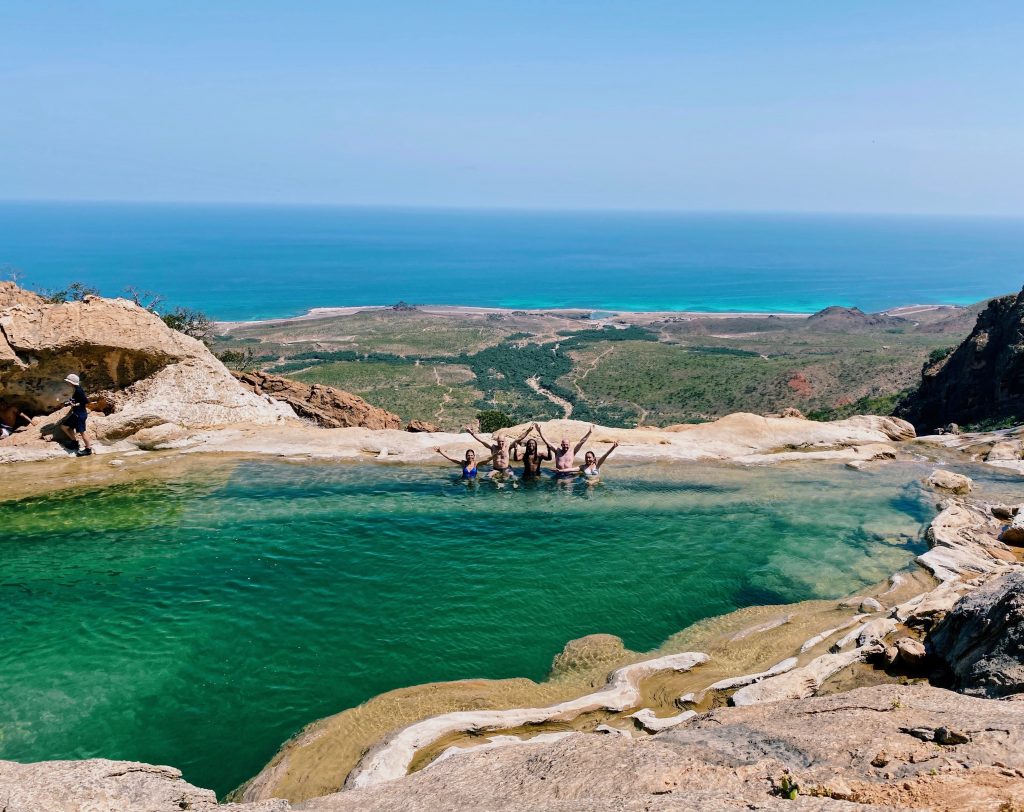 After suitably heating up during the hike and cooling down during the dip, we'll continue driving towards The Dihamri Reserve. It is inhabited by an enormous variety of fish species and magnificent coral reefs, to see this remarkable world, you only need a pair of goggles and snorkel that can be rented on site. We'll camp overnight.
DAY 5: Diksam & Firmhen forest
Today is the day our dreams come true, the Dragon Blood trees in all their glory, Dixam Plateau is calling.
Diksam (or Dixam) is in the central part of the island. Here you suddenly find yourself in prehistoric times. Plateau and canyons with the famous unique endemic dragon blood trees (Dracena).
The endless play of shadows and colors in the setting sun portrays bizarre images that are hard to believe. Swimming in a rocky pool in the valley is a reward for a stroll along the stony path of an incredible landscape.
Back to the capital for a WELL EARNED shower, charger, even some internet! And a real bed.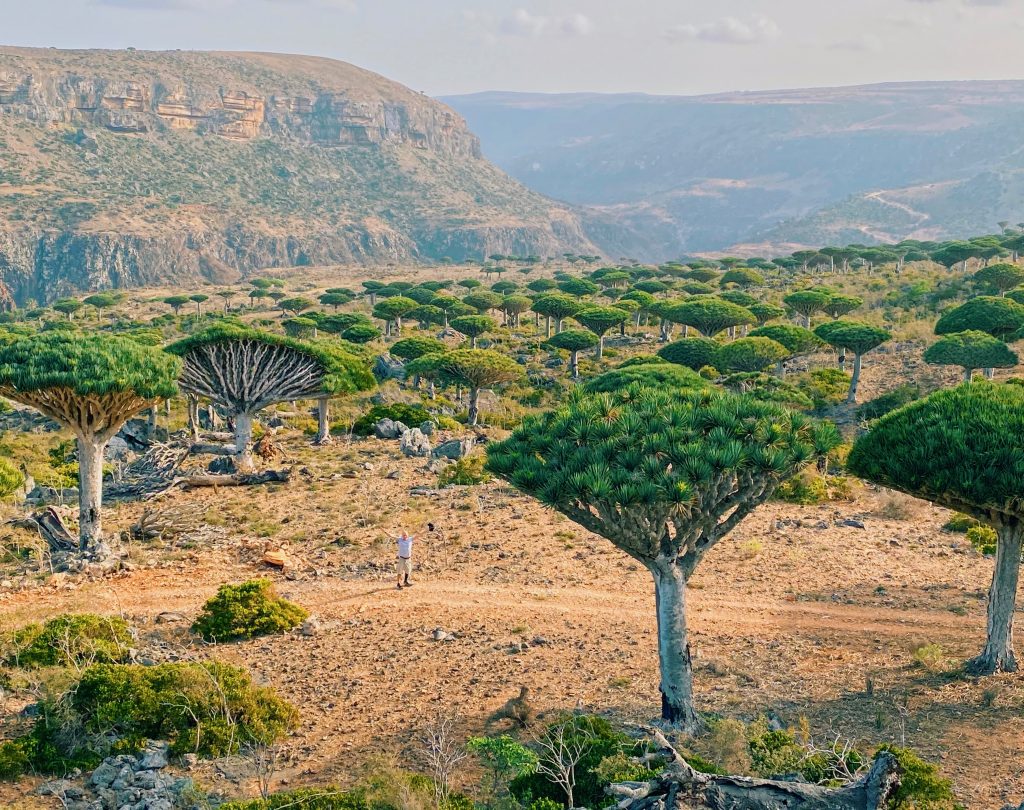 DAY 6: Firmhin & Nojed
Morning in town with a delicious local brekkie, and probably a few goats for company. Then we return to Wadi dirhur to continue driving to the southern part of the island. First up is Digub cave for a lunch break inside the cave.
In the afternoon, wewill visit Aomak, Noged & Zahek. the most remote area and the longest beach on the south coast overlooking the Indian Ocean.
A quiet place lined with long beaches with snow-white sand invites you to relax or explore the nearby villages. Enjoy unique moments near the oasis of palm trees where the desert stretches along the ocean coast, there is an incredible scenery of sand dunes for photographers. We will set up a local camp by the ocean, it's breathtaking.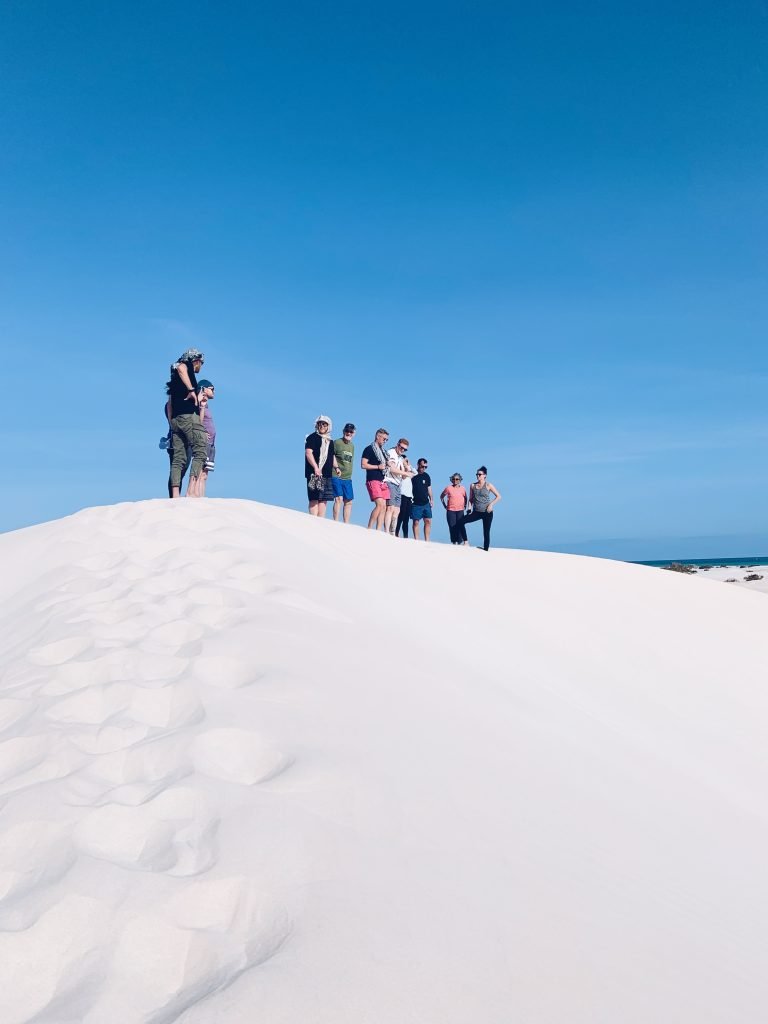 DAY 7: Qalansia Beach and Ditwah Lagoon
Maybe the most beautiful beach in the world. When Socotra is famous (and that won't be long), this place will be world-renowned. And you can talk about the time you were here before the Marriotts and Cruise Ships. IT IS INSANE.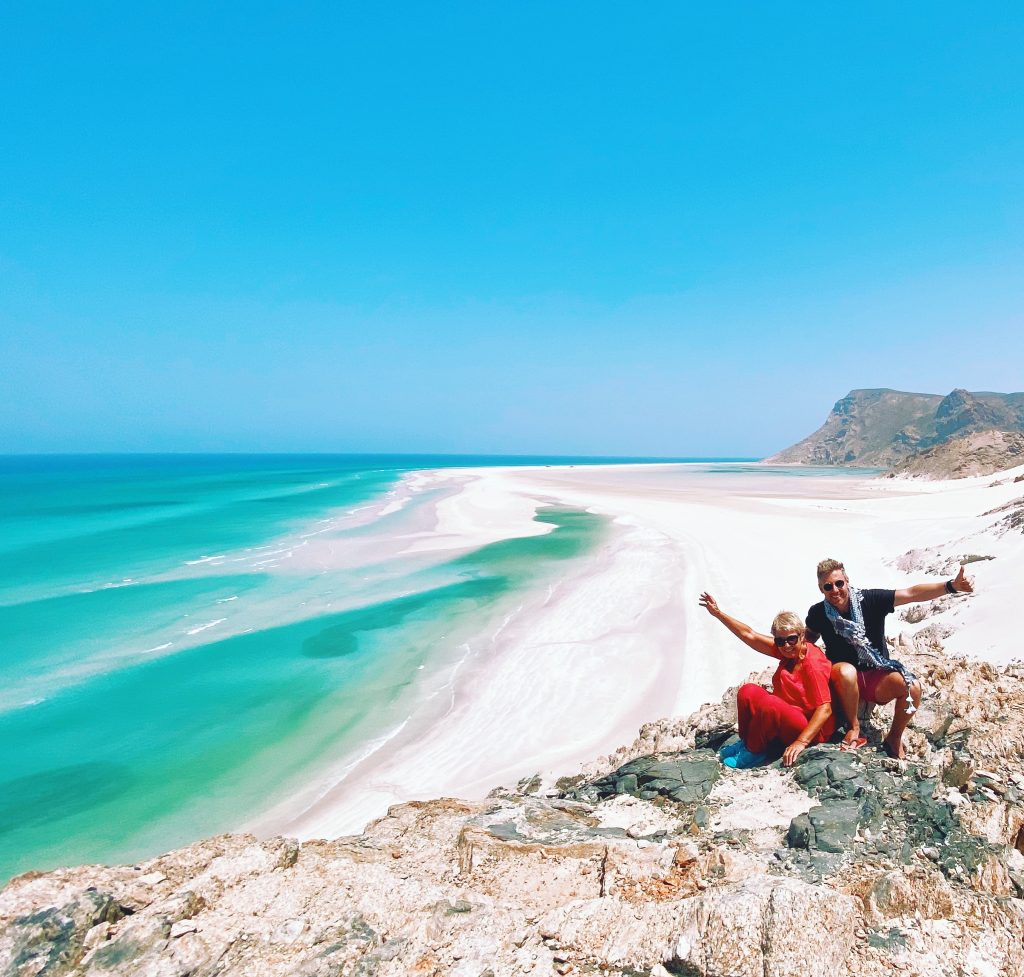 We'll scramble to a viewpoint, soak up the beauty, take some pics, then make the glorious walk, and swim, along the beach. The next couple of hours are like a dream, slowing making our way to our campsite, right by the Ditwah Lagoon, home to hundreds of Sting Rays just below the surface.
After lunch at camp, we'll hike to Abdulla's cave where Abdulla will take us for a little walk through the lagoon and introduce us to the sea urchins, the squid, his pet Octopus, the puffs fish and all other types of sealife which we maintains explains why he has 12 children! We'll camp that night in view of the lagoon.
We camp near the lagoon in order to take early morning boat trip to shuab beach.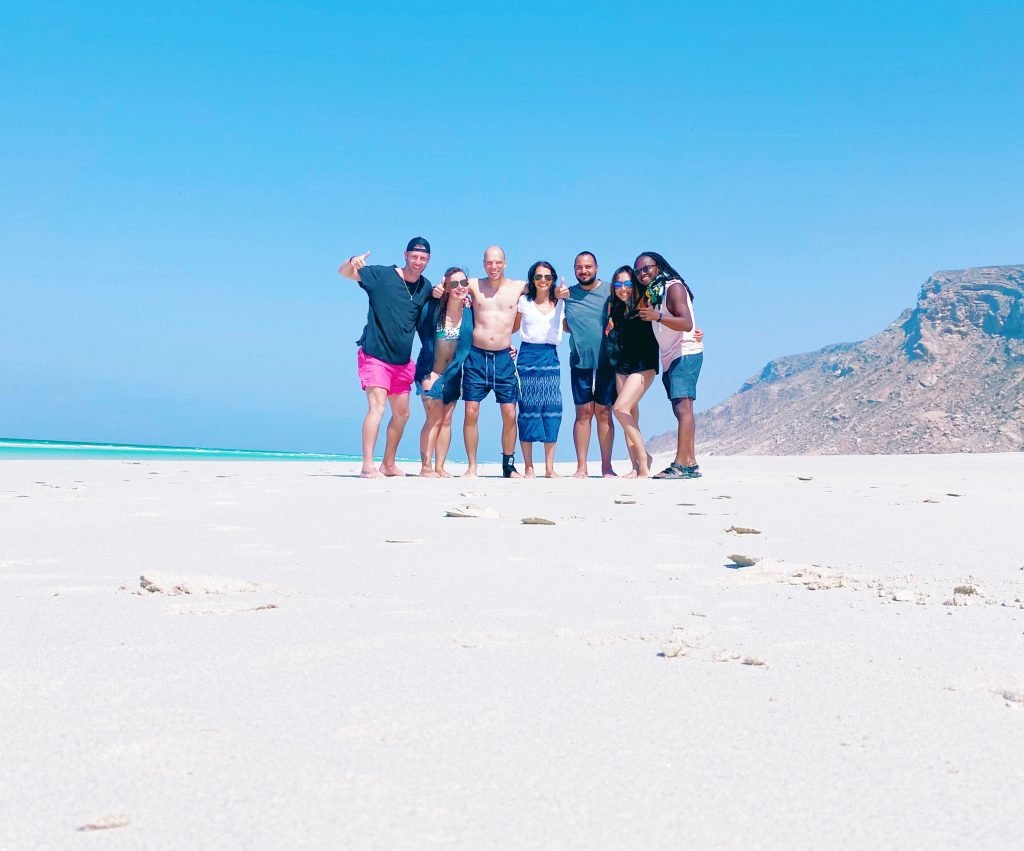 DAY 8: Shuab beach boat trip and back to Hadibo
After breakfast at camp, we move to the village of Qalansiyah. Here we hop on a few local fishing boats who drive us around the ancient cliffs, above water as clear as glass, for an hour or so, to the untouched beauty of Shoab beach.
We may pass a few local boats who are heading to the mainland, bringing families along with them, if not, the beach is all ours. Paradise once more.
beach with an unreal turquoise sea color. We'll almost definitely be there alone.
The monumental mountain massive and the remoteness of the beach guarantee peace and a unique atmosphere. You can snorkel if you are lucky to see turtles, flocks of dolphins and rare species of birds and crystal clear water all the way.
After we jump back on the boat and back to Qalansiyah town, we have lunch then drive back to Hadiboh to our guesthouse. That evening we'll have dinner at the 'All Stars Restaurant', a beautiful treat, but I'll let you guys experience that for yourselves.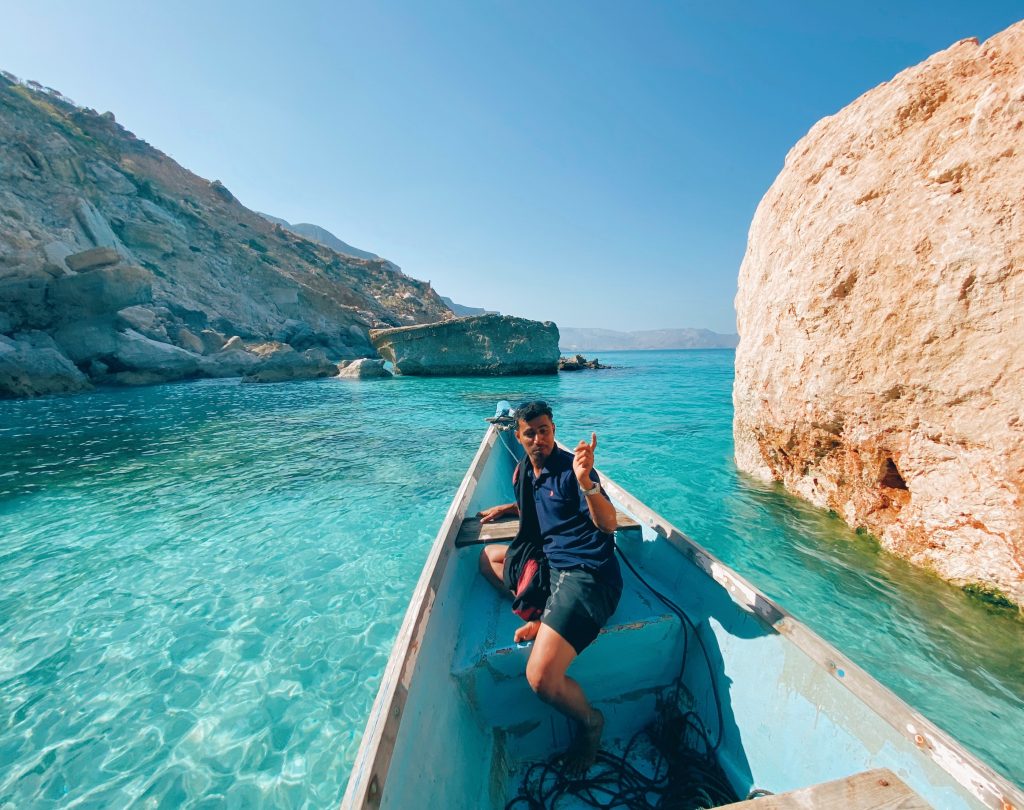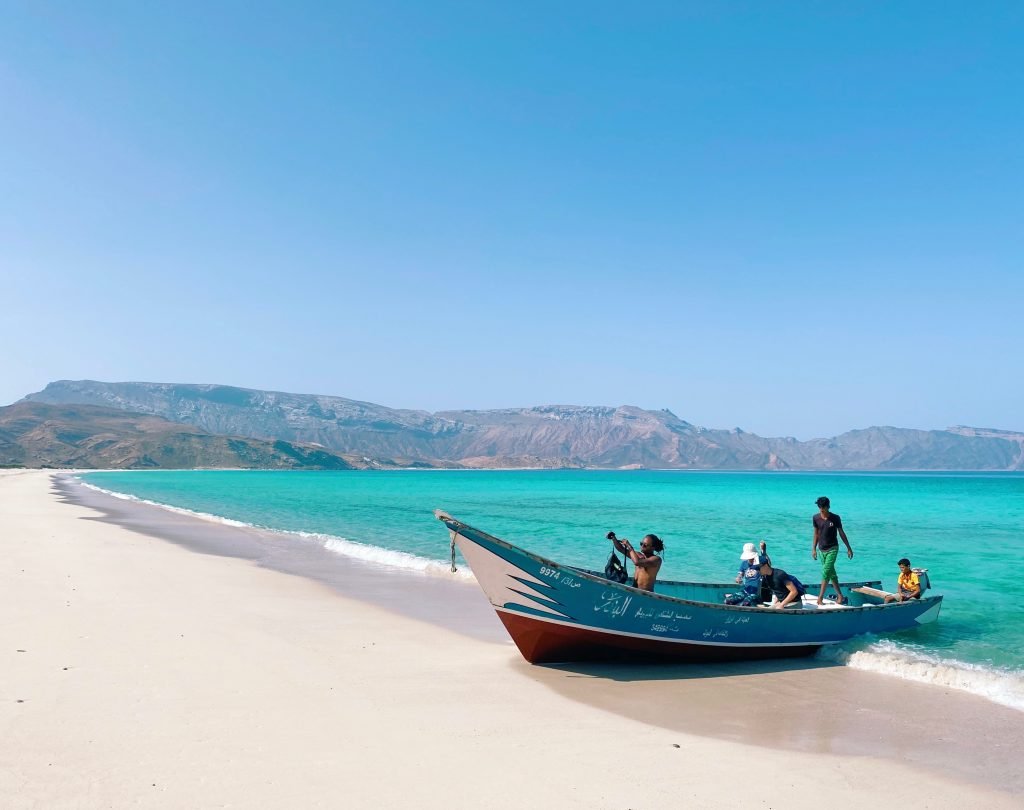 DAY 9: Back to civilisation. UAE awaits.
We don't have to be at the airport until 11am or so. So you have one last morning to explore the capital, buy some dates, some gifts for your family. Soak it up. It's rare to find a place like. So beautiful, but not yet ruined by tourism. It's the definition of a real travel. I can't wait to come back. See you guys in Abu Dhabi!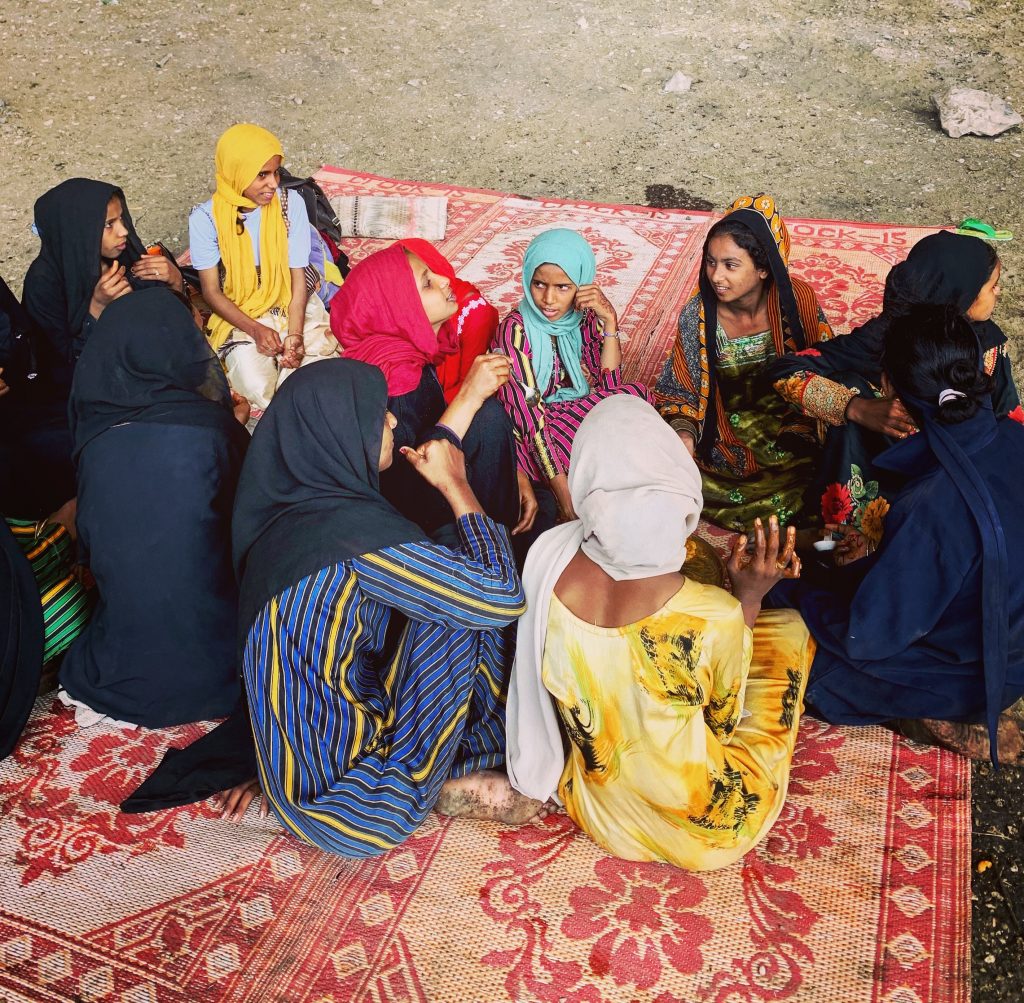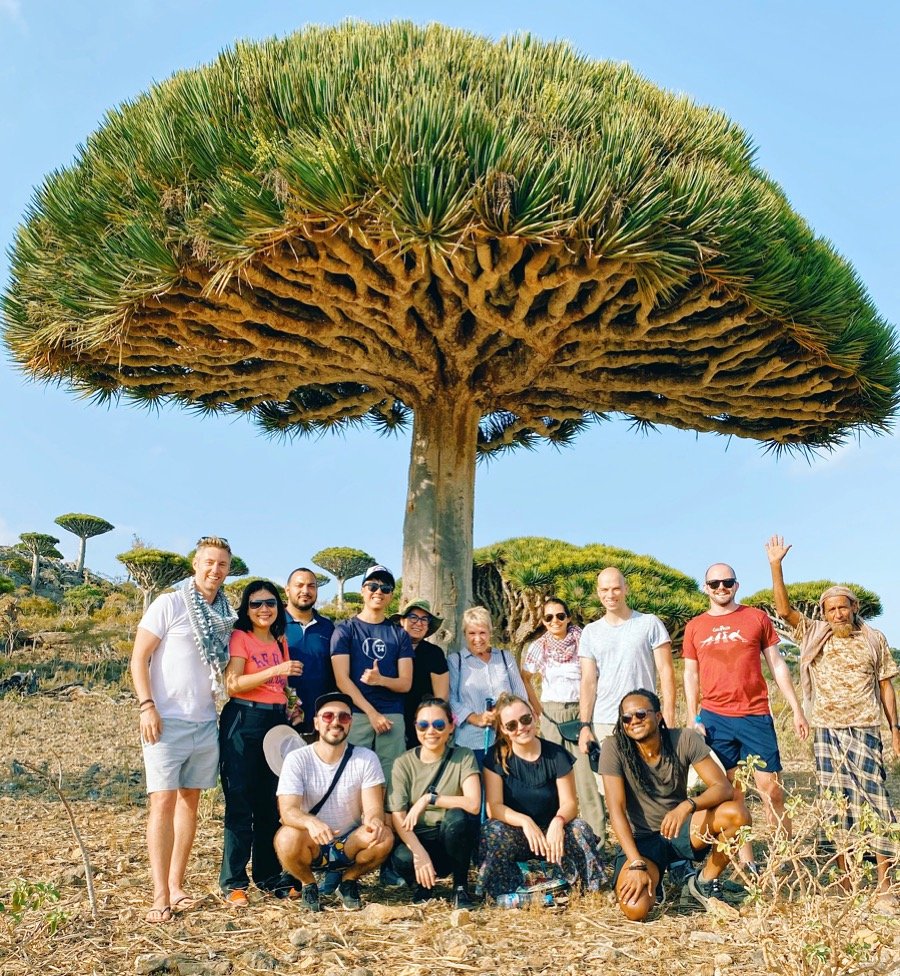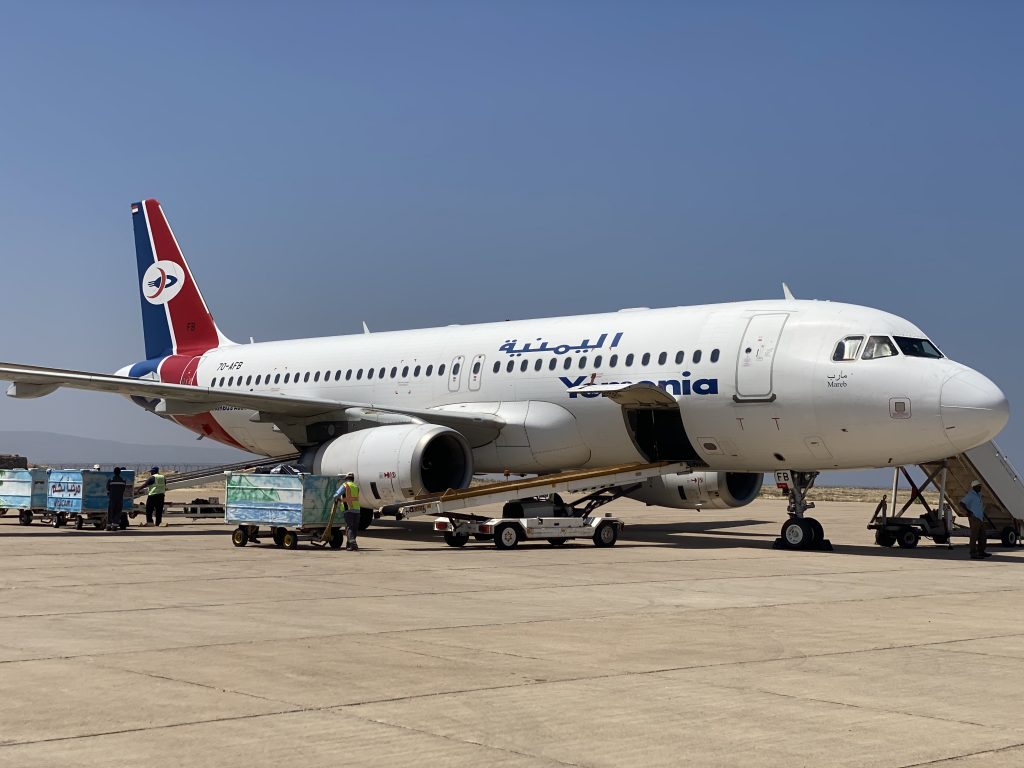 WHAT'S INCLUDED:
Round-trip International Airfare from Abu Dhabi to Socotra ($1000+)
English speaking local guide in Socotra
Johnny will be our international guide throughout
4*4WD and drivers.
5* Abu Dhabi Hotel
3 nights guesthouse in Socotra
4 nights camping in Socotra
Camping materials: Tent, mattress, pillows, blanket
Protected areas entry fees
3 meals per day in Socotra
Cave and mountain local guides
Visa cost ($150)
Visa work (no need for you to do anything!)
WHAT'S NOT INCLUDED:
International airfare to UAE
Travel insurance
Any additional food or snacks
Airport transfers when you arrive in Abu Dhabi (you can use Careem, UAE's uber)
Snorkeling rental equipment
Tips
Sleeping bags
Dinners in Abu Dhabi
NOTE: There's always a risk of cancellation when taking trips to Socotra. Flights and visas can be cancelled last minute, with no advance warning. Partial refunds will be given, minus any costs incurred. A full refund will not be possible if we are already in UAE by the time of cancellation. 
HOW TO JOIN ME!
You can book here:
Or Email me on johnny@onestep4ward.com with the subject "tours to socotra", or send a message on instagram.com/onestep4ward or facebook.com/onestep4ward.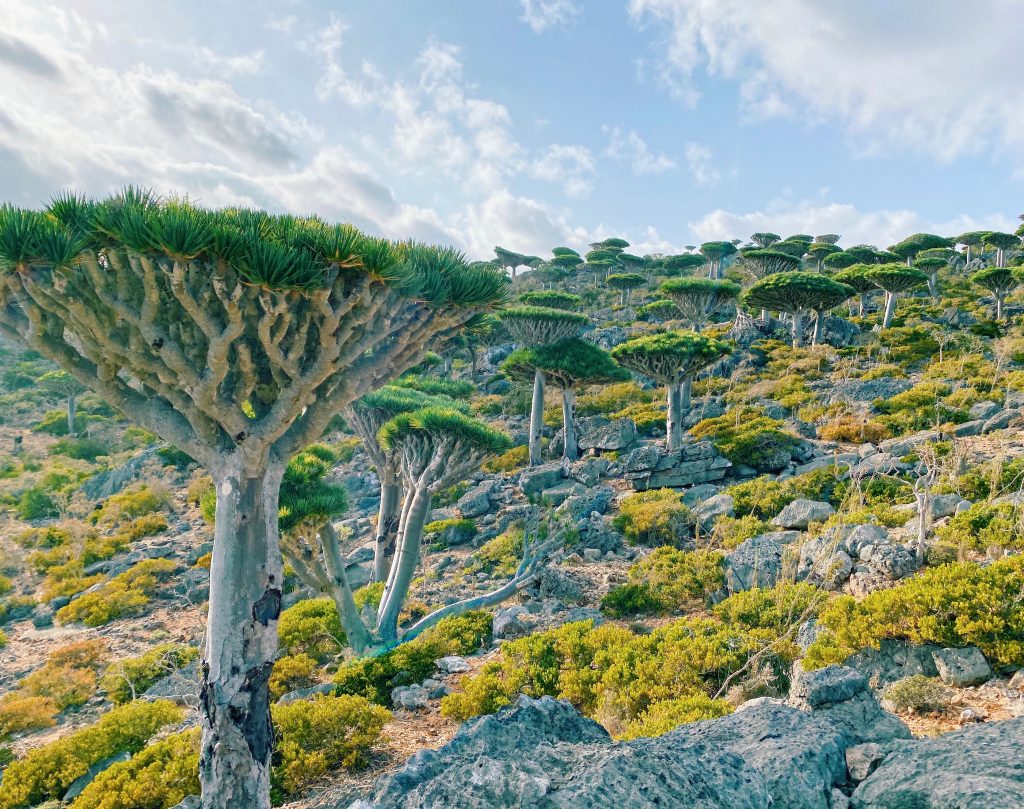 FAQS ABOUT SOCOTRA
Why come?
So it's your turn to see the other-wordly Dragon blood trees. It's your turn to roam the 200ft sand dunes, and swim from the sandbanks of Qalansia beach. It's your turn to REALLY travel. Your old friends don't understand you? They don't know why you would want to visit one of the least visited places on earth?? don't worry, join me and my group, and you'll make some other crazy friends who want an adventure just as much as you do.  
My group tours offer something slightly different from any other tours to Socotra. Firstly, people who follow my blog here, or my Instagram.com/onestep4ward, are adventurous, fun souls! They know my travel is a little crazy, and they're ready for the trip of a lifetime, so expect a great group of international people!
Secondly, unlike may Socotra operators, we don't camp every single night. We do 3 nights in an actual hotel, and 3 camping. With never camping more than 2 nights in a row. This gives you the chance to keep everything charged, it gives you the chance to shower every single day, it gives you the chance to escape the heat and sample a little air conditioning (power permitting!) every other day. The guest house is actually not bad, and going to bed clean and showered every 2nd or 3rd day keeps the energy levels up, and in my opinion, is the best way to experience Socotra for a week.
Finally, (for better or worse!) I'll be on the trip! I know tours to Socotra are expensive, I know it can even be a little scary going to places like this, so I don't farm you out to any other company. This is my operation, and I'll be there. You deal with me directly, questions, emails, WhatsApp, and then I'll personally be there for the trip too. No language barriers, and a friendly face (I hope!) throughout the whole process.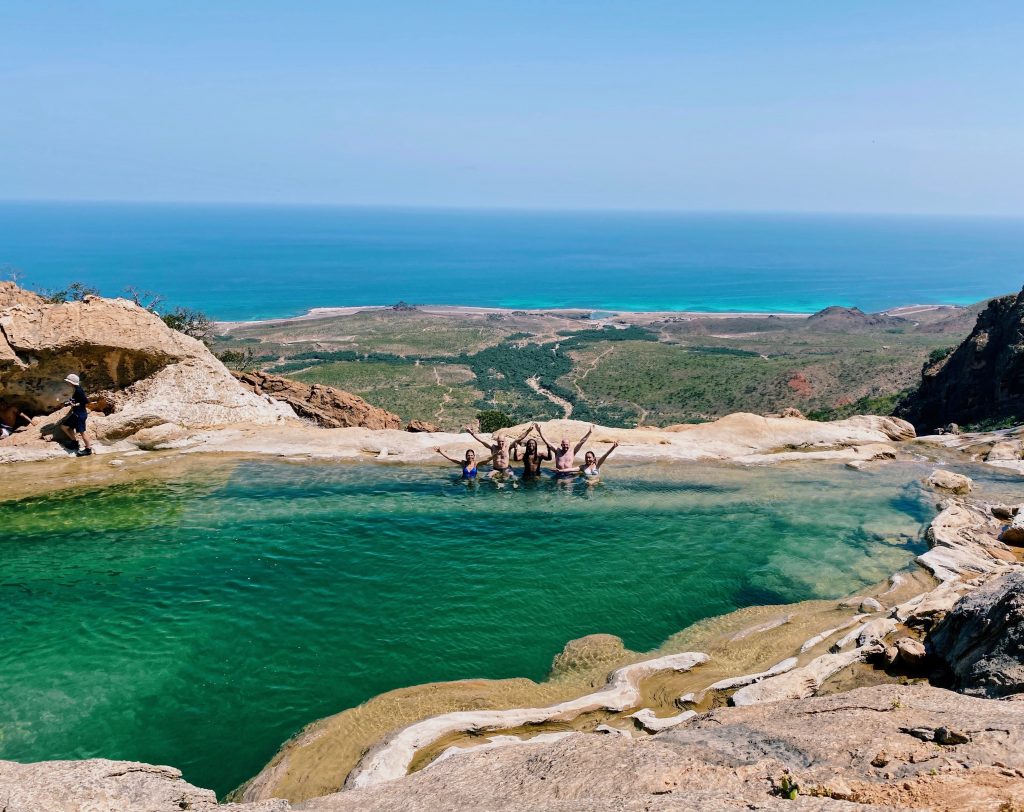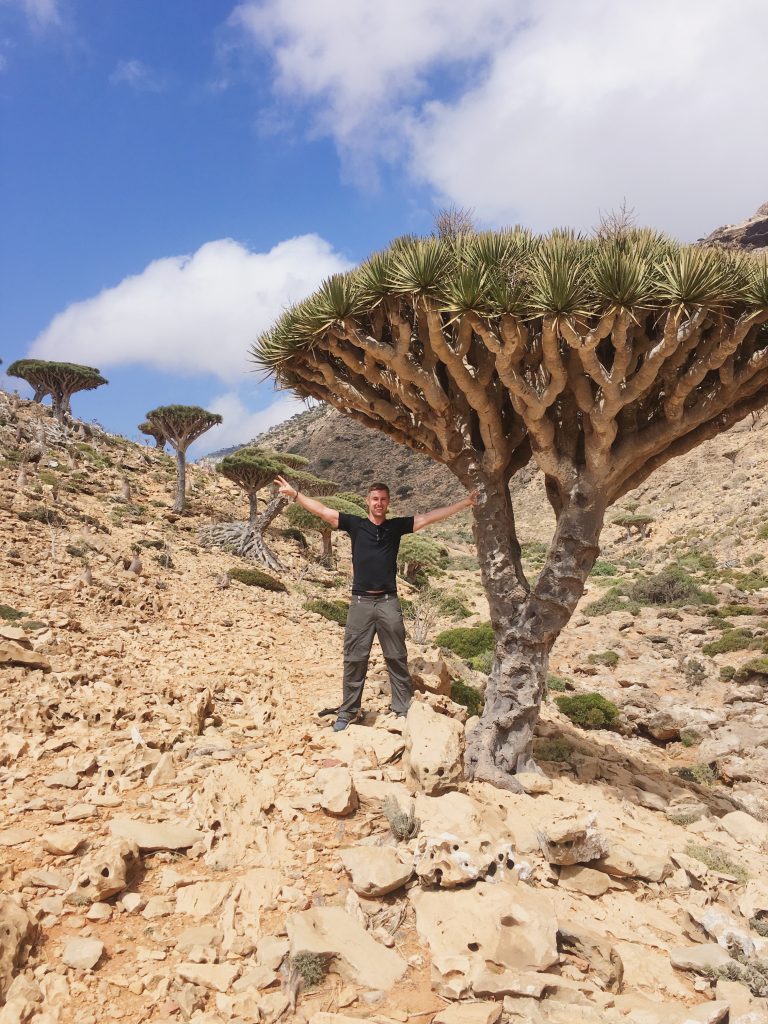 Is it Safe to Visit Socotra?
As someone who recently ran trip to Iraq, where everyone told us we would never be able to visit Baghdad and Babylon in Iraq as a group, but we did it, and it was epic!
Or when we traveled to Syria with a group last year, and that was beautiful too, well let me tell you that Socotra is 10 times safer than that.
In fact, it's safer than New York, London or Paris. Socotra Island is detached from the mainland, but physically and culturally. The heartbreaking war hasn't touched the island, nor will it. The people are welcoming and warm, and the island needs tourists to return. So is Socotra safe? Yes, 100% it is.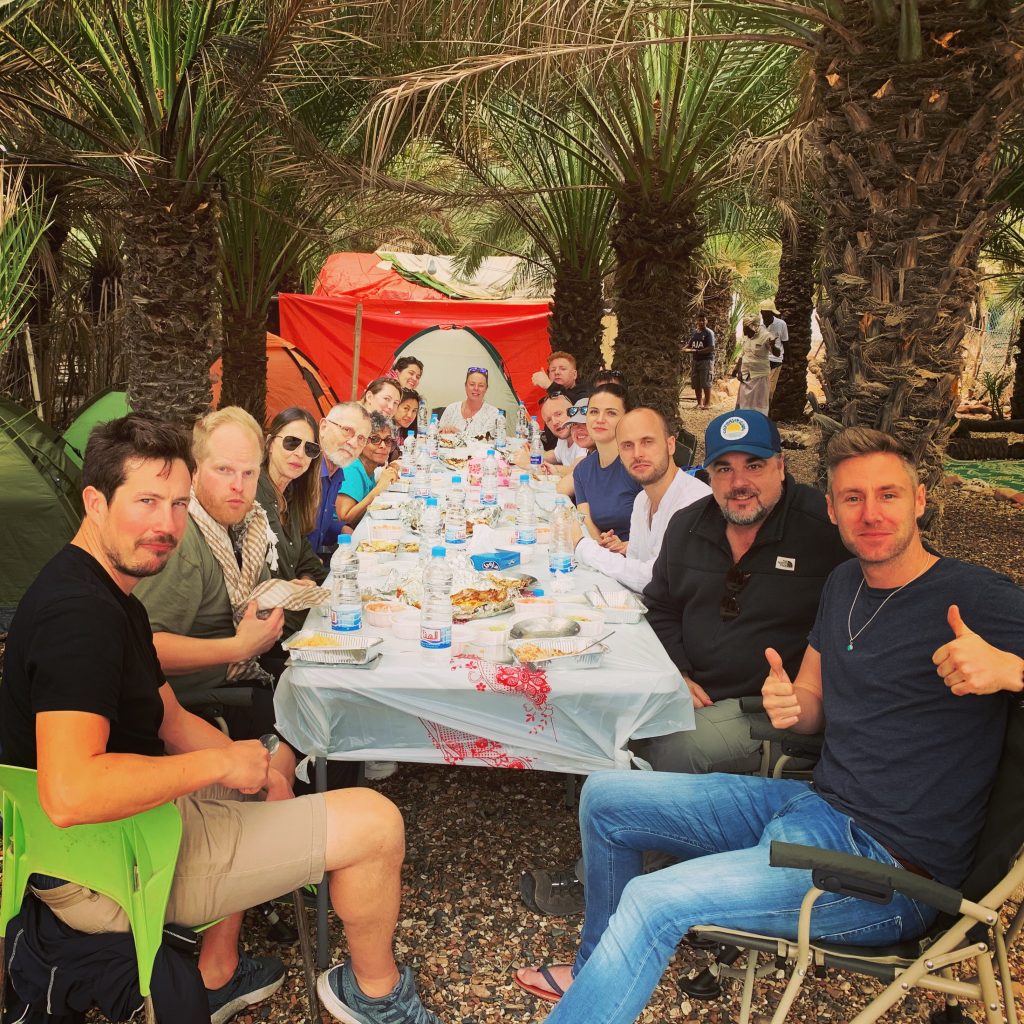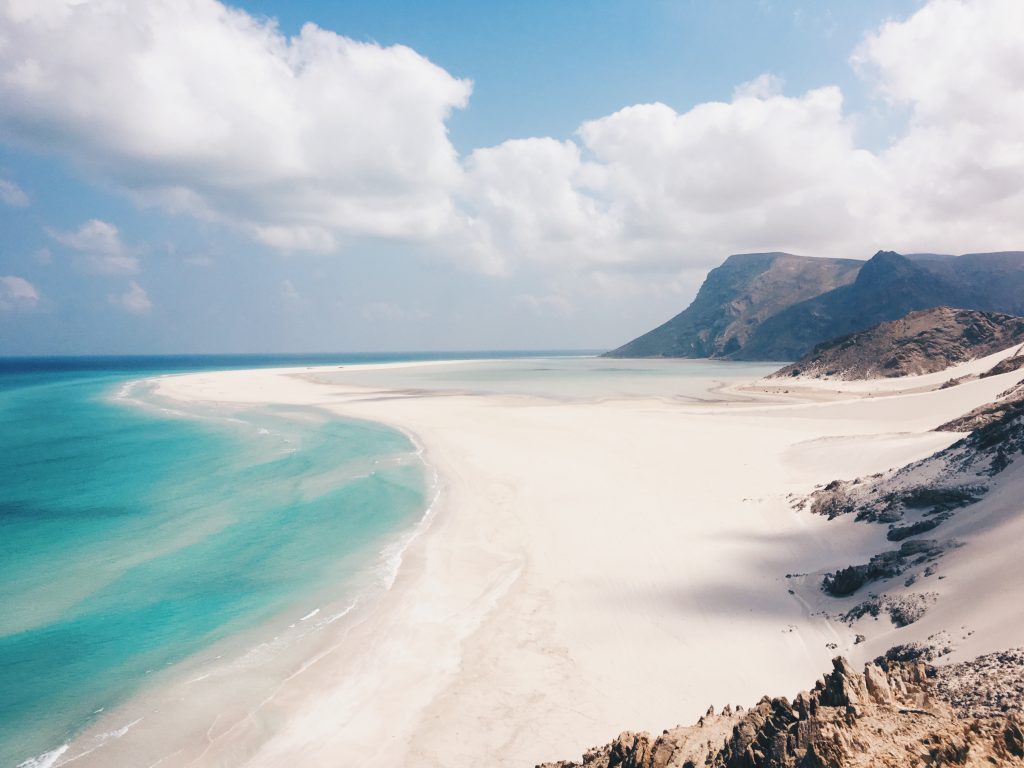 Of all the places in the world you can visit, I can safely say Socotra is THE most unique place on the planet. Endemic plant species like no other, untouched landscapes, a real feeling of real travel and adventure and 15 other people to share it with. It's the trip of a lifetime.
Where Is Socotra exactly?
Socotra is an island, but closer to Somalia than Yemen.
It's in the beautiful Arabian sea and far enough away from any coasts to ensure the water is pure, clean and crystal clear. And the nature of the island means no war has touched it at all.

How Do We Get to Socotra?
Thankfully, we don't have to repeat my trick of spending 4 days on an Indian cargo ship!
This time, we will fly to Socotra, from the United Arab Emirates. The flight isn't bookable online, it's not searchable online either, but with our contacts in Socotra, and in the UA, I take care of all those procedures.
The flights are expensive as only one airline fly there so they have a monopoly, but the flights from Abu Dhabi to Socotra are included in the price of the trip, so don't worry. And if those flight prices increase, don't worry, I'll guarantee the price within the cost of the trip.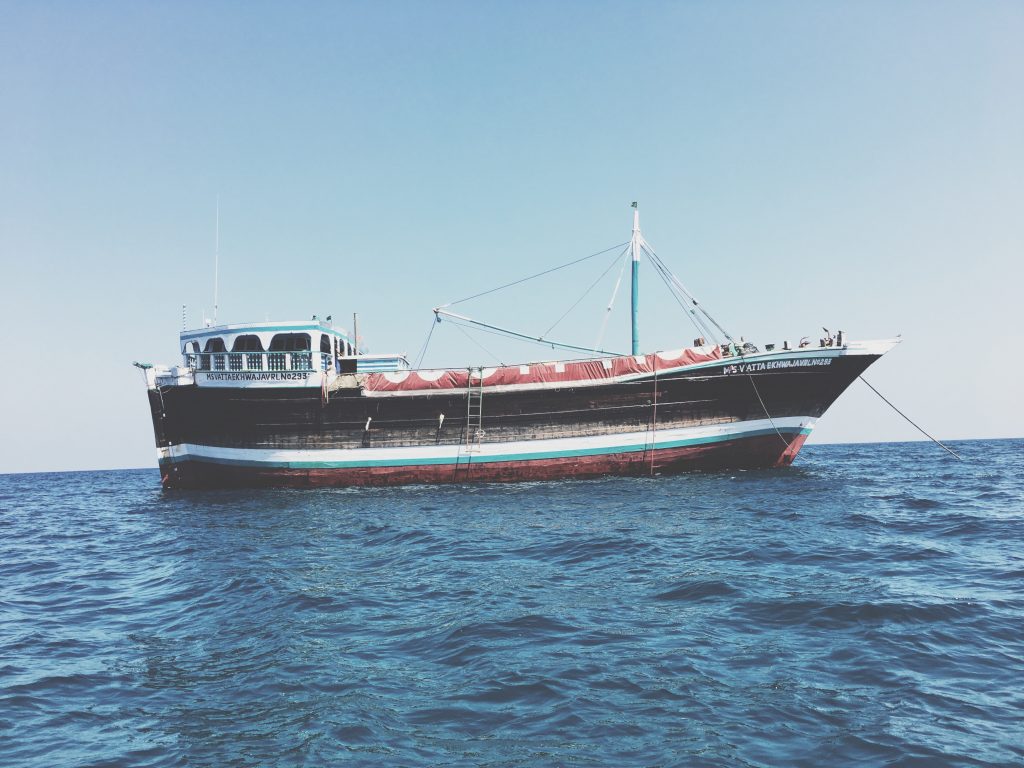 Can we go to Yemen mainland?
On my tour? Nope, sorry. It is possible to do it in groups of 2s and 3s if you have an appetite for risk. But right now it's all still a bit dangerous. So it's not worth the risk. Besides, Sanaa (the capital and coolest place) is still not visitable, so until then it's best to wait until that's safe and then I'll run a trip there, I promise!
What about the Visa?
Don't worry. One of the best bits about traveling to Socotra with me is that my guys will manage all that for us. You just have to meet me in Abu Dhabi and after that, you're all set until we get back to Abu Dhabi 8 days later.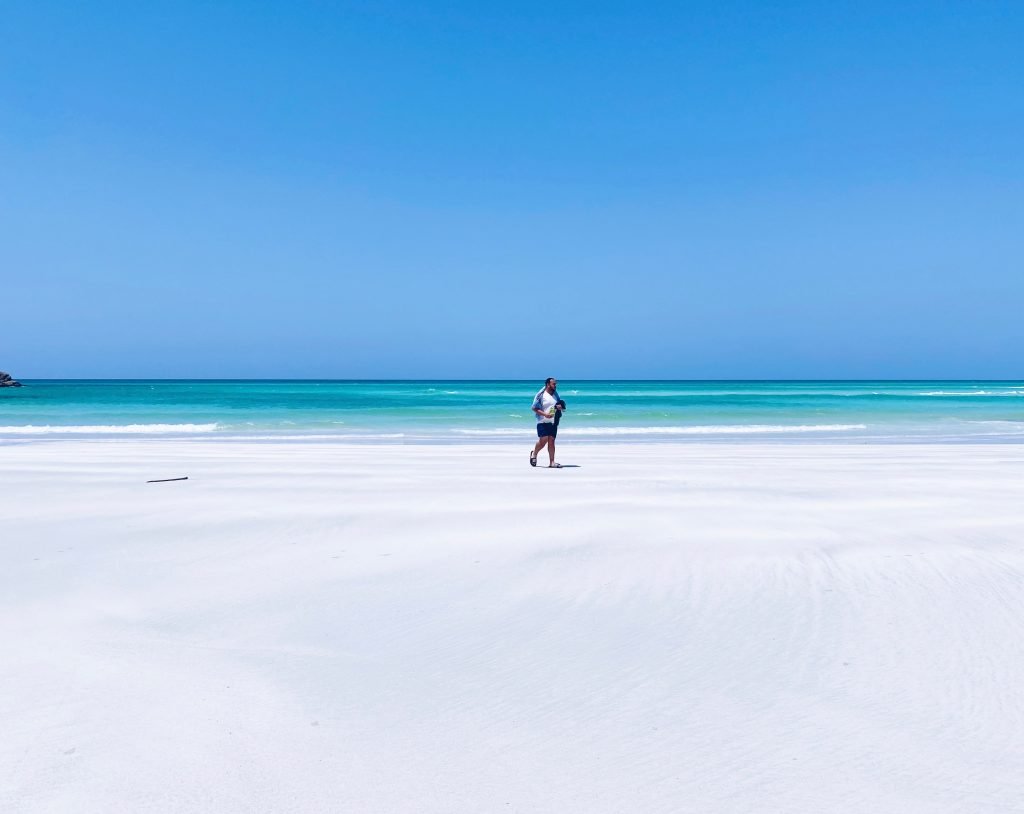 Why is it kinda expensive?
Socotra is one of the least visited countries in the world. So that adds a few extra costs. Then of course you get to travel with me! (that should make it cheaper, I hear you scream back at me!). Most operators only use local guides and they churn out trips like popcorn in a movie. I don't do that. I'll be there personally, with you guys, managing any and all issues. I'll also be personally available in the lead-up, via whatsapp, to help with any concerns, visas, flights etc.
Also, our trip has 3 nights at the best hotel in Socotra. All the other operators stick you in Walmart tents and cut costs. Not with me. I know some of us need to be online sometime for work/family etc, so this itinerary, although a little pricier, gives us a chance to do that. Not to mention the showers, real toilets, laundry and an actual bed!
Also, I include the flight cost from UAE to Socotra, rather than hide it initially. You have to pay it, so better be transparent. Don't let someone suck you in and then you have to pay it anyway! It's also marginally cheaper to fly from Cairo, but it's 2 stops, unreliable and a little sketchy. Other operators may use this again to cut costs, but at the risk of cancellation and more discomfort. Not for us.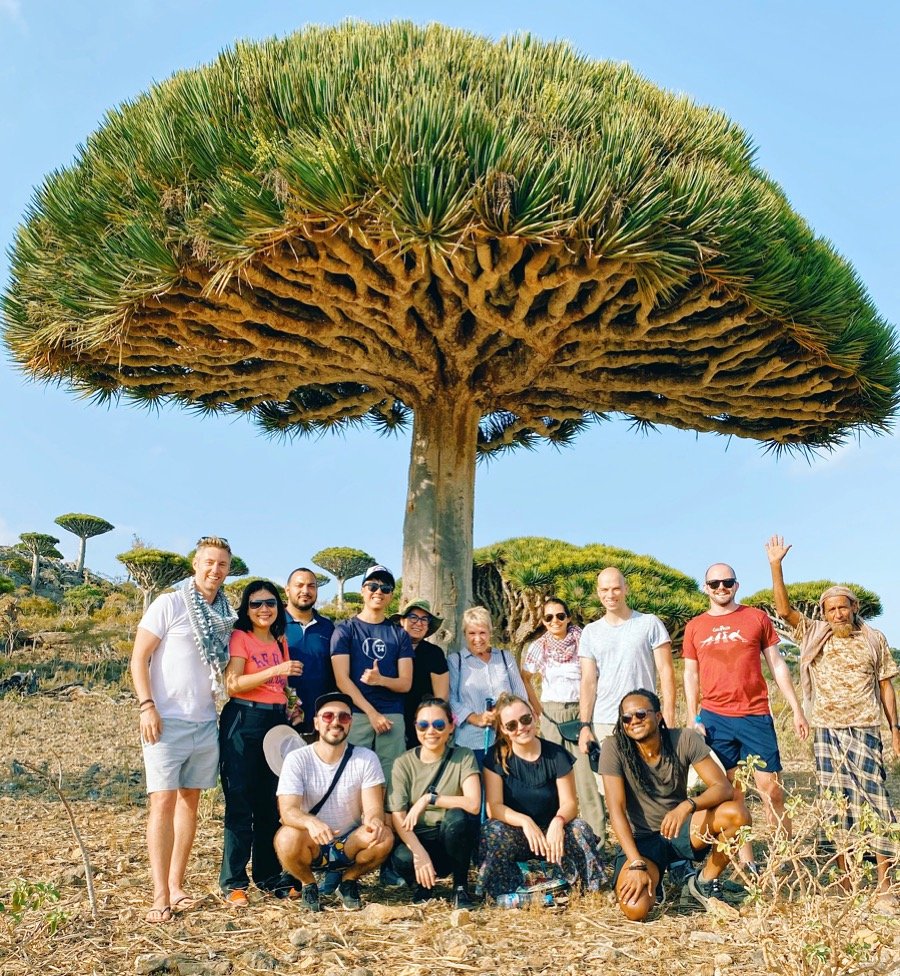 Remember, never travel without travel insurance! And never overpay for travel insurance!
I use HeyMondo. You get INSTANT quotes. Super cheap, they actually pay out, AND they cover almost everywhere, where most insurance companies don't (even places like Central African Republic etc!). You can sign-up here. PS You even get 5% off if you use MY LINK! You can even sign up if you're already overseas and traveling, pretty cool.
Also, if you want to start a blog...I CAN HELP YOU!
Also, if you want to start a blog, and start to change your life, I'd love to help you! Email me on johnny@onestep4ward.com. In the meantime, check out my super easy blog post on how to start a travel blog in under 30 minutes, here! And if you just want to get cracking, use BlueHost at a discount, through me.
Also, (if you're like me, and awful with tech-stuff) email me and my team can get a blog up and running for you, designed and everything, for $699 - email johnny@onestep4ward.com to get started.
Do you work remotely? Are you a digital nomad/blogger etc? You need to be insured too.
I use SafetyWing for my digital nomad insurance. It covers me while I live overseas. It's just $10 a week, and it's amazing! No upfront fees, you just pay week by week, and you can sign up just for a week if you want, then switch it off and on whenever. You can read my review here, and you can sign-up here!