Have you ever discovered yourself in a new city and felt a little lost? Sometimes it's difficult to know where to start to find your feet. You want to make the most of the time there, yet so much of the time is spent orienteering yourself and working out all of the best places to go. Well, here's my tip. Go and find yourself a walking tour. You won't regret it.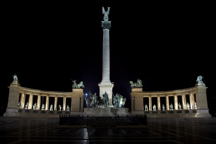 Education Begins at Home:
The best thing I have discovered on walking tours is that, when you get a good one, they are done by locals who love their city. The good thing about that is that they can talk passionately about their own experiences and the history that they have grown up with. This gives the tour such a genuine feeling that you find yourself drawn into the experience and wanting to know more. As with any form of communication, connection with the audience is vital and that is what a good tour achieves. You can learn more in two or three hours of walking with a knowledgeable guide than days of trying to pick up guide books. There is nothing better than the personal touch!
Expand Your Horizons:
Generally I find that when you go to a new place, unless you do lots of research in advance you end up in the same places as everyone else. Walking tours allow you to quickly see parts of the city that you would not necessarily have discovered alone. They also provide you with places to come back to later in your visit when you have more time to expand on that knowledge. Frequently advice on the local cuisine, restaurants, places to visit and night life are imparted on Budapest walking tours providing inspiration for an exciting trip. I have always found that a good guide is also more than happy to answer any questions thrown at them, and always seem to have the answers.
Get that Fresh Air:
As well as being educational, I find that the fact I have walked across a city (tours in Budapest generally take in both the Buda and Pest sides providing interesting history about both) gives me the perfect excuse for eating and drinking the rest of the trip as obviously I have already burnt off the requisite calories. Although admittedly the walks tend not to be at all strenuous and indeed often cater to small children too. But the excuse works for me, and all exercise is good exercise. I have found that even when it is a cold day in the city these tours warm the soul.
So what are you waiting for? Get those walking boots out, or flats or flip-flops. The city is there for the taking. Go and find out what it is all about. Hear about the people around you and appreciate what it is that you are seeing. It will only enhance your experience and you might end up with some good stories to tell when you get home.
Image attributed to FreeDigitalPhotos.net adamr