Barcelona is one of the most popular holiday locations in the whole of Spain and you and your family will enjoy short breaks to Barcelona because of many things. For one it  features countless leisure places that each and everyone can find relaxing. The vibrant city of Barcelona boasts a population of around four and a half million people and is famous for its vibrant culture and nightlife scene. What follows is a selection of Barcelona's top three holiday destinations.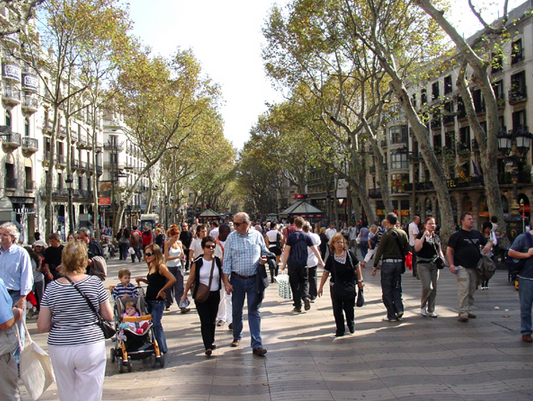 1) Las Ramblas and the Barri Gòtic quarter
This is the oldest and most atmospheric section of Barcelona and visitors are sure to enjoy wandering along the narrow running lanes that wind their way through Las Ramblas and the Barri Gòtic quarter. This vibrant street that is known locally as Las Ramblas is home to many of Barcelona's street artists, and the sound of musicians fills the air as visitors wander along this historic lane. Sitting at a pavement restaurant and enjoying local cuisine while watching the world go by is another great way to get a feel for the unique atmosphere of Las Ramblas. A number of enchanting buildings can also be found nearby such as the commanding cathedral and Museu d'Història de la Ciutat, while visitors who take a stroll around the Placa del Rei will be able to admire some of the city's most striking architecture, some of which dates back to the Roman era.
2) Port Vell
This pretty port is situated just to the south of Las Ramblas and has been extensively renovated in recent years. Port Vell boasts a large selection of trendy cafes and restaurants, which are excellent places to unwind for a while in between browsing for bargains in Port Vell's fashionable boutiques. The area's small marina is particularly enchanting, while sun worshippers will want to spend time spread out on the sand of the gorgeous beach that is known locally as Platja de Sant Sebastià.
3) Placa de Catalunya
Visitors to Barcelona who want to do some serious shopping should head on over to the  Placa de Catalunya. This vibrant district can be found in the very heart of the city and boasts some of the trendiest shops in the whole of Barcelona. There are also plenty of cafes and restaurants to be found here, while the Placa de Catalunya also boasts some of the city's quirkiest architecture.