There's so much going on in New York City; from the fantastic guided tours by foot or bus to the countless museums or the enthralling food scene, you'll never be bored in this city. No matter what the season, New York City is filled with extraordinary attractions and experiences to be had. be sure to check out  NewYork.com for more info, in the mean time Here are 5 to make the top of your list when visiting NYC: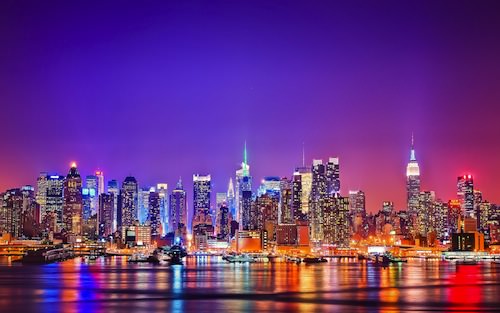 Top of the Rock Observation Deck
Amidst all of your adventures around the city, don't forget to take time out and gaze at it all from above! Ascend to the top of the GE Building in Rockefeller Center and you'll find a view with a great advantage over that of the Empire State Building: you actually get to see the Empire State Building!
Hit a Show on Broadway
You can't miss the experience of one of the world's greatest theater scenes when you're in NYC. Whether or not you're a theater buff, it's a classic New York experience to dress up for a night out at a Broadway Show. Lose yourself in the incredible music, performance and overall experience of Broadway.
Take a Food Tour
There's eating and then there's eating in New York City. Food tours are actually a thing here, so don't miss the chance to experience one. You can enjoy fine dining on a brunch or dinner cruise with panoramic views of the city. Or immerse in a specific foodie scene such as on the Brooklyn Pizza Tour or Downtown Chocolate, Dessert and Wine Tour.
Stroll Down Museum Mile
The stretch of 5th Avenue dubbed "Museum Mile" is the place to get your cultural intake in NYC! You probably won't be able to see them all, but you'll have your pick of some of the world's greatest cultural institutions. Don't miss the Metropolitan Museum of Art, Guggenheim Museum and the Hayden Planetarium.
Check Out Your Favorite Celebrities at Madame Tussauds
Celebrity stalkers will have a heyday at Madame Tussauds, where all the stars pose in wax, just waiting to take that great photo with you! All your favorite sports stars, pop goddesses and big-name stars are here. Where else in the world where you see Brad and Angelina, Britney Spears and Gandhi in the same place? You'll be amazed how realistic the celebrities are; it's a must-see when in New York City.