When I head out and go travelling there are just somethings that I cannot travel without, we all have are must pack items. Sometimes if you don't bring along one of your trusted gadgets then you feel a little lost without it. With technology improving a lightening quick rate the gadgets on the market are now amazing! If you want an alternative to buying gadgets then you should check out the fantastic Flexirent. Of course, they don't all need to be the latest thing on the market, sometimes it's the simple things that we can't live without. Here's my list of 8 things that I don't leave at home.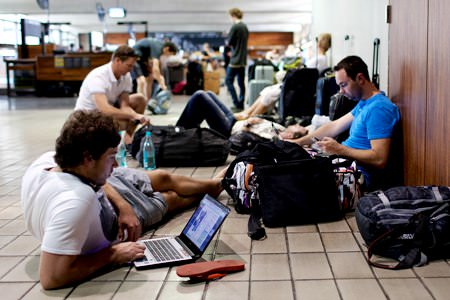 Laptop
If you work online then there's noway that you can leave your laptop at home, without it it will be very difficult for you to upload new blog posts or to stay in contact with clients. It also acts as a portable dvd player, this is heaven when on a long train or bus journey, the laptop also acts as a makeshift television when you reach your bed!
Plug Adapter
Having all your tech with you is no good if you can't power it up! There is nothing worse than needing to send some important emails but not being able to plug your equipment in. You should travel with a multi adapter plug.
A Camera
What's the need for heading out to see the world if you're not able to take photos to keep as memories and to show off to your friends and family. Whenever you head out of your guesthouse/hotel/hostel then should have your camera handy, you never know what you're going to stumble across.
A first aid kit
No one thinks that they will get injured when they travel, but it is always a good idea to have a first aid kit to hand so that you can patch up any minor injuries that might occur. Just a basic kit will not set you back too much money and it will save you trekking around looking for plasters when you cut yourself.
Pack the Spork
We've all been there, you get some food but you realise that the only cutlery you have are your hands! A spark, no matter how funny the name is, is a must have. It will save you from getting hungry and make sure that you're able to eat no matter what you buy for dinner.
Quick dry towel 
These are great because they are usually very small and easy to pack. Nearly all hostels will provide you with a towel, if they don't then a quick dry towel is ideal. It won't leave everything in your bag soaking wet because they do exactly what their name suggests.