Tenerife is colloquially known as the "Island of Eternal Spring". Resting close to the equator, the small island's temperature barely fluctuates between the mid and high twenties year round. The sea temperature never drops much more than a few degrees in the winter months, making the island perfect for living on the beach year round. The hotter, more humid summer months are thrown into relief by a light coastal breeze, making the island the perfect location for a summer beach holiday. Central to Tenerife is the volcano Mount Tiede, making the hilly island less favorable to the low lying beaches. Due to this, the people on the island have adapted to life on the beach, and the small towns have grown into popular tourist destination.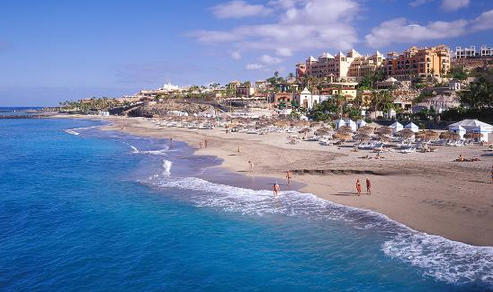 Being an island there an abundance of beaches to choose from for your holiday, but each location on the South side of the island has its own personality. The most popular resorts are Playa de las Americas, Los Cristiano's and Costa Adeje. The North of the island has only one small tourist resort, Santa Cruz, primarily due to its more remote location and slightly cooler climate. So which is the best choice for your holiday on the beach?
Playa de Las Americas
Playa de las Americas is the liveliest of the resorts, with the longest stretch of beach. It is teeming with bars and restaurants and nightclubs that never shut. The beach is home to adventurous water sports and surfers can often be spotted. It's the most popular resort for teenagers and young adults and hen and stag parties.
Los Cristiano's
Los Cristiano's is the closest neighbor to Playa de las Americas. It offers a balance between the mad nightlife and relaxing holiday on the beach you wanted, making it the perfect place for families or couples. It has plenty of bars and restaurants, but with much more tame clientele. There's all the shopping and souvenir stores of Playa de Las Americas, but it is only a short bus or taxi ride away and you have the luck of a peaceful resort to go back to.
Costa Adeje 
Costa Adeje is another quiet resort close to the action. Costa Adeje is famed for boutique shopping, cocktail bars on the beaches, and traditional Spanish Sangria and Tapas Bars. The beaches here are endless and offer a vast array of water sports and an incredible sunset.
The Beaches in Tenerife's most popular resorts are largely man made. Traditionally, the island had black sandy beaches due to volcanic activity, but many thousands of tons of white Saharan sand have been layered on top to create an idyllic vista. The sand now gleams white and the Atlantic shimmers in tones of blue under a clear sky. So even when you're not on the banana boats, pedalos or party cruises, there's plenty to do on these perfect beaches.