I'm starting to get spoilt on my European travels, another day another UNESCO world heritage site, I think that makes 6 this week. Delphi, though, has answered all my expectations about Greece. This is exactly the sort of thing I wanted to see when I got here, and I've been given that and more.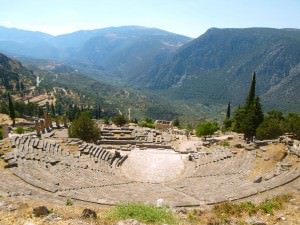 Ancient Delphi stretches back to 700BC, when the Greeks considered it to be the centre of the entire world. With that in mind, they constructed the Sanctuary of Apollo amidst their ancient town. When you enter the sight (6 Euro/$7.50), it's apparent that the sanctuary is still in pretty good condition, all things considered.
The grounds are quite large, so you need at least an hour to wander around. You can see the impressive ampitheatre, looking out towards the amazing expansive landscape.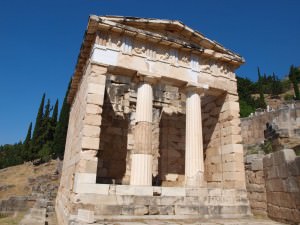 Clamber on higher through the town and you come to the awesome running track, the games here were second only in importance to the Olympics. The 180m track runs straight, complete with spectator sections, judges seats and starting blocks. To think that over 2000 years ago these guys were using the same form of entertainment as we are today really blows my mind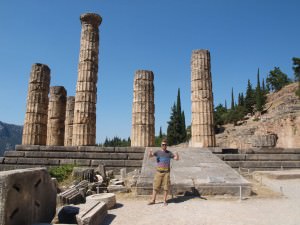 Delphi town is a quaint little backwater, it only has a population of around 10, 000 people but it serves its purpose well. The museum (6 Euro/$7.50) and Ancient Greece are only about 500m walk from the city centre which is really convenient.
I had another one of those great travel moments last night in one of the restaurants actually, just after our chatting about our time with  Travel Republic Ireland we were sitting with a good friend of mine, we ordered two Greek salads, 400m from Ancient Delphi, watching Greece play football in the European Championships as the locals backed their team. Beautiful – this is travel.