Turkey is one of those travel destinations that is always seemingly under the radar of most tourists and jet setters, but a growing number of people are being intrigued at the prospect of visiting this country and immersing in its culture, cuisine and religion. Fortunately, you don't have to spend a fortune to enjoy a visit to Turkey.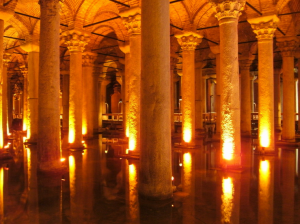 How Much Will the Daily Expenses Be?
If you're a budget backpacker and travelling with someone the cost will be 57 GBP for  the two of you daily, so if you are alone the daily expense will be around 28 GBP. This fare includes eating food (including street food), public transportation, visa fees, ticket prices and other assorted expenses that may arise. Actually if you don't move around a lot you can get by with less. If you are going to stick with one region, stay in the east, but if you want to see the whole country give yourself five weeks, and you're going to have to move a lot.
Accommodation Cost
For backpackers it will range from 15 to 36 GBP a night. This is a bit more expensive than other budget destinations but you get high standards. On the average a room will set you back 25 to 27 GBP, but this includes breakfast and in most cases lunch as well.  You can find some lodging for as little as 7 GBP but the rooms are cheap and they are usually full of tourists.
Food in Turkey is very good and very cheap, and often costs as little as 1 to 3 GBP a meal, and these meals served in large portions. Among the favourites here are the Donair-Kababs and Kababs, and many more that you can try for cheap.
Tickets and Entrance Fees
All of Turkey's major sites have entrance fees, with the most expensive those in Istanbul. The fee at the Aya Sophia mosque is 25 TL (about 11 GBP), while for the Basilica Cistern it is 10 TL (3.5 GBP). Some sites like the Blue Mosque are free but your donations will be most welcome. Now if you want to pay a visit to a Hamam, look for one that isn't flocked by tourists as the cost can range from 3 to 45 GBP depending on how many people are there. There are lots of options though, so take a look around.
The entrance fee at Ani is 5 TL (about 2 GBP) but the transport if coming from Kars is 200 TL (66 GBP) divided between four individuals. If that's too costly you can go to Mt. Nemrut as it is cheaper at 100 TL (33 GBP).
While you are looking for ways to save money while travelling in Turkey, don't forget to get comprehensive travel insurance as you will need it. Even if you fancy yourself a careful traveller, you can never tell when accidents might occur or if you need to cancel your trip. Furthermore, comprehensive travel insurance ensures you get the health cover you deserve in case of emergency.
————————————
I'm Julia and I'm very fond of travelling as well as photography. I`m very active and communicative person who adores making new friends around the globe. Being also a travel writer, I'm trying to describe the most incredible travelling experiences in my stories