Sometimes referred to as the 'slowest express in the world' this iconic train route is one of the most thrilling ways to travel around Switzerland – but what is its history?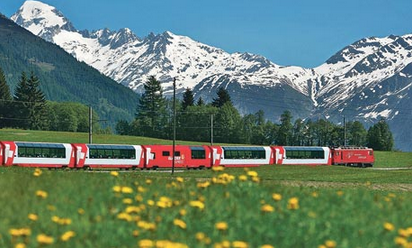 The mountains 
Despite its wonderful roads and superb views, one of the best methods to see Switzerland is to hop aboard a train and see the country from the windows of your carriage. If you are taking your vacation with Treyn rail holidays then you'll have the opportunity to really sit back and enjoy the stupendous mountain views from your window.
The background
The Glacier Express itself is over 75 years old; the first journey was launched in 1930 and has been a hit with locals and tourists since. Today's brightly coloured red and white train (the colours of the Swiss flag) follows the route that has been ferrying passengers between Zermatt and St Moritz since 1930.
The journey encompasses 91 tunnels and 291 bridges. Initially trains on this network were driven by steam but now use modern electricity power.
Speed
The whole journey takes 8 hours on two narrow-gauge railways and due to the altitude of the mountains it cannot really move much faster. One of the most beautiful parts of the track is the short hop across the Landwasser Viaduct this part of the trip really is breathtaking. Look out for the Oberlap Pass, which is a stunning 6, 670 metres high, too.
Parts of the track use the rack-and-pinion method to ascend the high gradients. Much of the history of this route concerns the amalgamation of the different railway companies that were involved in the creation of the Glacier Express, and various amendments and extensions to the track have been made over the years. Those first engineers back in the 1920s were truly heroic; imagine hacking your way through the various mountains and glaciers in order to carry out the construction of this iconic route.
The train
The modern Express is equipped with panoramic carriages and the train prides itself on its restaurant cars. There is even a converted vintage dining car for passengers who want to wine and dine. Short of climbing the mountains yourself, this is probably the best way to admire the stunning views and really feel that you are in the heart of this mountainous landscape.