Zante (Zakynthos) is one of those magical Greek islands that has gorgeous scenery, blue skies and the warm Aegean washing round it with hints of the mythology of the Ancient World. In the month of November, the island likes to celebrate its beaches and although the season has officially ended, there is still more than enough warm sun and gentle lapping water to go round. One of the big pluses for holidaymakers in the Mediterranean (check out Greece holiday packages) of course is lack of tides, so these lovely stretches of sand or interesting rocks are there from dawn till sunset and what sunsets there are too – everyone has a photo opportunity. There are more things to do on Zante beaches than sunbathe with turtles and dolphins often visible from the shore. Zakynthos is a popular destination but there is no better time to enjoy its beaches than November.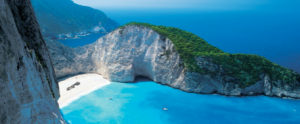 How to get there
Flights to Zante are easy to arrange from London and Manchester. Some of the budget airlines run a frequent service and flying time is around 4 hours from the UK, into Zakinthos airport; while others, such as First Choice offer package holidays to the resort. Shuttles will then take you to wherever you want to go. Hotels and apartments are very easy to come by in November, but even so it is wise to book ahead. Although the sea is warm by British standards, you might still want to choose an apartment, villa or hotel with a heated pool. The locals consider November the very last opportunity to sea bathe, but be careful not to get too chilly.
Things to do
Zante is all about its beaches and there are plenty of them. To see the island from another perspective, there is a 'pirate' ship trip that goes right round the island and at around €20 it is a bargain and a lot of fun. Although it doesn't count as a transport method as such, most of the small towns on the island have horse-drawn cabs to get around in, which are a lot of fun. The beaches are definitely the star attraction, though and they are safe and clean. If you want to be a little more active, there are jet skis for hire or you can go paragliding. If you are feeling healthy, there are fruit sellers who come along at just the right time to fill a gap – if you are not so bothered about healthy eating, the doughnut sellers do the same!
The beaches are famous as turtle breeding grounds and you may find that some are roped off – turtles are a threatened species in some areas and this important habitat is being well protected. Swimming out just a few yards will bring you into shoals of tiny fish and you may be lucky and get a close encounter with a dolphin, although these are inevitably less frequent visitors in November. Zante is certainly a good place to visit for a dose of blue sky and warm seas to keep the British winter at bay for just a while longer.